AbbVie Says Risankizumab More Effective Than Placebo For Crohn's Disease Management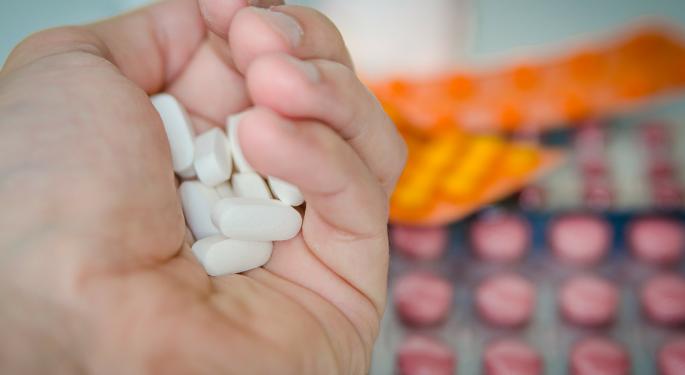 AbbVie Inc (NYSE: ABBV) disclosed that it presented a proof of concept, Phase II trial in Crohn's disease with investigatory biologic risankizumab, a compound from Boehringer Ingelheim research and recently licensed by the company. According to the company, Risankizumab was shown to be more effective than a placebo in patients with moderately – severely active Crohn's disease.
Abbvie said that these interim results were the first to be reported in this indication with risankizumab that selectively blocks IL-23 through the specific targeting of the IL-23p19 subunit. The company said, "After 12 weeks, 24 percent and 37 percent of patients achieved clinical remission with 200 mg and 600 mg risankizumab, respectively, compared with 15 percent of patients receiving placebo*1."
The drug maker said that endoscopic remission "was achieved by 15 percent and 20 percent of patients receiving 200 mg and 600 mg risankizumab, respectively, compared with 3 percent of patients receiving placebo."
Related Link: Sohn Strategy: Go Long The Shorts, Short The Longs
AbbVie's VP for Immunology clinical development, Theresa Podrebarac, commented, "Patients with moderate-to-severe Crohn's disease who have failed anti-TNF therapy have very limited choices for treatment. We are encouraged by the promising results seen in this study with risankizumab and look forward to continuing development of this compound as a potential new treatment option for patients and physicians."
Commenting on the developments, therapeutic area head medicine immunology at Boehringer Ingelheim, Steven Padula, said, "It's exciting to see such positive results from a compound with a different mechanism of action to currently available treatments. Boehringer Ingelheim is committed to improving the care of patients with difficult-to-treat immune diseases, and the promising results of this study of risankizumab in patients with difficult-to-treat moderate-to-severe Crohn's disease is an encouraging step towards achieving this goal."
Similarly, principal investigator of the trial, Brian Feagan, said, "These results are particularly encouraging because of the difficult-to-treat population within the study. Our patients had endoscopically confirmed moderate or more severe disease activity at study entry and the majority had previously failed treatment with one or more TNF antagonists."
Following the news, the stock traded 2.18 percent higher on Tuesday.
Posted-In: boehringer ingelheim Crohn's Disease risankizumabBiotech News FDA General
View Comments and Join the Discussion!