The Generic Drug Battle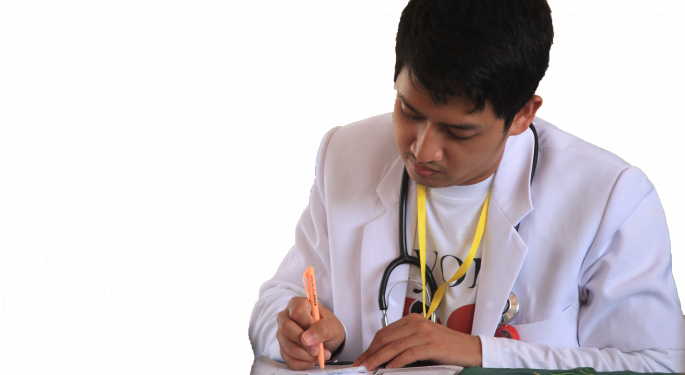 On Tuesday, a U.S. regulatory panel voted in favor of the Food and Drug Administration approving a knockoff arthritis drug that would rival Johnson & Johnson (NYSE: JNJ)'s Remicade. A blow to Johnson & Johnson, the decision was good news for Pfizer Inc. (NYSE: PFE), which holds the license for the copycat drug.
Patent Battles
Companies like Johnson & Johnson that develop drugs to treat specialized diseases typically take out a wide variety of patents in order to protect their interests and keep other companies from introducing generic versions. Once a copycat version, called a "biosimilar," has been introduced, that drug's prices fall significantly.
Extending The Patent's Life
While the regulatory vote puts Pfizer one step closer to getting its biosimilar on the market, it's unlikely that the public will see it in their local pharmacy any time soon. That's because companies like Johnson & Johnson take out several different patents in order to protect their monopoly on a particular drug, which means while the firm's patent regarding the drug's composition may have expired, other patents including the way the drug is manufactured and its methods of use may still be protected.
Related Link: McKesson's Stock Tumbles On Generic Drug Pricing Weakness
Why Protect Profits?
The patent process that biotech firms go through is an important part of their revenue protection efforts, but it also keeps them well funded to develop new drugs. Although there has been a major push to lower the cost of drugs in the United States, the companies argue that the cost to develop a biotech drug is high. In order to fund the research and development of new drugs, they need to secure a consistent revenue stream that will fund their projects until they are able to become available for sale.
Biosimilar Market Is Growing
However, despite their best efforts, biotechs like AbbVie Inc (NYSE: ABBV) and Amgen, Inc. (NASDAQ: AMGN) are struggling to keep copycat drugs from hitting the markets.
A push by lawmakers to lower the cost of prescription drugs and make healthcare more affordable in the United States has helped push through several approvals, helping to grow the biosimilar market exponentially. Many believe that this week's vote signals the FDA's willingness to adopt more lenient criteria for biosimilars, which could have a detrimental effect on biotechs' bottom lines.
Image Credit: Public Domain
View Comments and Join the Discussion!
Posted-In: Biotech News Health Care FDA Markets Movers Trading Ideas General Best of Benzinga