More Wild Short Interest Swings In Biotech Stocks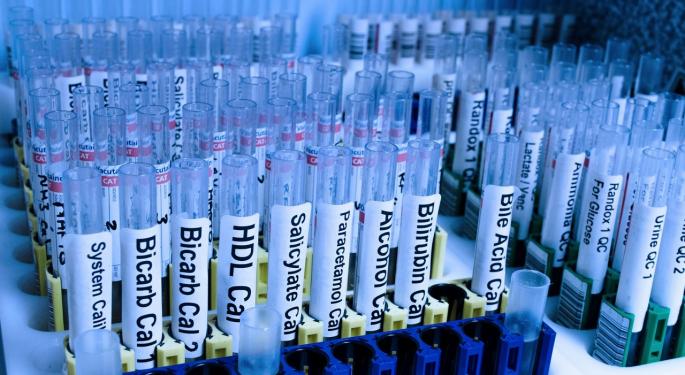 Short interest moves in leading biotech stocks were mixed in the most recent period.
However, Illumina, Inc. (NASDAQ: ILMN) and Baxalta Inc (NYSE: BXLT) saw sharp increases in their short interest in late November.
Short sellers appeared to lose interest in Juno Lighting LLC (NASDAQ: JUNO) late in the month.
Between the November 13 and November 30 settlement dates, short interest moves in many of the leading biotech and emerging pharmaceutical stocks were mixed and mild.
However, the number of Illumina shares sold short surged following news that the stock would be added to the S&P 500. Short sellers also moved on Baxalta, which is being pursued by Shire.
On the other hand, Juno saw its short interest drop sharply in the final two weeks of the month.
Below is a quick look at how these three stocks have fared recently and what analysts expect from them. That is followed by a glance at short interest moves in other leading biotech stocks.
Related Link: Wedbush Offers Probabilities For Upcoming Catalysts In Emerging Pharmas
Baxalta
This biopharmaceutical company saw its short interest rise more than 17 percent to about 7.23 million shares, or more than 1 percent of float. That ended three straight periods of falling short interest. It would take a little more than two days to cover all short positions.
Baxalta's focus is on products primarily for the treatment of hematology, oncology and immunology. It has a market capitalization a little above $25 billion and a dividend yield of about 0.7 percent. Bloomberg feels Shire soon may finally reach a deal to acquire Baxalta.
Four of the six analysts surveyed by Thomson/First Call recommend buying shares, with the others rating the stock at Hold. Their mean price target, or where analysts expect shares to go, is almost 14 percent higher than the current share price.
The share price rose more than 15 percent at one point, but ended two-week short interest period up less than 5 percent; the Nasdaq grew less than 3 percent. Over the past six months, the stock has outperformed competitor Biogen and the broader markets.
Illumina
The number of shares sold short soared more than 77 percent late in the month to almost 9.09 million, or more than 6 percent of the float. That was by far the highest level of short interest, on the highest average daily volume, in the past 52 weeks.
Illumina makes life science tools and integrated systems for genetic analysis. Shares of this more than $25 billion market-cap company were a top S&P 500 performer in the month it joined the index. However, note that its price-to-earnings (P/E) ratio is much greater than the industry average.
Of the 24 surveyed analysts, eight rate the stock at Strong Buy, and six more also recommend buying Illumina shares. They see only a little room for shares to run, as their mean price target is about 4 percent higher than the current share price.
During the short interest period, shares rose more than 15, but gave back about 2 percent of that gain by the end of the month; they have retreated a bit more since. The stock has outperformed Juno and the broader markets over the past six months.
Juno
The short interest in this biopharmaceutical company tumbled more than 17 percent to more than 5.93 million shares, or more than 8 percent of the total float. That was the fewest shares held short since last September. The average daily volume fell to a year-to-date low, with days to cover at more than seven.
This maker of cell-based cancer immunotherapies has a market cap of about $4.5 billion. Despite a return of equity in the red, some projections see double-digit percentage upside potential in Juno shares.
No consensus recommendation was listed, but six analysts had a mean price target that represents an expected gain of more than 31 percent for the shares. However, their target is less than the post-IPO high reached back in June.
The shares ended the settlement period more than 13 percent higher, although they have tumbled almost 17 percent since. Over the past six months, the stock has underperformed the others featured here, as well as the broader markets.
Related Link: 9 Health Care Picks For 2016
And Others
The number of shares short in Biogen and Dyax also shrank by double-digit percentages in the final two weeks of November, while the downswings were more modest at BioMarin Pharmaceutical, Celgene, Incyte, Medivation and Seattle Genetics.
In the period, Amgen, Opko Health and Vertex Pharmaceuticals saw modest growth in short interest. In Alexion Pharmaceuticals and Gilead Sciences, there was little change between the settlement dates.
At the time of this writing, the author had no position in the mentioned equities.
Image Credit: Public Domain
View Comments and Join the Discussion!
Posted-In: Alexion Pharmaceuticals amgen BiogenBiotech Short Ideas Top Stories Trading Ideas General Best of Benzinga