Valeant Investors: These 5 Companies Survived Major Accounting Scandals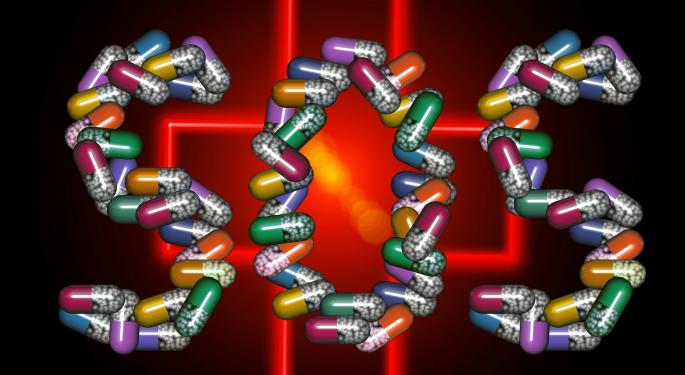 Valeant Pharmaceuticals Intl Inc (NYSE: VRX) shares are down 70 percent in the past three months as allegations of accounting fraud continue to swirl.
Many companies involved in accounting fraud eventually end up bankrupt.
However, some companies find ways to weather the storm in the long run.
Valeant shares fell another 6.5 percent in Thursday's session, leaving the stock down more than 70 percent in the past three months. The company has been suffering from allegations of price gouging, shady business dealings and perhaps the two words that shareholders of any company fear the most: "accounting fraud."
While investigations into the significance of Valeant's relationship with Philidor remain ongoing, the market seems to have rushed to judgement that Valeant will ultimately be found guilty of some degree of wrongdoing.
Assuming the allegations of accounting fraud are true, will Valeant's stock inevitably go the way of disgraced, bankrupt and de-listed Enron and WorldCom? Not necessarily. Here are five big-name stocks that survived accounting scandals, using data complied by Market Memory.
Related Link: JPMorgan Analyst Defends Valeant, Cites Continued Performance Of Two-Thirds Revenue
1. Waste Management, Inc (NYSE: WM)
Back in 1998, Waste Management reported $1.7 billion in falsified earnings, resulting in a $457 million class action settlement with shareholders and a $7 million SEC fine for the company's auditor.
The stock lost more than half its value following the scandal, falling from above $37 to below $15 per share in late 2000. It took nearly 12 years, but the stock eventually rebounded to pre-scandal levels and now trades above $52.
2. Tyco International PLC (NYSE: TYC)
In 2002, two former Tyco CEOs were convicted of stealing $150 million and inflating the company's income by $500 million. The CEOs were both jailed, and Tyco paid out $2.92 billion in legal settlements with shareholders.
Tyco's stock lost more than 70 percent of its value that year, and to this day it remains down 68 percent from its price at the beginning of 2002.
3. Federal Home Loan Mortgage Corp (OTC: FMCC)
Way back in 2003, Freddie Mac's president and several other top executives misstated about $5 billion in earnings. The offenders were fired and fined $125 million.
The stock finished 2003 down only 4.6 in the wake of the scandal. However, the company found itself at the epicenter of the mortgage crisis a few years later, and the stock is now relegated to the OTC market, down more than 96 percent from its 2003 opening price.
4. American International Group Inc (NYSE: AIG)
Like Freddie Mac, AIG is another entity that dealt with accounting woes long before the mortgage crisis sent its share price plummeting. In 2006, the company paid out $1.64 billion in fines connected to a $3.9 billion accounting fraud.
Despite a big decline when news of the scandal broke in May of 2005, AIG's actually finished 2005 up 3.3 percent on the year. The insurance giant was eventually crushed during the mortgage crisis and now trades more than 95 percent below its 2005 opening price.
5. Petroleo Brasileiro SA Petrobras (ADR) (NYSE: PBR)
On March 20, 2014, police arrested the former head of Petrobras' refining and supply department for his alleged role in a scandal involving hundreds of millions of dollars in bribes and kickbacks.
Though the stock barely flinched at news of the scandal, it finished 2014 down more than 45 percent when the price of oil collapsed. The investigation is ongoing, but Petrobras' stock is now trading at multi-year lows.
Valeant Takeaway
While the news is certainly not good for Valeant shareholders, these five examples prove that even an accounting scandal is not necessarily the end of the world for a stock. If history is any indication, however, Valeant investors shouldn't be expecting a return to $270 per share any time soon.
Disclosure: The author holds no position in the stocks mentioned.
Image Credit: Public Domain
Posted-In: EnronBiotech Education Health Care Legal Top Stories Trading Ideas General Best of Benzinga
View Comments and Join the Discussion!