Earnings Boom This Week: Big Pharma, E-Commerce Giant BABA And More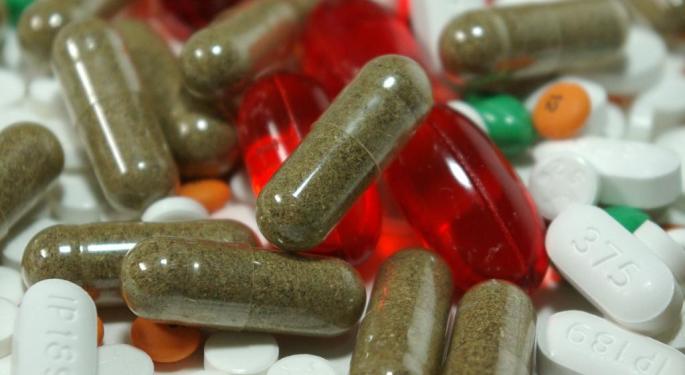 Large-cap U.S. pharmacy names Bristol-Myers Squibb (NYSE: BMY), Pfizer (NYSE: PFE), and Merck (NYSE: MRK) report earnings this week and could give investors insight into the stepped-up scrutiny on drug pricing and a better feel for how select new drug therapies are performing.
As a sector, healthcare earnings are forecast to have gained 7.7% from the year-ago quarter, according to industry analysts.
Bristol-Myers Squibb, which reports before the markets open Tuesday, has turned out robust sales numbers for Eliquis—part of a new class of anticoagulants known as Xa inhibitors—in Q1 and Q2, according to company data. Investors will be looking to see if the drug has gained market share. They'll also likely care about sales of BMY's oncology drugs.
Analysts at Thomson Reuters are looking for earnings of $0.35 per share on revenue of $3.83 billion for the quarter. In Q2, BMY handily outpaced earnings expectations for the eighth straight quarter, which the company attributed to robust oncology sales.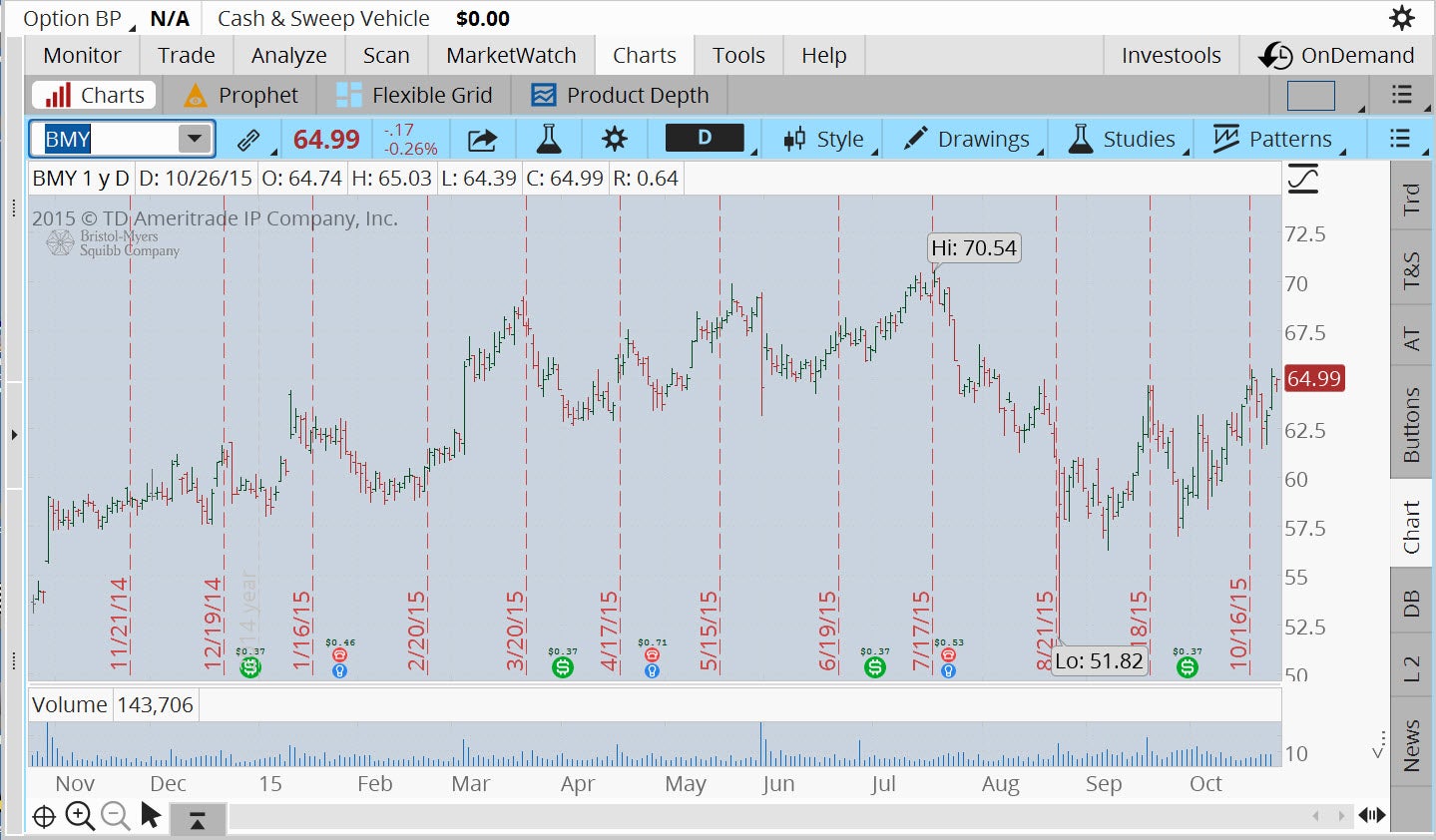 PFE, the world's largest drug manufacturer by sales and a Dow Jones Industrials component, has drawn focus to its cancer medicines. Ibrance, for example, got the okay for advanced breast cancer treatment in February, more than two months ahead of schedule, and an update on next steps could be in store, analysts say.
Analysts at Thomson Reuters are looking for PFE earnings of $0.51 per share on revenue of $11.56 billion.
The early FDA nod for Ibrance juiced the stock almost 10% at that time and it held onto a mostly upward movement before tumbling in late September. Since then, the stock has picked up more than 10%, trading in the $34 range.
MRK, also part of the DJIA, will show its Q3 hand after the bell on Tuesday. Analysts are interested in learning how patients are responding to Keytruda, a treatment used for advanced melanoma. Also MRK has said it has some promising results on other drug treatments. Let's see if its sheds any more light in this earnings round.
At Thomson Reuters, the Q3 guesstimate is for per-share income of $0.92 on top line sales of $10.11 billion.
Check out more earnings analysis.
In Q2, MRK managed to easily thump earnings expectations by $0.06 a share but fell short of revenues by $100,000 at $9.80 billion; that was a 10.5% year-over-year drop in sales.
A year ago, the stock was up better than 5% from where it stands today. Since mid-August, it's down some 11%, though it has recovered since late September.
The short-term options market is pricing in the potential for a 2% move in either direction for PFE and MRK shares around their earnings release, according to the Market Maker Move indicator on TD Ameritrade's thinkorswim® platform.
Consumer Focus
China may take center stage this week as the earnings carnival continues from MGM Resorts International (NYSE: MGM), Alibaba (NYSE: BABA), and Ford Motor Co. (NYSE: F)—all consumer-sensitive companies touched by the country's economic slowdown and Beijing's sixth interest-rate cut in a year.
MGM—which has two casinos in China and generates some 33% of its revenue there, according to JP Morgan—was hit in Q2 when revenue tumbled 7.6%. The company reported that its VIP gambling revenue dropped 43%, while its main-floor gaming suffered a 23% decline, mostly because of falloff in its China casinos. Let's not forget too that there's the strong-dollar sting hitting most multinationals, casinos included.
Analysts reporting to Thomson Reuters estimate that MGM will earn $0.04 a share on revenue of $2.3 billion when it reports after the market closes Monday. In Q2, MGM turned in a $0.17 a share profit, well ahead of the $0.11 per share projection.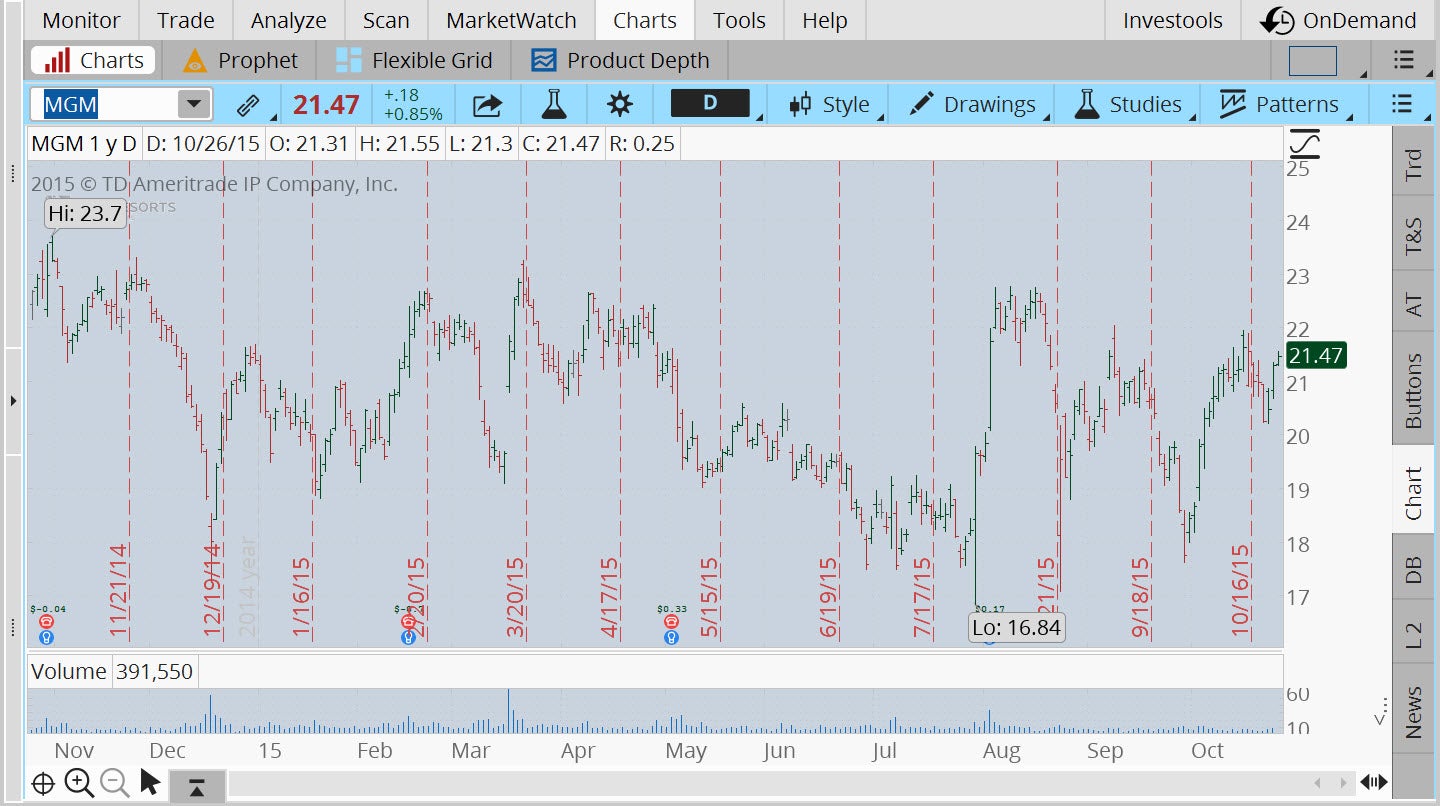 BABA, the China e-commerce giant recently spun off from Yahoo (NYSE: YHOO), is expected to post a per-share profit of $0.54 on sales of $3.35 billion, according to Thomson Reuters-surveyed analysts. In Q2, BABA outpaced expectations on the earnings front, but came up short in revenues.
BABA's implied volatility is at the high end at the 82nd percentile. With that much volatility, it appears that traders are indicating they wouldn't be surprised to see a roughly 7.5% move in the stock in either direction, according to the Market Maker Move indicator.
Since hitting a high last November of $119.15, BABA stock is down nearly 37%. But that stock too has advanced mightily since bottoming at $57.39 in late September, up almost 32%.
F is set to report earnings ahead of the market's open on Tuesday with Thomson Reuters' analysts looking for a $0.47 per-share profit on sales of $35.07 billion, up 7% from the year-earlier comparable.
Industry analysts say that Ford's North American and European sales are upbeat, as are those for its top-selling truck, the F-150. But analysts have noted the slowdown in China, as well as demand issues in Russia and South America. All told, road bumps could persist. In the last quarter, F said it expected its China sales to be flat for 2015. And, there's that currency fluctuation to take into account.
F shares are up only 2% since the beginning of what has been a mostly down year for the stock. But since bottoming at a 52-week low in late August, the share price is up more than 21%.
As for stock movement around earnings, short-term traders are anticipating it can shift by just over 4% in either direction, according to the Market Maker Move indicator on TD Ameritrade's thinkorswim® platform.
Inclusion of specific security names in this commentary does not constitute a recommendation from TD Ameritrade to buy, sell, or hold. Market volatility, volume, and system availability may delay account access and trade executions. Past performance of a security or strategy does not guarantee future results or success. Options are not suitable for all investors as the special risks inherent to options trading may expose investors to potentially rapid and substantial losses. Options trading subject to TD Ameritrade review and approval. Please read Characteristics and Risks of Standardized Options before investing in options. Supporting documentation for any claims, comparisons, statistics, or other technical data will be supplied upon request. The information is not intended to be investment advice or construed as a recommendation or endorsement of any particular investment or investment strategy, and is for illustrative purposes only. Be sure to understand all risks involved with each strategy, including commission costs, before attempting to place any trade. Clients must consider all relevant risk factors, including their own personal financial situations, before trading. TD Ameritrade, Inc., member FINRA/SIPC. TD Ameritrade is a trademark jointly owned by TD Ameritrade IP Company, Inc. and The Toronto-Dominion Bank. © 2015 TD Ameritrade IP Company, Inc. All rights reserved. Used with permission.
View Comments and Join the Discussion!