Why Big Biotech Could Have Another Leg Up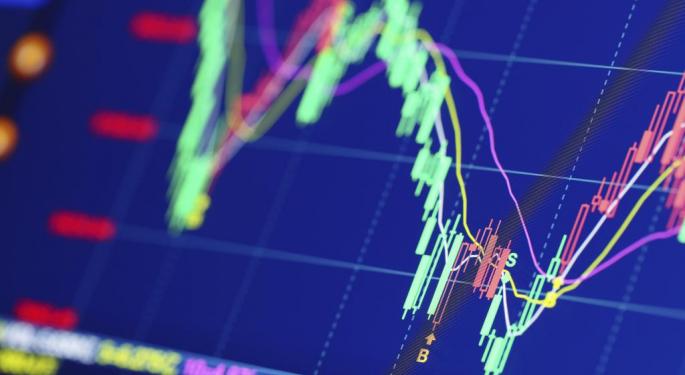 The biotech sector has continued to thrive over the last year, starkly contrasting the disappointments that many investors have experienced in other areas of the market.
The Biotech Breakthroughs motif, for example, has gained 35.7 percent over the past 12 months. In that same time period, the Standard & Poor's 500 has managed a 6.9 percent gain.
In the past month, the motif has increased 2.7 percent; the S&P 500 has risen 0.3 percent.
The motif has been helped a great deal by its "Four Horsemen" of large-cap stocks: Gilead Sciences, Inc. (NASDAQ: GILD), Gilead Sciences, Inc. (NASDAQ: AMGN), Biogen Inc (NASDAQ: BIIB) and Celgene Corporation (NASDAQ: CELG) — all of which have climbed at least 25 percent in the past 12 months and which make up just more than half of the motif's overall stock weight.
Mark Oelschlager, a manager of the Live Oak Health Sciences mutual fund, told the San Francisco Chronicle that large-capitalization biotech companies are benefiting from three things: drugs getting approved more readily; a favorable regulatory environment; and pricing power.
The Food and Drug Administration approved 41 drugs in 2014, the largest number in at least a decade, Joe Rosenberg, senior biotech analyst at Nasdsaq's Advisory Services Unit, told the Chronicle.
That's good news for the whole biotech sector, Oelschlager said. "The big caps have been working fundamentally, and their stocks have been working and that has created a bit of a halo for these smaller biotechs and pulling them along whether or not it is justified," he said.
What will work going forward, however, is anyone's guess, but many analysts are beginning to question whether mid- and small-cap biotech stocks can continue to march higher, while they continue to praise the attractiveness of large caps.
UBS analyst Matthew Roden said his team still likes biotech stocks, but he recently wrote that it's time to get more selective with "high quality risk/reward names." Specifically, he particularly likes Gilead due to the continuing rise in its numbers and possibility of a deal coming this year. He also likes Vertex Pharmaceuticals, calling it "de-risked, cheap on earnings, and underowned in growth."
Meanwhile, BC Capital Markets Analyst Michael Yee said in a note last week that the recent 5 to 6 percent pullback in large-cap biotech will provide a good opportunity heading into what he expects will be "mostly in-line to better" earnings. On a macro basis, Yee reiterated the firm's thesis that there is a trend of "innovation and new science driving [the] wealth of new breakthrough drugs."
RBC cautioned, however, that each quarter, there seem to be fewer "big beats" versus a year or two ago. Specifically, Yee pointed to Celgene and Biogen, which have struggled to perform as well as they had previously. The firm said that it maintains a long bias on Celgene and Biogen because of Alzheimer's treatments and a good "pipeline thesis."
Yee expects Amgen to beat EPS expectations based on "lower expenses," which should lead the stock to trade higher. However, Yee warned that the stock could stay "range-bound" until the Street has a better idea of where pricing for its PCSK-9 drug will be and how the company's biosimilars strategy takes hold.
On the other hand, one could forgive longer-term biotech investors for refusing to sweat prognostications of range-bound inertia.
Posted-In: Biotech Long Ideas Trading Ideas General Best of Benzinga
View Comments and Join the Discussion!