Biotech Stocks Worth Taking A Look At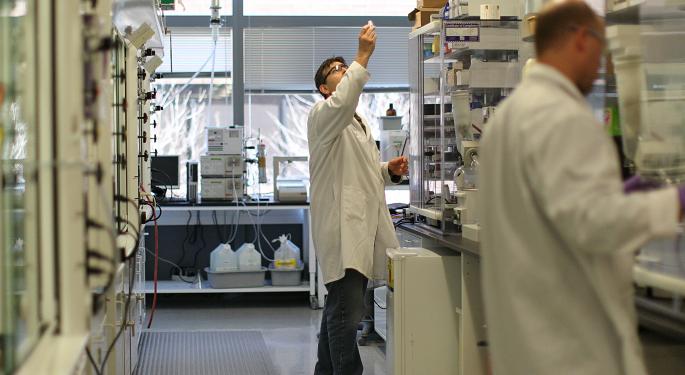 A number of biotech stocks have been soaring recently, attracting the attention of investors that have always been skeptical about investing in these kind of stocks.
Biotech stocks are often seen as risky and speculative and, as such, experienced investors typically try limiting their exposure. The rationale behind the caution stems from the susceptible nature Biotech's face to a few key factors leading to swings in the stock price.
For example, poor drug trial results or problems in the drug development process can see huge value being wiped from a stock instantly. Nonetheless, the biotech industry is seen as a major playing ground for investors due to numerous reasons.
Most developed countries are facing an aging population with healthcare requirements expected to increase. The unique health needs of an aging population will see Biotech companies at the forefront of offering solutions.
In the US, increased access to health insurance will boost the industry while an appreciating dollar will see reduced appetite for drug imports. The expiration of some patents will further serve as a catalyst for the industry overall.
The companies mentioned in this article are some of the top biotech stocks to watch out for in 2015. Some are already in breakout territory, while others have a high potential to stage an upswing in the next few months.
1. Acorda Therapeutics, Inc. (NASDAQ: ACOR)
This stock has been featured in a number of analysts' reports on some of the best stocks to buy in 2015. Although its shares are trading at a 52 week low, the stock has potential.
The company is developing drugs that target multiple sclerosis, spinal cord injuries, and nervous system disorders. Drug candidates in the pipeline include; CVT-427 (still in preclinical trials) for the treatment of migraine, CVT-301 for treatment of Parkinson's diseases, and Dalfampridine targeted at patients dealing with chronic post-stroke deficits.
In addition, it has other drugs that are already on the market which are used in the management of symptoms of diseases associated with nervous systems disorders. Acorda Therapeutics, Inc. constantly delivers new drugs to the market meaning more future potential cash flows, although its earnings do not show a constant growth trend.
Acorda Therapeutics, Inc. currently trades at a 6-month low so the potential exists for a high upside. It is important to follow news on the progress on the latest drug trials, as that seems to be this stocks key driver, rather than the fundamentals.
One major red flag about this stock is it's highly leveraged with a debt to equity ratio of 52.96, but still a great biotech stock to have.
2. Amgen Inc. (NASDAQ: AMGN)
Top hedge fund manager, Dan Loeb holds $1.6 billion worth of Amgen Inc. stocks and refers to it as a pioneer in the biotech industry.
This stock was featured on finance portal Investopedia as one of the top ten Biotech stocks to invest in 2015 and appears high in other rankings for investors that want to build a strong equity portfolio.
Amgen Inc. is one of the few biotech companies that pays a dividend. The company has a dividend yield of 1.57%. Besides constantly rewarding investors through dividend pay-outs, Amgen always has promising products in development.
On May 26, the company profile got a boost when the EU's Committee for Medicinal Products for Human decided to approve one of its leading drug candidates Repatha, for use in the treatment of high cholesterol. Nonetheless, for much of May, the company's stocks have been on a downward slide.
This was triggered by reports of a deal between Amgen Inc. and AstraZeneca (NYSE: AZN) that went sour, with more than $3 billion in potential revenue not likely to materialize.
With its diversified product portfolio, any losses will be made up for through better performance elsewhere. If you looking for a quality biotech stock promising sustained growth over a period of time Amgen Inc. is a great pick.
3. Sage Therapeutics, Inc. (NASDAQ: SAGE)
Sage Therapeutics, Inc. is a clinical stage biotechnology company involved in the development of novel therapies to treat rare nervous system related disorders. The company reported a loss of $16.9 million loss for the first quarter of this year, nonetheless its shares are up 57% since the beginning of this year.
Although this company is not generating any revenues, it has a market capitalization of $2.12 billion which reflects the potential of its product pipeline. For investors looking for fast growth stocks in the industry, you might consider adding Sage Therapeutics, Inc. to your portfolio.
With the stock currently trading at an all-time high, a correction may be long overdue and it's currently difficult to predict when this may occur or how much of an impact it will have.
Sage Therapeutics, Inc. is currently riding high on the wave of a number of successful early stage trials, chief among them its drug for treatment of super-refractory status epilepticus.
Goldman Sachs has initiated coverage on this stock, while it has a "hold" rating from Zacks. While things may be looking good at the moment, there are a number of potential red flags ahead and is something investors need to be aware of.
4. Endonovo Therapeutics, Inc. (OTCQB: ENDV)
Endonovo Therapeutics, Inc. is a clinical stage biotechnology company developing non-invasive regenerative techniques for the treatment of numerous conditions such as liver failure and other rare diseases.
This is a small company in the biotech industry but has the potential to turn the market for non-invasive regenerative medicines upside down. Unlike the other three, Endonovo Therapeutics, Inc. trades over the counter, but there are several important aspects making this stock worth taking a look at.
The technology the company has developed works through a device placed over the damaged organ sending electrical signals to stimulate and promote tissue and organ repair. This is a marked shift from current methods relying on stem cells to aid repair of tissue and damaged organs. While it is still too early to quantify the market potential, unconfirmed reports state it's huge.
Specifically, for patients requiring urgent liver transplants and a donor cannot be found, Endonovo Therapeutics, Inc. offers a cost effective and quick methodology with its non-invasive treatment to begin the regenerative process.
Acute liver failure is currently treated by managing the symptoms until either the patient can spontaneously recover or a liver transplant can be performed.
The Company's closest competitors offer cell based therapies and liver assist devices serving as a bridge to an organ transplant and do not offer the actual treatment.
There is a possibility this therapy could qualify for the Humanitarian Use Device program of the Safe Medical Devices Act. This would fast track trials and bring the company's products into the market faster, which will see the company's stock shooting up within a short period of time.
Going For The Strong Biotech Stocks
When searching for strong biotech stocks to invest in, you need to take a close look at the following:
1. Quality Product Pipeline: A biotech company may have a wide range of products in the pipeline, but many will never hit the shelves. It takes a great deal of experience and savviness to identify those drug candidates that have a higher chance of making it. Follow closely the latest press releases on key drug trials. Generally the wider the area for which the drug is targeted for, the better. However, drugs targeted at valuable niche market segments are also important. The stage in the approval process is also an important factor.
2. Patents: what is the use of developing a revolutionary drug, when it can be quickly copied, and generics produced cheaply. Possession of patents solidifies a company's position in a certain area. It guarantees full development of the drug without the threat of a competitor stealing the technology, and in the process reducing the potential for commercial success of the drug. Patents can also be a revenue stream for the company through royalties, and licencing fees paid by commercial partners.
3. Prudent use of financial resources: Most biotech companies do not generate much cash, until in the later stages, and have to rely on a combination of equity and debt funding. A good Biotech stock would demonstrate prudent use of cash, through keeping costs low, and achieving results within a shorter time frame etc.
4. Profile of Management Team: The background and experiences of the key people in the company is an important factor. Team members with a track record of delivering results in the specific scientific area, greatly improves the profile of the company, and increases investor confidence.
Each of the four stocks above will possess some or all the criteria of strong biotech stocks, but one thing they have in common is a high growth potential. Adding any of these companies into your portfolio positions afford you to benefit from the opportunities presented by this industry. You might want to limit your exposure in the beginning and increase your holding of biotech stocks as you gain more experience.
The preceding article is from one of our external contributors. It does not represent the opinion of Benzinga and has not been edited.
Posted-In: Biotech Long Ideas Trading Ideas General
View Comments and Join the Discussion!