Biotie Therapies Making Strides In Neurodegenerative Diseases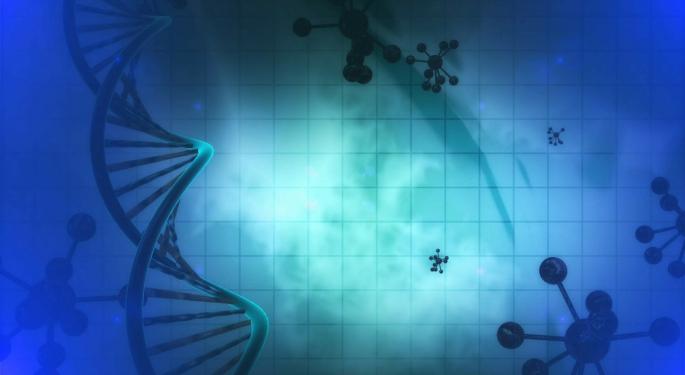 Finnish Biotech company Biotie Therapies (NASDAQ: BITI) (OTC: BIOZF) hopes to raise $56 million in its upcoming IPO this Friday, June 12.
The company will offer 3.8 ADSs at price of $14.82, up 12 percent from its original offer. The deal was initially set for 3.4 million ADSs at the same price.
Biotie will list on the NASDAQ under the ticker BITI. It currently trades on the Finnish stock exchange under the ticker BTHV1 and "over the counter" (OTC Pink Sheets) under the ticker BIOZF.
Brief History
The company was founded in 1998 to focus on developing treatments for central nervous system disorders such as Parkinson's disease and dementia.
Biotie acquired Synosia Therapeutics in 2011.
The biotech also developed a product called Selincro to treat alcohol dependence currently commercialized by Lundbeck and remains a source of potential milestone payments and continuing royalties.
Related Link: NeuroDerm's Latest Clinical Data Accepted As Late Breaking News
Current Efforts
The company is starting a Phase 3 clinical trial for its lead product candidate Tozadenant that could be used with levodopa in Parkinson's. The challenge with levodopa when taken by itself is that Parkinson's patients' symptoms re-emerge daily as their levodopa tapers off. Typically, within four to six years of starting treatment with levodopa, about 40 percent of Parkinson's patients will experience the drug wearing off, which will further increase to another 10 percent per year going forward.
Tozadenant is taken orally and proven to be safe and well-tolerated in the company's ten clinical trials.
Biotie has two other product candidates in its pipeline being developed. SYN120 for Parkinson's disease, dementia and Alzheimer's disease; and BTT1023 to treat primary sclerosing cholangitis, which is a form of liver disease. Both are still in early Phase 1 and 2 clinical trials.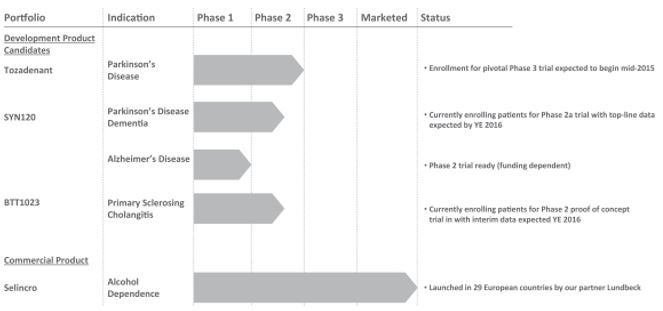 Image taken from the company's prospectus
Sphere Of Influence
Biotie's Tozadenant operates amid a large, growing market, as Parkinson's is the second most common neurodegenerative disorder globally. It is estimated to affect 6.3 million people, around one million in the U.S. The disease's prevalence increases with age.
The market size for Parkinson therapeutics in the U.S., five major EU markets, Brazil and Japan is approximately $3.6 billion and is projected to grow to $5.3 billion by 2022 with the U.S. estimated to have the largest Parkinson's therapeutics market share at 44 percent.
Related Link: IMS Health AppScript Now Offers Beneufit's Parkinson's Disease App pdFIT
Financials
For Q1 ending March 31, Biotie reported $871 thousand in revenue compared with $5.10 million in 2014. Revenue consists of royalty and milestone payments received under its Lundbeck agreement for Selincro and non-refundable milestone payments under its UCB agreement following the completion of Phase 2b and 3 developmental trials.
Revenue decreased to $16.7 million in 2014 from $31.1 million in 2013. The decrease was due to a fall in milestone payments. Revenue from Lundbeck helped offset the decline.
The company's net loss increased to ($39.5) million at the end of 2014 compared to a loss of ($6.47) in the previous year. This loss was due to the company's heavy R&D and general and administrative expenses, as it works to commercialize its product pipeline. R&D expenses allocated to Tozadenant were $9.86 million in 2014 compared with the overall R&D expense of $19.3 million.
At the end of Q1 in 2015, the company reported $7.09 million in cash on its books. Over the same time period, total assets were $106 million and total liabilities equaled $44.4 million.
Some of Biotie's current investors and members of its board have expressed indications of interest to purchase up to $25 million of ADSs in the deal.
Related Link: Sage BioNetworks Launches Parkinson mPower App
Conclusion And Pricing Info
Biotie expects net proceeds to be $49.1 million. It intends the use the proceeds along with its cash to fund its Phase 3 double-blind clinical trial on Tozadenant in Parkinson's through completion. The company also intends to fund SYN120 Phase 2a clinical trial in Parkinson's and dementia, and the BTT1023 Phase 2 clinical in PSC.
The company plans to offer 3.8 million ADSs at a price of $14.82 per ADSs. Biotie will list on the NASDAQ under the ticker BITI and it already trades on the OTC Pink Sheets under BIOZF. Given the midpoint of the range, this microcap stock's market cap is estimated to be $56 million. The main underwriters for the offering are RBC Capital Markets, Stifel and JMP Securities. Shares are expected to price Thursday night.
Image Credit: Public Domain
View Comments and Join the Discussion!
Posted-In: BTT1023 dementia LevodopaBiotech IPOs Top Stories Trading Ideas General Best of Benzinga