How Is The Market Valuing Actavis?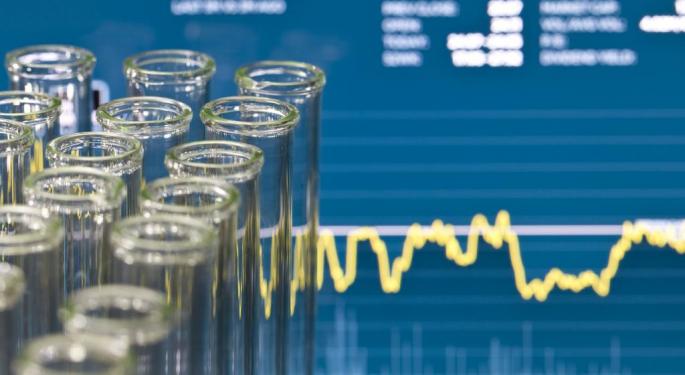 Dublin based Actavis plc (NYSE: ACT) reported Q1 earnings on Monday, beating analyst estimates for revenue and adjusted earnings. GAAP net loss in the quarter exceeded $500 million due to non-recurring expenses. Acquisition integration and a shift toward branded drugs represent continued operational risks, but the acquisitions are logically sound and have been well-received by the market.
Prudena's models estimate that Actavis shares are priced at a 19 percent discount to intrinsic value, making this a potentially attractive opportunity for value investors.

Assuming an 8 percent required rate of return, Prudena's Monte Carlo simulation estimates that Actavis shares are worth $355, 19.5 percent above the current market price of $296.79. Without any long term residual earnings growth, ACT shares have an estimated intrinsic value of $246, 17.2 percent below the current market price.
Based on historical pharmaceutical industry growth and industry outlook, the long term residual earnings growth range 2.5 percent-3.5 percent is very attainable.
According to Prudena's models, 4 percent long term residual earnings growth can be achieved at a 9 percent terminal earnings growth rate. The pharmaceutical industry has been growing in excess of 15 percent in recent years. At $296.79, the implied long term residual earnings growth is 2.23 percent.

The Bull Case
Actavis is growing quickly through acquisitions and the rollout of new branded products. The company enjoyed a 45 percent revenue CAGR from 2010-2014. Actavis has added to its branded portfolio by acquiring Forest Laboratories and Allergan, bringing products such as Botox and Restasis under their umbrella.
The company is also investing substantial resources in R&D. R&D expense grew from $402 million in 2012 to $617 million in 2013 to $1086 million in 2014. Dedication to research and development is important for sustained growth and should translate to higher top line in the future.
Gross margin is expanding as branded products make up an increasing percentage of the total business. Gross margin increased from 44 percent in 2011 to 52 percent in 2014, and should improve further in 2015 due to the Allergan acquisition. Management expects $1.8 billion in operational and financial synergies within one year of the close of the transaction.
Future tailwinds include adoption of generics in emerging markets and the growth of the bio-similar market, which IMS Health predicts will reach $11 billion-$25 billion by 2020. Recent acquisitions have also helped Actavis expand its geographic footprint. The company is forecast to grow at 16.5 percent annually for the next five years, ahead of the industry average of 15.5 percent.
The Bear Case
Large acquisitions entail integration risks. The Actavis-Allergan combination is especially demanding as a name-brand and R&D driven business is joining a generics business. Actavis' leverage is also increased as a result of the acquisition, which adds to the financial risks of the company.
In the near future, Actavis should face stiff competition from generic substitutes of its popular Alzheimer drug, Namenda IR. Further, Actavis' Restasis may face competition from Shire's Lifitegrast as FDA granted priority review for the drug. Restasis was expected to generate $1.6 billion in revenue during 2016.
As is often the case with pharmaceutical companies, Actavis is involved in a number of legal proceedings that represent risks and are very difficult to forecast.
Conclusions
Actavis beat top line and bottom line estimates for the quarter ended March 2015. The company recorded a net loss of $512 million due to one-time expenses related to acquisitions. Non-GAAP EPS of $4.30 topped analyst estimates of $3.84. Non-GAAP revenue of $4.23 billion also topped consensus estimates of $4.05 billion. The company guides $17.00 to $18.50 EPS for the full year 2015 and expects revenue between $20.5 billion and $21 billion. Consensus forecasts fall near the midpoint of both ranges.
Prudena's models estimate intrinsic value of $355 without predicting exceptionally high long term residual earnings growth. ACT shares are only priced 17.2 percent higher than the value devoid of any long term residual earnings growth and 19 percent below Prudena's estimated share price. $296.79 looks like an attractive entry price for long term value investors based on fundamentals and short-term estimates. Actavis' success in the near term will rely upon successful integration of acquired businesses, which represent significant operational risks. The acquisitions have been logically sound as they increase Actavis' geographic footprint and branded drug exposure.
Contributors: Ryan Downie and Soid Ahmad
Published: 5/13/2015 8:00:00 AM UTC
NOTE: The Morning Monte is high-level, and any investment requires a deeper analysis than is presented here. The comments in the Morning Monte are intended to help guide your research and ground you in the fundamentals of the company. In no way should the comments in The Morning Monte be taken as advice to buy or sell a particular equity. Some of the statements are forward looking. As such, these statements are speculation--so beware! The comments represent the views of the author and are not necessarily the views of PRUDENA™.
Have a comment? Please Contact Us.
The preceding article is from one of our external contributors. It does not represent the opinion of Benzinga and has not been edited.
Posted-In: Actavis PrudenaBiotech Long Ideas Technicals Trading Ideas General Best of Benzinga
View Comments and Join the Discussion!