Noble Biomaterials CEO Jeff Keane Discusses Solving The 'Stinky Socks' Problem And More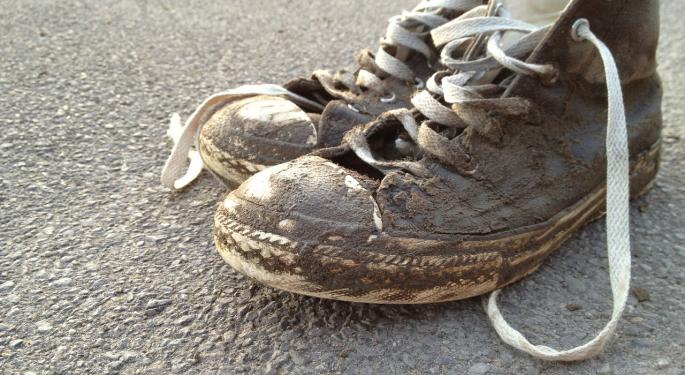 Anyone who has suffered from stinky socks or a smelly shirt after working out would likely want to know about a company called Noble Biomaterials.
Noble CEO Jeff Keane spoke with Benzinga about the company and its main brand, X-STATIC.
Below is part one of a two-part interview with Keane.
Related Link: Morgan Stanley: Lululemon Is Now Worth $56/Share
X-STATIC Explained
According to the company, X-STATIC is an EPA registered, antimicrobial solution proven to reduce 99.9 percent of bacteria on the surface of fabrics within one hour.
X-STATIC, Noble said, provides a protective layer of 99.9 percent pure metallic silver, bonded with textile fibers through a proprietary process.
Three Core Issues
According to Keane, "There are three core issues that we identified as very large, global in nature and not having really good solutions."
He explained, "[These issues] are built around this idea of managing bacteria on soft surfaces and include eliminating odor, preventing infection and managing conductivity."
Eliminating Odor
"Working with corporate partners, such as Lululemon Athletica inc., Spyder Products, Smith Helmets, 5.11 Tactical and every branch of the U. S. Military," Keane said, "we have the ability on the surface of that running shirt, yoga top or piece of long underwear to remove the bacteria that can cause odor.
"For the life of the garment, we can ensure that yoga top won't smell," he said.
Two User Types
Keane explained that two types of people are attracted to the ability to eliminate odor in clothing – those he calls "re-users" and those he refers to as "all day longs."
"Re-users" tend to be guys who wear an article of clothing three to four times before washing.
The "all day long" population skews female and consists of people who want to be able to wear an apparel item from yoga class to work to meeting friends for drinks at the end of the day.
Managing Conductivity
According to Keane, managing conductivity on soft surfaces has historically focused on the industrial segment.
Noble Biomaterials, he said, has been working with Federal-Mogul Holdings Corp (NASDAQ: FDML) to put X-STATIC technology in heated seats in automobiles.
"Additionally," he said, "our technology can be wrapped around components in cell phones to provide insulation, so the components do not interact with one another."
Wearables
Conductivity comes into play in the wearables segment as well.
"Over the last 36 months, we've seen a surge in innovation around managing conductivity in consumer and healthcare items, such as running shirts," Keane noted.
"In addition," he said, "with the likes of Adidas and, interestingly enough, Ralph Lauren Corp, we are putting our technology into biomonitoring.
"Functionality," Keane said, "is key. Now your shirt can help monitor your heart rate and your respiration rate."
He explained, "This exciting area of wearables with today's technology allows us to produce the Victoria's Secret Running Bra. Now we're adding incrementally."
Related Link: Up To 5,000 Chinese Staff On Strike At Nike And Adidas Supplier
Certification And Quality Control
"For the vast majority of applications," Keane said, "our brand name is on the item. With that responsibility, we said we need to test all products to make sure they do what we say they do.
"Whether it's smell or infection or managing conductivity – we set up an internal certification process making use of internal proprietary and third party external verification."
Read part two of this interview here.
At the time of this writing, Jim Probasco had no position in any mentioned securities.
Image Credit: Public Domain
Posted-In: 5.11 Tactical Adidas AG Jeff Keane Lululemon Athletica Inc.Biotech Top Stories Exclusives Interview Best of Benzinga
View Comments and Join the Discussion!