EXCLUSIVE: VolitionRX's New Cancer Diagnostic Could Mean No More Invasive Colonoscopies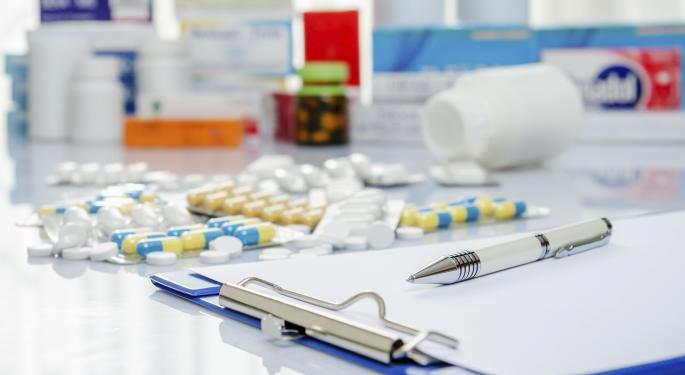 Uncomfortable and invasive colonoscopies might be a thing of the past with VolitionRX Ltd's (NYSE: VNRX) new cancer detection system.
Through its research, VolitionRX developed a method for testing blood samples to detect various types of cancer, making diagnosis more accurate and reliable than current options, potentially saving patient's lives.
Depending on the type, cancer is survivable and treatable, according to CEO Cameron Reynolds, "Patients have an 80 to 90 percent chance of surviving at least five years if caught in stage 1."
Benzinga recently interviewed Reynolds to discuss VolitionRX's new cancer detection system, how it works and when they expect to turn this biotech into a profitable company.
Related Link: Research And Markets: Esophageal Cancer Therapeutics Pipeline Review 2015
Volition's Unique System
VolitionRX's system works by collecting a blood sample from a patient. Once available to patients, the sample would be shipped at room temperature to one of its labs around the world, where it is analyzed for cancer specific nucleosome patterns and structures. Nucleosomes are more reliable in detecting cancer than looking for a specific gene because of the massive number of them. For instance, there are 500,000 nucleosomes in every chromosome.
Nucleosomes are folded over and over through higher order structures until eventually forming a chromosome. Packed inside the nucleosome folds are strands of DNA. The intertwining of nucleosomes with DNA create an extra layer of protection for correct gene expression.
"Nucleosomics use a very simple format to detect and measure the different structures of nucleosomes in cancer patients, being able to tell the difference between different strains [of cancer] and healthy patients."
Reynolds continued, "Some patterns in nucleosomes are common in all cancers; however, there are structures that are more or less common for a particular type of cancer."
Clinical Trials
Clinical trials have gathered blood samples from more than 20,000 patients across Europe analyzing "specific markers for various cancers, which is what we [VolitionRX] have done, particularly in the area of the 20 most prevalent cancers, like colorectal, pancreatic and prostate."
Reynolds explained, "We have found different markers that move in different directions for different cancers. For example, we found one modification that goes down in colorectal and up in prostate."
Related Link: Research And Markets: Metastatic Biliary Tract Cancer Therapeutics Pipeline Review 2015
Reynolds continues by discussing the benefit of nucleosome testing. "Current cancer tests are really looking for a needle in a haystack. You have to amplify and amplify huge blood draws, looking for that one particular gene.
"I think the real secret sauce for ours [nucleosome blood test] is that you are looking for the haystack. It's genome wide. You're not looking for one particular gene. There are huge numbers of nucleosomes in the blood. It's something you can do in a very simple, cost effective format with very little blood."
Success And Room To Improve
The company has spent a relatively small amount of money on testing thus far and has experienced a high level of success. It doesn't intend to wait until the product is perfect, because it believes there is value to be added today.
"In the colorectal space, we should compete very strongly with the regular fecal tests that are used everywhere else in the world, because we have better compliance and higher accuracy, especially early on," Reynolds said.
Some European countries even mail tests to its citizens for free. Once completed, the sample is returned for analysis. Despite making it incredibly easy to get tested, more than half end up in the trash. "No country in the world has been able to get more than 60 percent of its population to do a colonoscopy or a fecal test."
Colorectal Cancers Specifics
Before moving onto the financials, Reynolds reiterated, "Depending on the cancer, it is a very, very, very treatable and survivable condition. The problem is, there are [people] not diagnosed well or early, so you end up getting to stage 3 or 4 by the time you are diagnosed. Once in those later stages, your chances of survival get very slim, very fast.
"Not only do you lead a terrible last year or two of your life with chemotherapy and other things, but keeping you alive for a year or two costs a tremendous amount of money. Had you caught the cancer in stage 1 and you have a resection, you will save you and your family a lot of suffering. You'll probably live a long time after that."
Related Link: Celsion Jumps On Interim Data On Cancer Drug
Financial Health
When asked about the financial health and short-term outlook for VolitionRX, Cameron said, "We raised enough money to get us through next year, so we have more than enough money to get through these last few trials, half a dozen pilot studies in Europe and the European product launch."
Because Volition collects a small blood sample before a colonoscopy is administered, it is very inexpensive to collect data and run the trial. The blood sample analysis is compared to the result of colonoscopy. "Despite being extremely expensive and invasive, a colonoscopy is very, very accurate."
What's Ahead
VolitionRX intends to begin marketing and selling its test as early as the first quarter of next year. Reynolds said, "To be conservative, I would say the first half of the year though."
Investors shouldn't be dismayed at not seeing revenues the first day. "Launching and reimbursement are two different things. It will take us a few years [from the launch] to begin seeing serious revenues, because you have to convince each country, government by government. I wouldn't expect seeing large revenues until 2017 or 2018.
"We see ourselves being broadly revenue neutral in 2017 with a large ramp up really beginning in 2018."
Related Link: What 2 Wall Street Analysts Think Of Galena Biopharma
Positive On Growth
Cameron is positive about the future prospects for revenue growth. As more and more governments start to approve the blood test, he sees exponential growth that will even put the test in the developing world. The expenses of a colonoscopy will be prohibitive, where this test can be performed anywhere in the world by gathering a blood sample and sending it to a lab for analysis.
The company will employ a third party sales force overseen by an in-house manager. The idea is to keep costs low while delivering their product to as many people as possible as fast as possible.
Any Concerns?
When asked what keeps him up at night, Reynolds said, "Well, it was running out of money, but we have enough cash to make it through next year. Now it's nothing in particular.
"The thing I focus each and every day on is delivering. It's one thing to have the money, it's another thing to make sure it's used wisely in testing and on product rollout. We just need to deliver, because that's what's going to make us a successful company – a range of products that revolutionizes cancer diagnostics."
Wrapping Up
The final question was, "What do you do on Saturday morning?" Reynolds enjoys spending time with his wife. They leave their phones at home and take a half-hour walk through Regent's Park in London to a coffee shop where they share a cup of coffee and read the paper or simply enjoy the weather.
After a successful public offering of 2.8 million shares priced at $3.75, Volition was uplisted to the New York Stock Exchange. With a positive outlook for the future, look for CEO Cameron Reynolds and the VolitionRX team to be ringing the closing bell of the New York Stock Exchange on Wednesday, March 11. To read more about the company, click here. To read about its clinical trials and other publications, click here.
To read more about the company, click here.
To read about its clinical trials and other publications, click here.
Disclosure: The author holds no positions in the mentioned securities at the time of this writing.
Posted-In: Cameron Reynolds colon cancer colorectal cancerBiotech Health Care Exclusives Interview General Best of Benzinga
View Comments and Join the Discussion!