Indian KKK Cartoon Jangles Australian Nerves; Talk About Kangaroo Courts?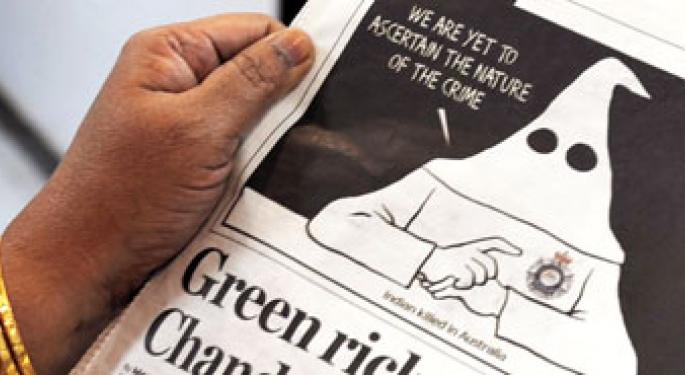 A cartoon published by the Delhi-based Mail Today seems to have raised more Australian hackles than the murder of Indian student Nitin Garg in Melbourne last weekend. The cartoon in question shows a person in a Ku Klux Klan uniform with a police badge saying, "We are yet to ascertain the nature of the crime".
The Victoria police as well as the state government have strongly criticized the cartoon, saying that in addition to assigning a racist hue to the crime, it also questions the authorities' commitment and efficiency. Deputy Prime Minister Julia Gillard stated that any such cartoon was offensive and wrong, citing the increased patrolling and security in places where attacks have happened.
Meanwhile, Mail Today editor Bharat Bhushan has defended his newspaper's stance by saying that the cartoon was intended to provoke introspection among Australians. He also added these attacks are being perceived as racist by Indians, giving them good cause to be worried about their children in Australia. It is worth noting here that the Australian government continues to stick to its stand that the attacks were criminal in nature and not racist. The Victoria police had also commented once that Indians were "grossly overrepresented" in robberies. Bhushan has told the BBC that agitation over the cartoon may ultimately prove to be good, if it goads efforts in the right direction.
Relations between Canberra and Delhi have predictably been strained by the string of attacks over the last year on Indians in Australia. After Garg's murder, the Indian Government issued travel advice to Indian students going to Australia. The attacks pose a serious threat to Australia's lucrative foreign student market, 19% of which is accounted for by South Asian students. The foreign student market was worth $11.93 billion in 2007-08, the third largest export earner after coal and iron ore.
China leads the pack with about 130,000 students in Australia, followed by India with around 97,000. It is estimated that 45,000 of these Indian students live in Melbourne, followed by 32,000 in Adelaide and the remainder in Brisbane, Perth and Sydney. Figures released by the Australian immigration department show that the number of Indian students wanting to study in Australia has gone down by nearly 50%, fueling concern over future enrollments.
In an increasingly pluralistic society, any form of race or ethnicity based discrimination has come under heavy fire. Back home in the US, companies like Abercrombie & Fitch (NYSE: ANF), and more recently, Wal-Mart (NYSE: WMT) and Dr Pepper Snapple (NYSE: DPS) have faced lawsuits for racial discrimination and abuse. It remains to be seen how the Australian issue will resolve itself.
View Comments and Join the Discussion!
Posted-In: Julia GillardGlobal