Republicans Spreading One Big Lie About Financial Reform Bill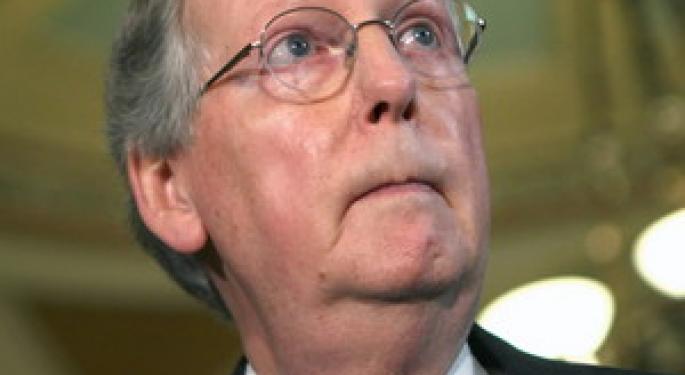 As expected, Republican leaders in the Senate have begun a campaign of misinformation, distortion, and flat-out lying in an effort to derail the financial reform bill as they (unsuccessfully) did with the healthcare reform bill which passed last month.
Sen. Mitch McConnell (R-KY), the Senate Minority Leader, claimed last week that a provision of the bill calling for a $50 billion pool to support endangered financial institutions is yet another attempt at a taxpayer-funded bailout.
That would be a good point - if it were true.
The truth is that the pool is not funded by the taxpayers at all. According to the bill pending in the Senate, the pool would be funded by financial institutions themselves, to be used in the event that one company becomes a danger to the financial system as a whole.
In other words, the financial institutions are required to pay the costs of irresponsibility themselves. What Sen. McConnell is saying is nothing more than a lie.
Why Republicans in the Senate view this as a bad thing is mind-boggling. Doesn't it make sense for Wall Street to purchase its own insurance? Doesn't it make sense that having billions of your own funds tied up in the stability of another institution will make you more vigilant and wary of the corrupt and greedy tricks and dealings that could lead to your company suffering?
Of course, don't expect to get a straight answer to that question from Sen. McConnell or his cronies in the Senate.
They'd rather just lie to you.
View Comments and Join the Discussion!
Posted-In: financial reform Mitch McConnellPolitics Economics General