Benzinga News Flash…Warren Buffett Invests In The Chicago Real Estate Market.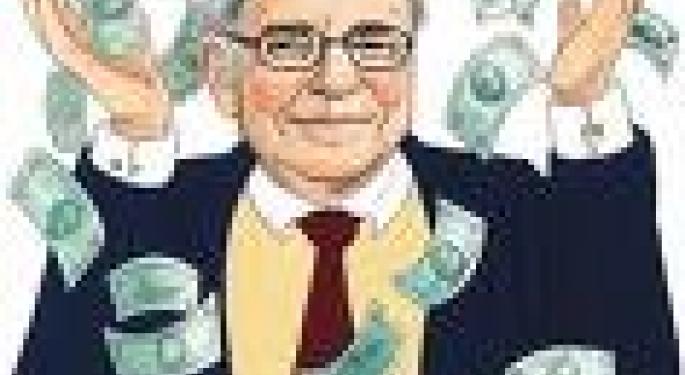 Warren Buffett, one of the steadiest most successful investors of all time, has taken his foot off the bag and is now investing in the Chicago area real estate market. During the most volatile time in economic history, Buffett is one of the first to draw and is now speculating in the Chicago real estate market.
Last week: "Berkshire Hathaway Inc.'s property brokerage bought Schiller Real Estate, expanding the reach of Warren Buffett's company in the Chicago area as home sales rise. Schiller, based in suburban Elmhurst, Illinois, will become a part of Koenig & Strey Real Living, a residential brokerage that Berkshire's HomeServices of America Inc. unit bought last year."
Mr. Buffett's financial success is based on the following mantra as posted on Benzinga a month ago.
1- STAY LIQUID – "Never become dependent on the kindness of strangers." Make sure any requirements that you will ever need for cash will be dwarfed by your own liquidity.
2 - BUY WHEN EVERYONE ELSE IS SELLING – Chaos is the ideal period for investors. A climate of fear is your best friend. When it rains gold reach for a bucket not a thimble.
3 - DON'T BUY WHEN EVERYONE ELSE IS BUYING – Those who buy or invest on the meaningless reassurance of commentators pay a high price. Be patient and know what you are investing in. Do your homework.
4 - VALUE, VALUE, VALUE – Don't get suckered in by big growth stories. Avoid businesses whose futures you can't evaluate, no matter how exciting their products may be.
5 - DIVERSIFY YOUR PORTFOLIO
6 - DEFENSE BEATS OFFENSE – Buffet's investments have lagged the S&P market during positive years but they have done better than the S&P during the 11 years in which the index delivered negative results.
Investors take notice and pay attention to #3 on the list. Don't wait for the Wallstreet guys to take their slice of the pie before they ask you for a piece. Buy the pie and cut it yourself.
Posted-In: Guidance Movers & Shakers Markets
View Comments and Join the Discussion!