Sustainable Battery Management From Automobiles to Space Stations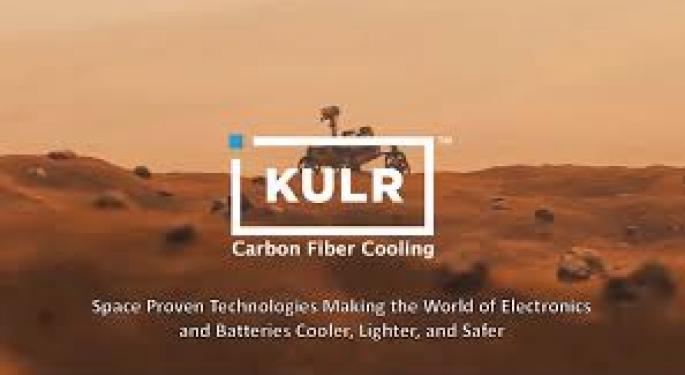 From residential renewable energy sources to the expansion of electric vehicles, sustainable energy practices and sources have stepped into the investing spotlight. As investor's interest in renewable energy stocks like Blink Charging (NASDAQ: BLNK) and Tesla (NASDAQ: TSLA) are at their peak, KULR Technology Group Inc. (OTCQB: KULR) is turning its eyes to the future — and the stars — for the safety and management of sustainable battery energy.
Thermal Management and Battery Life
KULR Technology Group aims to use its integrated thermal design approach to create a more efficient and sustainable battery. In particular, KULR focuses on limiting wasted thermal energy created by hybrid vehicles, industrial processes and robotic applications. Thermal energy is always a byproduct when the system is running, and KULR's aim is to redirect and minimize this waste. Excessive heat generation can significantly age the working parts of the system, wearing down your batteries and drastically reducing their lifespan. 
"KULR's thermal solutions are designed to absorb and mitigate rapid temperature changes in battery systems and keep sensitive components within desired temperature ranges for their required specification," said KULR's VP of Engineering, Michael Carpenter. In some cases, improved heat management has the potential to increase the efficiency of battery systems by up to 60%. The end result is a battery that's longer-lasting, more effective and needs to be replaced less often when compared with competitor models generating excessive heat waste.
With the vast expansion of batteries into cars, home energy storage, and portable power packs this efficiency and attention to detail will be paramount in determining which companies will excel as our society moves forward with batteries.
How KULR is Making Recycling Safer
When a battery reaches the end of its first life and is removed from a vehicle, it may go to a recycling facility, a second-life application or a waste management facility. KULR Technology Group isn't only working to extend the lifespans of batteries by controlling excess heat generation — it is also creating solutions for safer battery recycling and repurposing. However, recycling lithium-ion batteries isn't as simple as melting down aluminum cans, as these types of batteries are highly flammable.
Pressure from the new administration and increasing regulations regarding safe recycling processes for lithium-ion batteries, KULR has developed a passive propagation resistant (PPR) design to limit dangers associated with recycling or repurposing these batteries. KULR's PPR design provides an integrated solution that effectively controls thermal runaway failures during end-of-life processing and transportation. KULR hopes that its PPR design will contribute to the anticipated $7 billion increase in the battery recycling market through the year 2025.
Additional Growth Ahead
KULR's storage solutions are also being used within the aerospace and defense sectors. In September of 2019, the company announced that its lithium-ion Thermal Runaway Shield (TRS) storage solution was selected for safe laptop storage aboard the International Space Shuttle (ISS). The TRS system prevents thermal runaway from occurring when laptops containing lithium-ion batteries are transported under high-stress conditions.  
"KULR has provided a key component to the efficiency of the thermal management solutions we are developing for NASA," said Daniel Barineau, Senior Project Manager, at partner company Leidos. "KULR's thermal management technology should have applicability beyond this one implementation, both on the ISS and future destinations. Thermal management solutions are crucial to the safety and security of all missions, and we are pleased to see another effective use of KULR's technology."
The preceding article is from one of our external contributors. It does not represent the opinion of Benzinga and has not been edited.
View Comments and Join the Discussion!
Posted-In: General