Sports Team Ownership No Longer A Guaranteed Moneymaker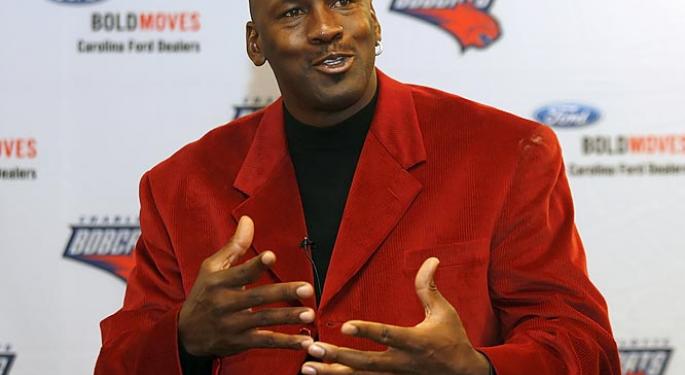 The New York Times (NYSE: NYT) recently ran an article about the effects of the recession on owners of the nation's professional sports teams.
Over the past few decades, the price of professional sports teams seemed to go nowhere but up. It was a good business to get into because it seemed like no matter how badly you ran your business, you could sell it years later at a significant profit.
The fact that in their attempts to lure teams away from other cities, or to make them stay put, cities often provided taxpayer backed financing of stadiums and offered owners tax breaks made buying a sports team a good investment if you could afford it.
While much of that is still going on, the recession seems to have changed at least one aspect of all this: If you do a poor job of running your franchise, there's no longer a guarantee that you can walk away years later with a profit, let alone break even.
One case in point is Michael Jordan's attempt to by the National Basketball Association's Charlotte Bobcats for $25 million less than what the team was sold for in 2002.
Then there's the National Hockey League's Tampa Bay Lightning. The team was bought in 2008 for $200 million but just last month it sold for only somewhere between $100 million and $150 million.
The article stated that of the nine professional sports teams sold in the last year, five of the teams were either losing substantial sums of money or were carrying large debts.
As the economy seems to be on the mend, many owners are said to now be looking for possible buyers. However, they may run into trouble of a different sort: the taxman. Congress has been discussing whether or not to raise the capital gains tax.
"It used to be you got bailed out when you sold your team even if you lost money year after year," the article quoted Marc Ganis, president of consulting firm SportsCorp Ltd., as saying. "Now, you're no longer assured of cashing out to cover your capital costs and losses."
Posted-In: Charlotte Bobcats Marc Ganis Michael Jordan National Basketball Association National Hockey LeagueTopics Media General
View Comments and Join the Discussion!