Is The Time Ripe For High Profile Investors To Join the Cryptocurrency Game?
Cryptocurrencies are here to stay and there's not much that an individual, organization or government can do about it. The cryptocurrency markets is seeing a boom in the volume players in the industry – from legacy cryptocurrencies such as Bitcoin and Etheruem to relative upstarts such as Monero and Ripple, cryptocurrency has something for all types of investors.
Bitcoin, the poster boy of cryptocurrencies is consistently providing a sneak peek into what the future holds for cryptocurrency investors. Bitcoin is currently trading up around $4,534 up from $997 on January 1. Even if you didn't buy Bitcoin directly and you invested your money in the NYSE Bitcoin Index (NYB), you'll have a 403.5% increase in the value of your investment. In contrast, the S&P 500 has gained 10.62%, the NASDAQ is up 19.55%, and Dow Jones has gained 11.26 % respectively in the year-to-date as shown in the chart below.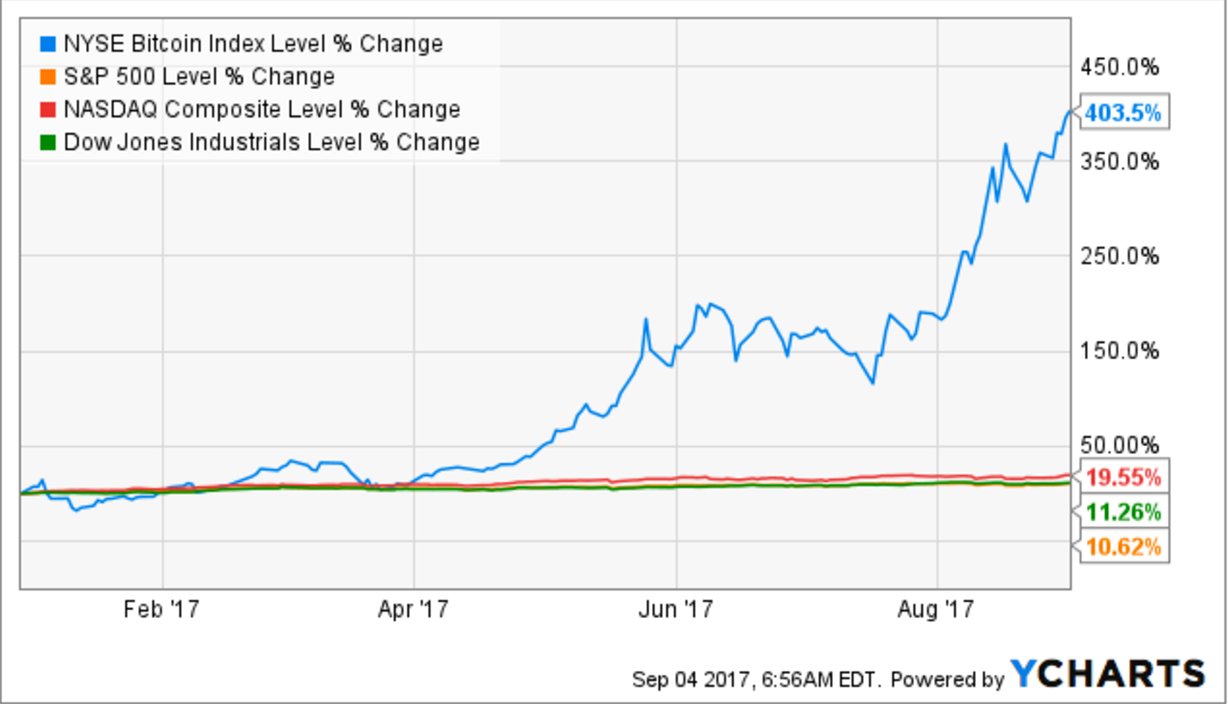 High profile investors are still not impressed with Bitcoin
Despite Bitcoin's massive price gains, many high profile and institutional investors are still not comfortable investing in cryptocurrencies. On the fundamental level, many high-profile investors shirk at the inherent degree of volatility that accompanies investments in cryptocurrencies. However, a deeper search into why high profile investors shy away from cryptocurrencies unveils some reasons that transcends volatility. After all, even conservative investors still have a fraction of their assets in speculative investments in order to inject life into their portfolios; hence, Bitcoin is as good as any speculative investment.
One of the main reasons institutional investors tend to be wary of cryptocurrencies is the lack of guarantee on the safety and security of their assets. To start with, Bitcoin exchanges tend to be magnets for hackers – Bitcoin exchanges can't seem to stop being hacked irrespective of the security system they use. In 2010 when Bitcoinica was hacked, 418,547 BTC were stolen, the Mt Gox hack of 2014 saw some 744,408 Bitcoin stolen, and the Bitfinex hack of 2016 saw the hackers looting some 119,756 BTC.
Unfortunately, cryptocurrency exchanges tend to lack guarantees and insurance; hence, they decline responsibility and compensations for stolen cryptocurrencies. Such thefts makes investors distrustful of exchanges, makes investors panicky, triggers a selloff in cryptocurrencies, and it reinforces the fear of volatility in cryptocurrencies.
High profile investors also find it somewhat difficult to invest in cryptocurrencies because most of the exchanges in the market to not support large amount of fiat transactions. For instance, many exchanges are currently disabling fiat deposits because they are unable to work out issues with intermediary or corresponding banks. Big banks typically try to de-risk their transactions and cryptocurrency transactions are still largely considered high-risk transactions. Hence, many cryptocurrency exchanges are being forced to impose low maximum deposits/withdrawals and prohibitive fees could with massive delays for fiat transactions.

Legolas might be a game changer for cryptocurrency investments
Legolas, created by a high-caliber team with a deep background in finance and IT seeks to solve many of the biggest challenges that keep institutional investors away from cryptocurrencies. Legolas is the first demonstrably fair, theft-proof, and guaranteed cryptocurrency exchange with an unassailable design.
Secondly, Legolas safeguards all fiat and cryptocurrency deposits with it custodian partner, BanQix Bank in Luxembourg. Legolas' partnership with a 'traditional' bank ensures that your funds are secured and investors don't have to panic when other exchanges are been hit with hacking attacks.
Legolas also seeks to provide all investors with a level playing ground by neutralizing the possibility of front-running and market manipulation. Legolas's proprietary platform ensures the transparency, temporality, and unalterability of the order book to maintain a fair trading environment.
Interestingly, the Legolas exchange is being powered by the LGO token; investors might want to consider investing in Legolas since it promises to be the vehicle that breaks down the biggest barrier between cryptocurrency and Wall Street Investors. The ICO for Legolas' LGO token is set to begin in the next few weeks, but the demand for the LGO token is already high and ICO will likely be by invitation only.

The big money is preparing to pour into cryptocurrencies
Cryptocurrencies are currently in the Wild West of finance but it's only a matter of time before they take center stage on Wall Street. Given enough time, the blockchain technology that powers Bitcoin and other cryptocurrencies will become more fluid, better, and easier to use. For instance, Kay Van-Petersen, an analyst at Saxo Bank has projected that crypto cryptocurrencies will account for 10% of the average daily volume of fiat currency trades within the next 10 years.
Investors also must constantly adapt with changing times and the rise in the connectivity and dependence of financial markets is making it increasingly hard for money managers to create a truly diversified portfolio. The fact that there's almost no correlation between Bitcoin and traditional assets such as the S&P 500 also makes cryptocurrencies a perfect tool for institutional investors who want to reduce their portfolio risk.
View Comments and Join the Discussion!
Posted-In: marketacrossGeneral