Oscar Odds And Predictions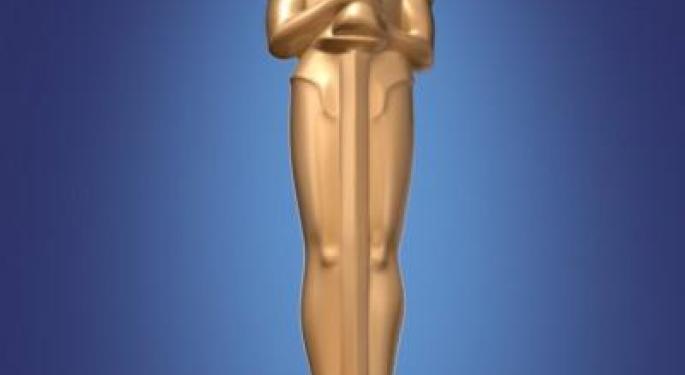 It looks like the battle for best picture at Sunday's Academy Awards will come down to James Cameron's "Avatar" and "Hurt Locker," which was directed by Cameron's ex-wife, Kathryn Bigelow.
Intrade.com shows those were the two most active contracts during Friday trading, with 8,837 "Avatar" contracts changing hands and almost 7,200 "Hurt Locker" contracts traded.
"Inglorious Basterds" and "Up In The Air" are the only contracts trading for more than a dollar.
Benzinga Prediction: "Up In The Air" wins in an upset.
For best actress, Intrade is showing 840 Sandra Bulluck contracts traded yesterday compared to 470 for Merryl Streep. The Bullock contract is nearly twice as expensive as Streep's.
Benzinga Prediction: Another upset: Streep wins.
Best Actor: Nearly 440 Jeff Bridges contracts traded on Intrade on Friday, the only other actor to see triplpe digit volume was Morgan Freeman. If the Intrade activity is any indicator, no one outside of Bridges has a legitimate chance at the golden statue.
Benzinga Prediction: Bridges.
Best Director: Again, this one may not provide if Intrade users are correct. The Kathryn Bigelow contract saw volume that was nearly 50% higher than the Cameron contract on Friday and is trading for more than six times the price.
Benzinga Prediction: Bigelow wins.
Best Supporting Actor: It appears it would be foolish to bet against Christoph Waltz, but that is also an expensive bet to make. For less than $4, you can take our pick, Matt Damon.
Best Supporting Actress: This one is interesting because Penelope Cruz is nominated for the award she won last year and two actresses from "Up In the Air" are up as well. Intrade users apparently are feeling Maggie Gyllenhaal. Heck, they're not feeling anyone but Mo'Nique for her role in "Precious."
This might be a category to stay away from as the odds favor no one but Mo'Nique and her contract is trading for $94.90. No much value here.
Benzinga Prediction: Mo'Nique
Posted-In: Long Ideas Short Ideas Futures Movers & Shakers Topics Media Trading Ideas General
View Comments and Join the Discussion!