EXCLUSIVE: Shinola CEO Heath Carr Explains Why Detroit Makes Sense For Manufacturing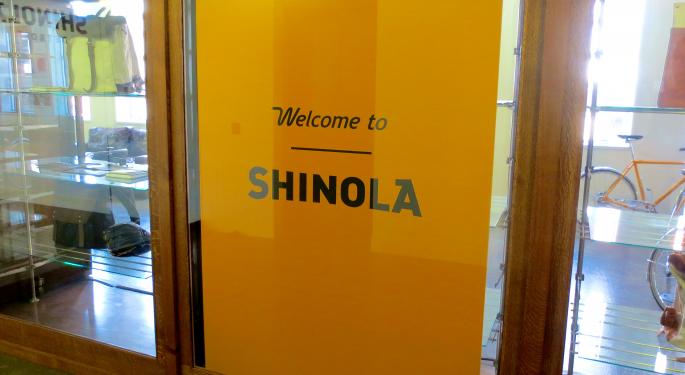 Editor's note: This piece is part one of a series of interview comments from Heath Carr of Shinola. Stay tuned to Benzinga to see the rest!
Based out of the Motor City, Shinola describes itself as a "Made in America" accessories brand. Started by Fossil (NASDAQ: FOSL) founder, Tom Kartsotis, the company produces high quality watches, bicycles, leather goods and journals.
In an exclusive interview with Benzinga, CEO Heath Carr showed his and the company's pride in Detroit.
When asked about why Shinola chose Detroit as its manufacturing hub, Heath Carr replied, "We asked everyone to write down 'top of mind' US manufacturing cities, and Detroit was at the top of a lot of people's lists... There was a great energy in the city and a great focus on moving forward, with less about the past."
Related: Mark Wahlberg and Jimmy Fallon Share Their Love For Detroit
Sparking encouragement for Detroit manufacturing in 2012, Shinola opened its flagship store in the heart of Midtown just over two months ago. The grand opening drew a crowd of Detroiters excited to welcome the city's newest producer.
Carr explained that the company didn't have a hard time finding skilled labor in the Motor City. "We didn't have any real expectations whether it would be difficult or not, given the pool of resources that are trained to assemble watches just anywhere in the United States."
"We were probably a bit naive in trying to understand what it was gonna take to find the candidates. At the end of the day, we were pleasantly surprised with how many people wanted to be a part of it."
Coming soon: Heath Carr's comments on how Detroit's bankruptcy will affect business in the city.
View Comments and Join the Discussion!
Posted-In: Bicycles Detroit Heath Carr Journals Leather Goods Motor CityInterview General Best of Benzinga