TD Ameritrade Drops 'Free ETF Bomb' onto Financial Industry (AMTD, LQD, PCY, IVV, VNQ)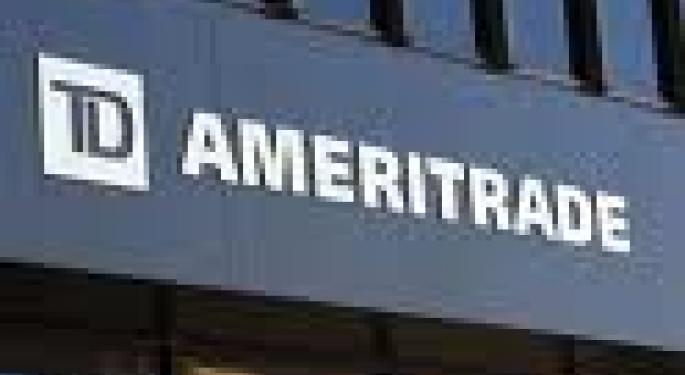 TD Ameritrade (NYSE: AMTD) was a little late to the free ETF party, but boy did it make an entrance.
For several months now Fidelity, Schwab, and Vanguard offered commission free ETFs to its customers. Schwab only has a handful of internal Schwab ETFs available; Vanguard has a healthier selection of Vanguard ETFs, while Fidelity offers 25 free Ishares/Barclays funds.
The popularity of these free ETFs has been great, as the cost savings of no commissions plus very low management fees adds real value for investors.
TD Ameritrade has been silent on the issue until yesterday, when it dropped a bomb on the industry by offering over 100 free ETFs from multiple investment companies. It is now possible for an investor of any size at Ameritrade to hold a fully diversified portfolio of entirely commission free ETFs.
Some of the Free ETFs include iShares Investment Grade Corporate (NYSE: LQD), Powershares Emerging Debt (NYSE: PCY), Ishares S&P 500 Index (NYSE: IVV), and Vanguard US Real Estate Index (NYSE: VNQ).
There are also currency, TIP, sector, emerging market, and treasury ETFs from several other institutions.
This is not to say as a TD Ameritrade investor you should limit yourself to only free ETFs, as often times the extra $9.00 or so is well worth the price of admission for a superior investment choice. However for the majority of investors there is enough choice within the free offering to get a great foundation for the portfolio with no upfront cost.
One small caveat traders must be aware of is a buy and sell of any free ETFS within 30 days will result in a 'short term redemption' penalty of $19.00. Fortunately this will not affect longer term investors at all.
With this free ETF trend only growing, traditional equity/fixed income mutual funds continue to get closer and closer to becoming obsolete.
Posted-In: Long Ideas News Sector ETFs Broad U.S. Equity ETFs Specialty ETFs Emerging Market ETFs Currency ETFs Intraday Update
View Comments and Join the Discussion!