Pair Trade: Long Comcast-K, Short Comcast-A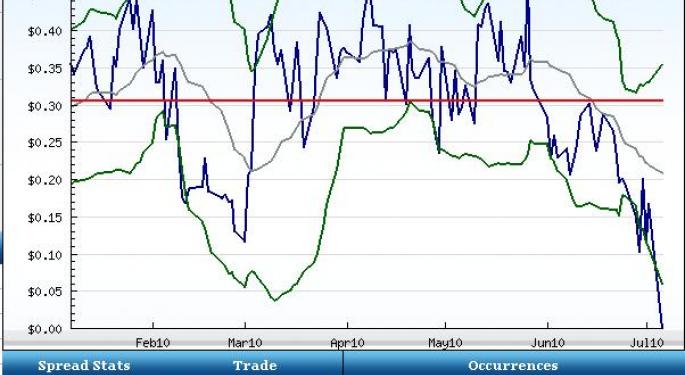 air Trade: Long CMCSK, Short CMCSA
Fundamental Commentary

Another arbitrage opportunity presents itself with Comcast's two classes of stock. Very similar to the BBL and BHL pair I posted a few days ago.
Class A common stock (CMCSA) Class A special common stock (CMCSK)The one and only difference between the two classes is voting rights - CMCSA holders are entitled to .1373 votes per share, while CMCSK are not entitled to any voting rights.

For some reason unbeknownst to me, these types of situations tend to trade all over the place, even though they are representing nearly the same equity in Comcast.

Keep in mind this isn't really a long or short on Comcast, but rather a trade on the fact that the spread between these two classes has become too attractive.

Assuming that Comcast does not go bust any time soon (and this is a pretty safe assumption in my opinion), this trade should be profitable.

Statistical Commentary

Take a look at this pair graph.

Again, I can't really explain why these shares are trading so far apart from one another.

Look at the spread stats:
- 99.64% period correlation
- 97.81% 30-day correlation
- 99.98% co-integration
Historically these two have traded almost always in line, but have diverted perhaps because of market volatility.

This is exactly what you look for in a pair: high correlations and co-integration, similar assets, but similar valuations.

These equities essentially represent the same company, yet their spread has traded all over the place.

Look back at the period of May-10 to June-10, you can see a very similar situation in which the pair was trading at the edges of the lower bollinger band. It then bounced back and traded all the way up to the upper band.

In this situation the pair has gone almost a full standard deviation beyond the lower band. The bounce back could be even more substantial as convergence occurs.

If you believe in the principle of mean convergence, it is reasonable to expect that this pair will return to a level more in-line with the mean.

Good luck! If you'd like to see the full version of this pair, visit our Pair Tool (completely free) and gives a really nice statistical, fundamental, and graphical output.

Happy trading,
Phil
phil@catalystcorner.com

The graphical representation of the this pair was generated from the Pair Trading Tool at Catalyst Corner. Both the Pair Tool and site membership are completely FREE.

Catalyst Corner is a financial website that provides FREE in-depth researchs on comapnies with significant milestones or "catalysts" coming up in the near-term.

Disclaimer: The information disseminated by Catalyst Corner("Catalyst", "us", or "we") is for informational purposes only, and is neither a solicitation to buy nor an offer to sell securities. We do not undertake or purport to render any investment advice or recommendations for the buying and selling of securities.

Disclosure: No positions
View Comments and Join the Discussion!
Posted-In: pair trading pairs tradeLong Ideas Short Ideas