Should Investors Be Worried About A Dollar Plunge?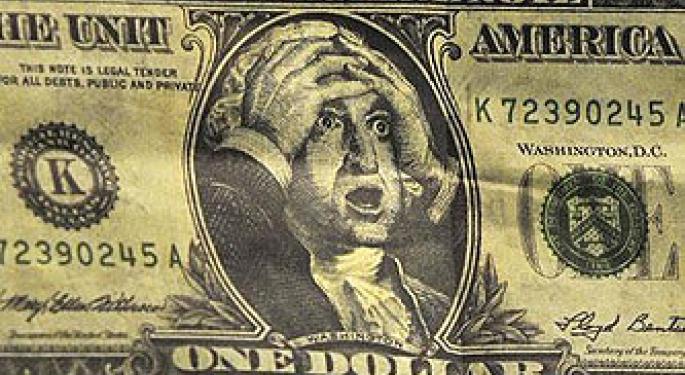 The U.S. dollar hit 15-year lows against the Japanese Yen Thursday, after data on U.S. unemployment benefits did little to reduce expectations that the Federal Reserve will resort to more quantitative easing.
Elsewhere, the dollar slipped to an all-time low against the Swiss Franc while the Australian dollar surged to a 27-year high against the greenback.
According to a Reuters report, "The weak U.S. dollar helped crude oil to rise above $84 a barrel to a five-month high before it eased, while copper hovered just under two-year highs as investors snapped up commodities on the prospect new money will boost asset prices."
Should the Fed introduce new money supply into the system, the dollar will depreciate further. U.S. equities and commodities would continue to march higher, and it's likely that other factors could contribute to the mix.
Economist Warren Mosler, founder and principal of broker/dealer AVM, told CNBC.com that the Euro will keep rising and will likely end the year at up to $1.50, as the European Central Bank pursues a highly deflationary policy, despite buying euro-denominated bonds.
"If it (the euro) keeps going at the rate it's going, it could go to $1.45-$1.50 by the end of the year," he said.
Should investors be worried about the dollar slide? Indeed, the PowerShares US Dollar Index (NYSE: UUP) is approaching 52-week lows after hitting an 18-month high in June.
The answer is tricky. If the average investor is properly diversified, short-term fluctuations in dollar value are unlikely to substantially affect portfolio performance. Further, dollar weakness boosts the global attractiveness of American products, because of the reduced cost.
On the other hand, should the dollar continue to slide against most major currencies, foreign holdings (in dollar terms) will be devalued considerably. Also, the dollar's purchasing power in other parts of the world would be considerably weaker.
Investors would be well-advised to investigate their portfolio exposure to currency movements. Maximizing returns while minimizing risk to market movements is a strong component of any investment strategy.
Posted-In: Long Ideas News Short Ideas Currency ETFs Forex Global Intraday Update Movers
View Comments and Join the Discussion!