Meet Q.ai, A Robo Investing App That's Disrupting The Hedge Fund Industry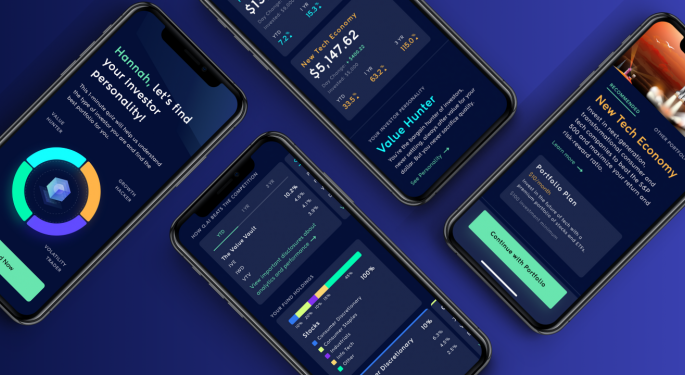 Benzinga will be holding its annual Benzinga Global Fintech Awards, a day of dealmaking, networking, and recognition in the financial technology space, on Nov. 10, 2020.
In recognition of those disruptive innovators creating positive and diverse change within the financial services space, Benzinga chatted with Stephen Mathai-Davis, Co-Founder and CEO at Q.ai, a Forbes company.
About Q.ai
Though trading apps like Robinhood democratize financial markets, they don't allow investors the tools to properly manage investments.
That's according to Stephen Mathai-Davis, a former institutional investment manager who founded Q.ai (formerly known as Quantamize) in 2017 as an AI-driven robo hedge fund that brings the investment management industry into the 21st century.
Through Q.ai Invest, whose Alpha was just released, Q.ai taps into the $25 trillion fund management industry through the use of machine-learning algorithms and multi-factor models, unlocking AI-driven investment in nearly 13,000 global stocks and ETFs, as well as over 100 cryptocurrencies. A Beta version of the investing app is set to launch in the next few weeks to the general public.
"Trading apps are great and they've made it easy," said Mathai-Davis, the Co-Founder and CEO of Q.ai. "But they haven't addressed the problems we see in the marketplace."
"The problems we're trying to solve are helping people figure out what to buy, how much to buy, when to sell, and how to risk manage."
Core Product Portfolio
Q.ai sits at the intersection of apps like Robinhood and Stash, solving the age-old question: How are you put into a fund?
"We take the user through a unique investment risks suitability test as we try to figure out what their investor personality is," the founder said in a discussion regarding the grouping of investors into different categories based on investing style. "We've built three categories: Diverse Thinker, Growth Hacker, and Value Hunter."
The groupings allow Q.ai the power to personalize its subscription-based service depending on the desire to have exposure in themes like global macro strategies and growth.
Q.ai further differentiates itself by also offering unique products that help position portfolios for volatility-driven events like the November U.S. elections.
"We're introducing some really cool stuff," he said. "Everything from systematic options trading, to the ability to have expired portfolios where you'll be trading for two to three months."
On the education side, a newsletter and amped up content strategy, alongside providers like Forbes, which owns a majority stake in Q.ai, have been introduced to break down and make investing easier to understand.
"We're calling it the Netflix-acation of investment management. For a flat fee, you get access to everything."
Innovation Outlook
The market for investing is already beginning to move towards model-driven portfolios based on AI and factor investing; "The institutional buyside is going to start to drift in this direction."
According to the founder, Q.ai is a first-mover in the game, allowing beginner-to-intermediate investors, for the first time ever, access to a robo hedge fund that tailors its strategies based on preferences.
"We're pure quants and there is no human intervention," the founder ended. "We're building this purely from our algorithms, and our strategies tend to be different, and more complex."
View Comments and Join the Discussion!
Posted-In: Forbes Q.ai Quantalytics QuantamizeFintech Hedge Funds Interview General Best of Benzinga