Dan Gilbert, Jay Farner On Rocket Companies IPO: 'Great Starting Point'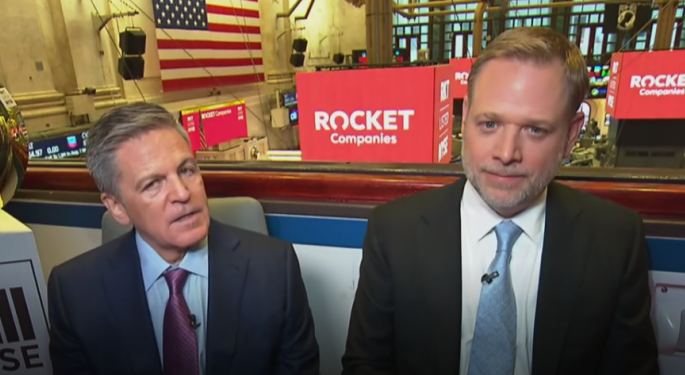 Detroit-based Rocket Companies Inc (NYSE: RKT), the parent company of mortgage lender Quicken Loans, made its debut as a public company Thursday.
Founder Dan Gilbert and CEO Jay Farner were interviewed on CNBC about the listing and the broader mortgage market.
Gilbert On IPO Timing: Gilbert founded the mortgage lending company in 1985, and it is now the largest overall retail lender in the U.S, ahead of Wells Fargo (NYSE: WFC).
After more than three decades, Gilbert said an IPO is the "right move" for the company at this time.
Rocket Companies is looking at "using our stock as currency" to seek out M&A deals across the fintech space, Gilbert said.
Farner On IPO Pricing: Rocket's stock was priced at $18 per share, and this was short of the initial target range of $20 to $22 per share. The company sold 100 million shares, and this was also short of the initial plans for selling 150 million shares.
Rocket isn't taking this as a distraction, and as a public company its priorities are planning out how to grow its market share from 9% today to 25% over the next 10 years, Farner said.
"The investor base for our opening was probably the most important thing," the CEO said. "So we focused on that versus selling as many shares as we possibly could."
Thursday represents a "great starting point" for the newly public company, as it is backed by a 9% market share, giving it the title of the largest mortgage lender in the U.S., he said.
See Also: Here's Why Rocket Companies IPO Marks A Paradigm Shift In Financial Services
Mortgage Outlook: Rocket Companies recorded revenue of more than $5 billion in 2019 but in this current low rate environment, one has to wonder how much growth is left to be seen, CNBC's Becky Quick said.
But the total amount of mortgages in the market that are ready to be refinanced stands at $11 trillion, Farner said. While Rocket can take advantage of this to grow daily, management is also focused on the long-term outlook.
"We don't think about the rates, we don't think is it going to be a $3-trillion-a-year market, a $1.5 trillion," Farner said. "We just target a normalized market and we set all of our drivers to grow profitability. And that's what you will keep seeing us do."
A Market Prime For Consolidation? The mortgage universe hasn't seen the same levels of consolidation experienced by other sectors, Farner said during the CNBC interview. Rocket changed this narrative a few years ago, and it helped lift its market share from 5% to 9%, he said.
Being a public company puts Rocket in a better position for all stakeholders, Farner said — especially investors, who he said may see a dividend payment at some point in the future.
Rocket As A Fintech Company: Rocket's IPO pricing and deal size may suggest that investors aren't convinced Rocket should be considered a fintech company. They may be mistaken, as Rocket in its current form is the end result of more than two decades of taking the complex mortgage process and making it extremely scalable and easy to use, the company's CEO said.
"This month we are going to close 100,000 mortgages across 50 states, so we know that tech platform is there," Farner said. "We know how powerful it is and we will just continue to demonstrate that to the market."
Screenshot courtesy of CNBC.
View Comments and Join the Discussion!
Posted-In: Dan Gilbert DetroitFintech News IPOs Top Stories Media Real Estate Best of Benzinga