ChartIQ, Finsemble Join Under One Brand: Cosaic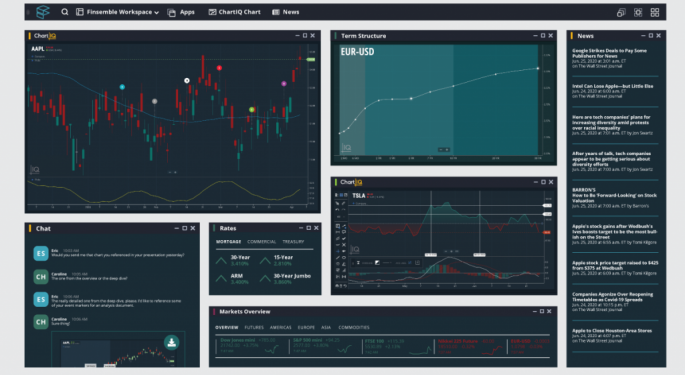 ChartIQ, a holistic solution for charting and data visualization announced a new company name and logo Friday: Cosaic.
The development comes as part of the company's plan to solidify its stance as a financial services solution provider.
What It Means: Cosaic will bring together the charting software ChartIQ and desktop platform Finsemble under one brand.
The joining of the two businesses promotes application interoperability and will scale the creation of effective, action-oriented workflows, according to Cosaic.
"As a multi-product company, and as the excitement about smart desktop technology and desktop interop continues to grow, we realize we have become much more than a charting company," said Dan Schleifer, CEO and co-founder of Cosaic.
"We felt a rebrand is in order to reflect our commitment to inventing new and efficient ways to work."
Product Evolution: In helping foster growth and innovation, Cosaic will be joined by Eugene Sorenson, an industry veteran who led product strategy for foundational applications at Bloomberg.
"In the future, we'll see much more collaboration occurring in fintech, with more open-source projects and the adoption of FDC3 standards," Sorenson said.
"We'll see application providers focused on interoperability as the de facto standard because we can no longer work in disparate workspaces. Cosaic brings together best-in-breed applications allowing clients to build smart desktop solutions for their end-users. We help our clients focus on their core competencies, not re-engineering, and integrating their applications. Cosaic is here to lead the charge."
To follow along with Cosaic's development of state-of-the-art technology for financial services, please visit cosaic.io.
Photo courtesy of Cosaic.
View Comments and Join the Discussion!
Posted-In: Bloomberg ChartIQ Dan Schleifer Eugene Sorenson FinsembleFintech News Best of Benzinga