Quiver Quant, And Its Young Founders, Are Changing Accessibility To Alternative Data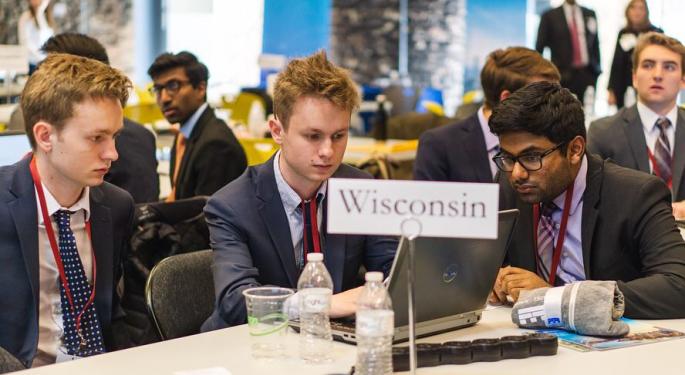 For the average retail investor, alternative data can seem impossible to find. Detailed research on alternative market factors is relevant to price action and stock movements, but many times it can be reserved only for institutional traders and investors.
Chris and James Kardatzke, two recent graduates from the University of Wisconsin, are here to fix that problem with the launch of Quiver Quant, an alternative data platform that bridges the gap between high-level alternative data and the retail investors that usually lack access to it.
Fast-Paced Growth, High-Level Data
Quiver's changing the investing experience by helping traders make more informed investments. Since launching in February, Quiver has grown to over 10,000 registered accounts and 200,000 monthly visitors.
According to James, the main goal of Quiver is to give everyone free access to high-level data.
"Hedge funds spend over a billion dollars every year on alternative data, but it has historically been prohibitively expensive for non-professional investors," he said in a conversation with Benzinga. "We created Quiver Quantitative to bridge this data gap between retail investors and Wall Street, by providing high-quality alternative data on a free, easy to use investment research platform."
On Quiver's platform, users can find large data sets that cover general trends in different alternative realms or also simply search a ticker to find any relevant alternative data trends related to it.
Some examples of the unique tools on the platform include data on U.S. senators and representatives' personal stock transactions and corporate private jet flight logs. It also offers extensive datasets related to the COVID-19 outbreak.
Main Differentiation And Unique Client Base
James said one of Quiver's main differentiators is its focus on marketing to retail investors.
"Existing alternative data providers build and price their services for institutional clients, and most non-professional investors have no way of accessing high-quality alternative data," he said.
The company's rapid growth has not been without diligent marketing efforts.
"The main driver of this growth has been organic content marketing that we've done on forums like Reddit," Chris said.
Furthermore, he mentioned noticing a broader reaching interest in alternative data among his users that goes behind basic trading and investing.
"The cool thing about alternative data sources is that many of them are not only relevant to people within the trading and investing field, but also to people who have no interest in trading whatsoever," he said.
He went on to cite how his team created an alternative data dashboard that tracked all stock transactions by U.S. senators and representatives following the news in February surrounding multiple U.S. governmental officials being involved in potential insider trading. This data set, after being marketed on data sites and communities, helped Quiver get off the ground fast.
The Future For Quiver
So what does the future hold for Quiver? A big focus is on improving the user experience.
"One big priority is to develop a mobile app in the next six months or so, which will provide our mobile users with a better experience and quicker access to our platform," Chris said.
Another future initiative is the expansion into other alternative data venues, such as cryptocurrency.
"We're always on the lookout for new data we can give our users to help inform their investment decisions, and we plan on continuing to launch around three new datasets every month. We're also exploring expanding into the crypto space, which can often be a confusing area for retail investors. We want to make it so that people who have no experience with crypto investing are able to look at our data sets and make more educated decisions."
Quiver Quant is changing the way that retail investors make decisions. Through the presentation of detailed alternative data in a simple, concise, and easy to understand manner, its prospects for growth leaves room for much imagination.
For more information on Quiver Quant and its datasets, check it out at quiverquant.com.
View Comments and Join the Discussion!
Posted-In: Chris Kardatzke James Kardatzke Quiver Quant Quiver QuantitativeFintech Exclusives Interview Best of Benzinga