Charles Schwab, Venmo, Fidelity Execs Among 2018 Benzinga Fintech Summit Guests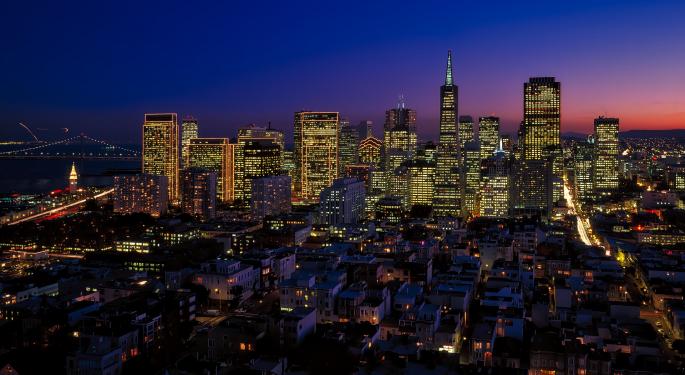 The Benzinga Fintech Summit is a gathering of the top leaders in payments, lending, capital markets, blockchain and cryptocurrencies. This year's event is Nov. 14 in San Francisco and features featuring brokerage leaders like Barry Metzger, SVP of trading at Charles Schwab Corporation (NYSE: SCHW); Alessandro Vigilante, head of global innovation at Fidelity; and Andrew Kortina, the founder of Paypal Holdings (NASDAQ: PYPL)-owned Venmo.
The Summit is the premier networking and deal-making conference in fintech. At last year's conference, startups had the opportunity to hear from and pitch leaders like Ripple founder Chris Larsen, IBM (NYSE: IBM) Watson CTO Tom Eck, Lendingtree Inc (NASDAQ: TREE) CFO Gabe Dalporto and Experian head of fintech Aaron Suplizio.
The 2017 Fintech Summit: A Look Back
Still not convinced? Check out some highlights from the 2017 Fintech Summit.
◘ Regis Hadiaris, product lead for Quicken Loans' Rocket Mortgage, shared his thoughts on the company's success in a post-crisis environment.
"There really just wasn't good tools out there for people to make decisions on their own. Because of that, they saw the mortgage experience as slow and scary, and complicated and confusing; they just didn't want to deal with it."
◘ Ripple's Larsen said the companies E-Loan and Prosper were held back from becoming global financial services firms by a lack of infrastructure to move money globally in the same way as data.
"What's so exciting about blockchain and Ripple is that financial networks anywhere in the world can interoperate," Larsen said of blockchain's effect on the financial sector.
◘ Unison CEO Jim Riccitelli said his company assists lenders in making loans, consumers in buying homes and realtors selling homes.
"The technology that we bring is actually additive to the system. It's equity finance. We didn't invent equity finance, we're bringing it to a new audience, to residential consumers."
◘ Morty founder and CEO Brian Faux detailed the effects of streamlining on mortgage providers.
"Closing loans in eight days or 16 days is great, but the actual process of getting a mortgage is much more efficient. The actual end game, the produced mortgage, is 100x better than it was before."
◘ MyVest CEO Anton Honikman said that the disruption doesn't end when fintech companies are acquired.
"If you're the acquirer, what are the key success factors that you have to put in place to ensure the ongoing innovation stream and to ensure the ongoing benefit of disruption? The answer lies in autonomy. Acquire them if you need to, keep them autonomous, keep them independent, allow them to preserve their culture and keep innovating."
◘ Riskalyze CEO Aaron Klein said his company focuses on having a clear, cohesive mission and communicating its values to new employees.
"We're an organization that really drives people to have a lot of open and direct communication to solve problems quickly and easily, and we have a very clear vision of where we want to take the industry."
◘ IBM's Eck discussed the state of the fintech industry.
"The way I look at the world of financial services right now is that we have a very exciting ecosystem going on. So there's going to be some winners and some losers, but I don't see it as a zero-sum game," the CTO said.
"I consider success when I put together fintechs with the incumbent financial institutions. I think right around the corner is trained neural networks, chain code for blockchain and anything digital that we can figure out how to package and monetize."
For a chance to meet and learn from several leaders of the hottest fintech startups, be sure to grab your tickets to the BZ Summit before they sell out.
Related Links:
SoFi's Former Head Of Venture Strikes Out On His Own
View Comments and Join the Discussion!
Posted-In: Aaron Klein Anton Honkiman Benzinga Fintech Summit Brian FauxFintech News Events Media Best of Benzinga