A Private Equity Investor Explains What Got Him Into Cannabis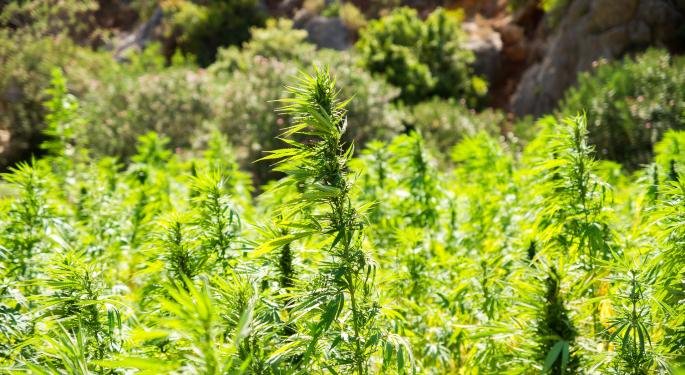 Cannabis investors can't afford to miss the Benzinga Cannabis Capital Conference, a premier gathering of investors and entrepreneurs painting an honest picture of the opportunities and challenges in cannabis investing. Space is limited—get your tickets before they sell out.
Ahead of the conference, we're interviewing the speakers who will deliver key insights on the cannabis space at the BZ Cannabis Capital Conference. This installment features Mitch Baruchowitz, the managing partner at Merida Capital Partners.
Quickly give us your background—why are you passionate about cannabis?
I've been investing my whole life and have had a long career as an entrepreneur and a lawyer specializing in financial technology/corporate law and governance. I was a Deputy General Counsel (GC) and Chief Compliance Officer at publicly traded MarketAxess Holdings Inc. (NYSE: MKTX), and the GC of Pali Capital before running investment banking for a family office. Ironically my cannabis path actually indirectly started at the beginning of my career when I finished law school and started a small trading/technology firm with my brother Adam and our best friend, Ethan Ruby. In 2000, Ethan was hit by a car when he was a pedestrian and he was tragically paralyzed. It was tough watching him go through an incredibly difficult recovery, particularly since in New York, opioids were the only real legal option manage his pain at the time.
Ethan bravely moved out to Colorado to change his medical dynamic and our constant conversations about what was going on out there on the business side, how much he was benefiting from medicinal cannabis himself and how it was helping him and lots of other pain sufferers really opened my eyes and led to a much deeper understanding of where the industry could possibly go, especially if you could bring some formality to an operation.
Then in 2013, Connecticut announced that it had passed a medical cannabis law and it would be giving out a small set of licenses, which turned out to be four statewide. This helped us to focus our efforts on bringing life-changing medicine to people who needed it. Ethan and I led a great team of operators in applying and we achieved the top score in the state, and the rest is history.
What is the most exciting opportunity in the cannabis space right now?
It is hard to give just one example, but having been involved since the early stages of cannabis' advance nationwide, the evolution of the information flow and supply chain has been mind-blowing since 2012. Five years ago, I can remember searching the Internet all day for vape cartridge suppliers and hoping that we could get delivery if we paid upfront. Now, Merida is the biggest outside investor in Kush Bottles (NYSE: KSHB), which can ship 10,000 vape carts with customized packaging and design within 15 days and New Frontier Data can give you virtually any piece of data you want to know within minutes.That's change you can believe in—to quote a recent president.
We are equally excited about the boring elements of infrastructure and services-the daily consumables or support services that all operators need to be compliant and survive in hypercompetitive, highly regulated markets. That includes companies like GrowGeneration, a leading hydroponic equipment retailer, MainStem and Emerald Scientific which are both integrated B2B platforms which help operators find those tools and services in an efficient manner.
I would be remiss if I didn't add that as critical mass of patients and consumers occurs and capital pours into the sector, the biotechnology, research and pharmaceutical aspects of cannabis seem to be limitless right now. We believe the healthcare and pharmaceutical disruption of cannabis will be startling when it hits full steam.
There are still massive challenges for the nascent cannabis space to overcome—what is the most pressing of those challenges?
In a nutshell, whether it is the U.S. or Canada, the fast-changing regulatory landscape creates huge challenges to operators in several ways—from proper capital allocation to a time and organizational stress perspective, and simply maintaining flexibility while pushing ahead on formalized plans. We don't see the challenges as a risk of putting a company out of business necessarily, but more as a hindrance to growth and innovation given the time and money spent to adapt to these changes. A great example is a state like Michigan, which is giving out medical licenses while also putting adult use on the ballot in 2018. How can one confidently spend capital when such a huge shift could occur in just a matter of four months?
In California, the shift to a more stringent regulatory framework has created challenges for small to medium operators mainly because regulators couldn't settle on a final framework until 12 months after the ballot measure passed, which has made it tough for municipalities to get operators licensed. You also have to look at Canada's provincial rules, which to follow in real time practically requires a complicated grid that resembles an astronomy chart circa 200 B.C..
The latter is exacerbated by the fact that pioneering entrepreneurs are now starting to achieve levels of success that require more formal processes and strategic thinking in order to take operations to the next level—all while ensuring their operations remain compliant under these fast-changing laws. We see many of these companies struggling to adapt to more formal governance, which is natural in an industry being created out of thin air, especially when you need larger amounts of capital that typically comes from institutional investors like Merida or sophisticated individual investors, who expect a certain level of formality post-investment.
How should the industry advocate for a cannabis regulatory framework that will allow for safe, sustainable growth?
In a perfect world, there would be one standard to work off of but the realities of ending prohibition make that difficult since each city, state, province and country wants to have their own standards. The industry should push for strong quality control standards because the most important consideration should be the safety of consumers and patients. Since that makes it more expensive to operate, that isn't a popular answer.
Generally, we think that the industry needs groups that can get a wide audience of operators—in any vertical—on one platform, and work to educate them on the importance of sensible, clear, and strong regulations, and then, work as a collective to establish one voice to communicate with regulators as to how to best implement sensible regulations and best practices. There are a few doing yeoman's work to make this happen already and we salute them but at some point, many of the competing groups need to sync up.
What big surprises do you predict occurring in cannabis in the next three years? Will a big legacy tobacco or alcohol incumbent invest in the space, or something else remarkable?
Every day yields interesting surprises and monetizing the next surprise is part of our thesis, but below are a few general thoughts.
Unlike most market observers, we think a large cap company is going to jump into the US cannabis market well before a descheduling or any type of legalization because the reward for moving first while everyone waits is simply too big. I personally know of five to 10 huge companies in several industries who are working hard to get that legal comfort to be the one to move first.
We think there will also be some surprising disruption in the healthcare or insurance industries as insurance companies are either forced to reimburse for worker's compensation, like in a recent administrative court case in New Jersey, or decide the cost-benefit skew is weighted towards allowing cannabis-based medicines. Once that occurs, it is hard to predict growth in medical usage, but it will explode. We anticipate it is going to happen even more quickly than folks might think. When I was young, chiropractors were seen by the insurance companies as quacks, and I remember that within a few years, insurance companies saw how people reduced their dependence on drug-based pain relief and eventually starting reimbursing for chiropractic care.
You may see long-term care or palliative facilities pop up that specialize in cannabis versus opioid rehabilitation or end of life care, which is not a thesis we have heard from anyone yet, but predict is coming.
We also predict that in regards to cancer, autism and/or other major care, patients will be looking for oncologists or neurologists to be more familiar with cannabis-based therapies, so they can include it in their treatment regimes, instead of searching for information on their own. So data tools that serve physicians should be a great place to invest.
Cannabis and hemp will likely be used for their anti-bacterial properties and become antibiotics and the inert elements used in household or industrial cleaners, etc.
The innovation is really just beginning and in many ways, we are more excited now than we were when we launched our first fund nearly 18 months ago.
View Comments and Join the Discussion!
Posted-In: Benzinga Cannabis Capital Conference Merida Capital Partners Mitch Baruchowitz New Frontier Data OpioidsCannabis Fintech Interview Best of Benzinga