Rubicoin Is On A Mission To Get The World Investing Successfully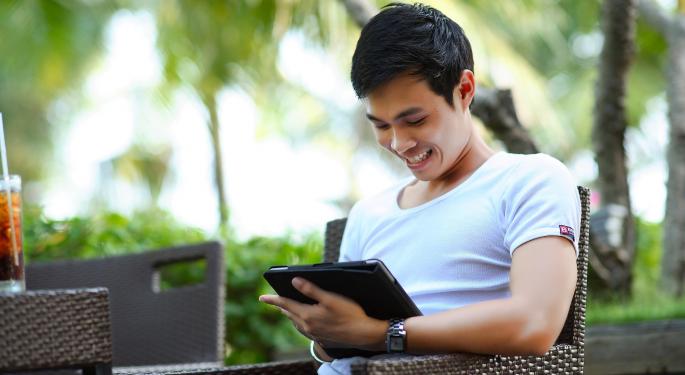 The Benzinga Global Fintech Awards are a yearly showcase of the greatest advents in fintech from leaders and visionaries in the worlds of finance and technology. This year, we have executives, developers and innovators from the likes of Facebook, Amazon, IBM, JP Morgan, Zelle, TD Ameritrade, TradeStation, Fidelity, and so many more.
The BZ Awards is an oscar-like event to showcase the companies with the most impressive technology, who are paving the future in financial services and capital markets. In preparation for its biggest installment yet this May, we're profiling the companies who have moved to the final round of judging for the BZ Awards. In this feature we focus in on Rubicoin.
What does your company do? What unique problem does it solve?
Rubicoin helps users become confident and successful investors through a simplified investing journey to include an emphasis on education and financial guidance. This is done through our two apps, Learn and Invest.
Within the
Learn app
, our users are navigated through the benefits of investing and the best way to set themselves up financially in order to get the most from their investing life. Each lesson is bite-sized in length and the content is designed so that it can be digested in word or audio format for easy consumption. Once each lesson is complete there is a pleasant experience in ticking off each lesson and automatically rolling into the next.
Within the
Invest app
, users can seamlessly navigate through our showroom of stocks, begin to build their watchlist and transition to registering for a broker account when they are ready. With over 7,000 companies listed in the U.S. stock market, we handpick the top 1% performing stocks so users can build their portfolio with the best. Our team also selects a stock of the month which is a stock that is poised for impressive growth and a "star stocks" section, which are lesser known investments with market-beating returns.
We facilitate broker linking or broker set up with our trusted broker partner DriveWealth. We have designed the broker process so that the user can set up their broker account from within the app within minutes, resulting in a seamless process and, once approved, have the ability to execute immediately.
Who are your customers?
Anyone that's interested in learning how to invest. Anyone with an iOS or Android device can download and use our apps.
How long have you been in business?
Rubcoin's first launched in 2014, with bi-monthly updates and iterations
Where are you located?
Dublin, Ireland and New York, NY
Who is your company's leadership? What kind of experience do they have?
Emmet Savage is the CEO and co-founder. Emmet
has been investing in the stock market for more than two decades, with an independently proven annual return in excess of 24% for the last decade—over triple what the S&P 500 returned. Emmet has previously written for 'The Motley Fool' and has been included in the Irish America magazine's 'Top 50 on Wall Street' list twice.
Who are your investors, if any?
The Motley Fool, Enterprise Ireland and private investors
Is there anything else Benzinga should know about your company?
Through our two apps, we provide a continual education, dedicated and personal customer support, and we hand-hold our users towards the best stocks, with the aim of building confidence and maximizing gains in the long term. This is achieved through "Our 1%" approach, which is our analysis and hand-selection of the best stocks, which are then presented in our Invest app.
We believe the best person to manage and create your own wealth is you, and we believe that adopting a long-term investing philosophy geared towards the stock market, is the best place to do this.
Posted-In: Benzinga Fintech Awards Investing RubicoinFintech Education General
View Comments and Join the Discussion!