InvestCloud Is Turning Legacy Systems Into 'Amazon-Like' Apps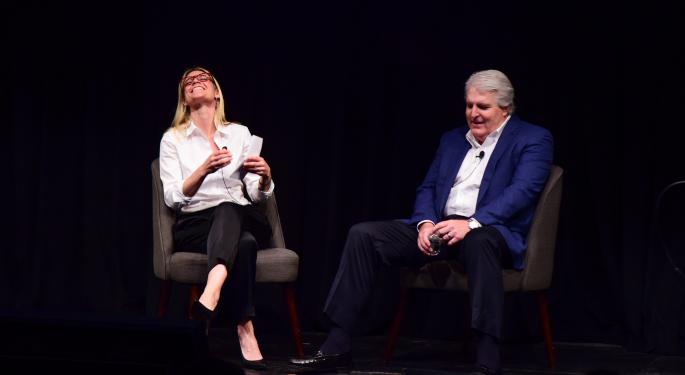 According to Westwood CEO Brian Casey, InvestCloud is turning its legacy systems into Amazon.com (NASDAQ: AMZN)-like apps.
Casey spoke alongside Yaela Shamberg, InvestCloud Co-Founder and Head of Product, about wealth management's potential fit in the future financial technology during a fireside chat at the 2018 Benzinga Global Fintech Awards.
Westwood is Texas-based global investment and wealth management firm with billions of dollars in assets.
Looking To The Future
As the discussion progressed between the two executives, it became clear that today's youth are a main influence for Westwood's initiatives with InvestCloud.
"When you look at who the customers of the future are gonna be, it's millennials," Casey said during Tuesday's chat. "They don't want to come into a meeting and talk to a grey hair man. They're gonna want what that they want when they want it on their phone."
He gave a daunting outlook for his company under the hypothetical that it doesn't change with the times: "If we don't adjust, then we're dead. Longer term, we're trying to have information in the hands of our customers in really any way that they want it."
Keeping The Customer
To protect against these potential detriments, Casey talked about the importance of his firm's initiatives with InvestCloud, starting with keeping customers.
"We always think that there is no more important customer than the one that we have," he said. "Having these legacy systems, it just doesn't work. We're going to be the first company to develop a trust accounting platform with InvestCloud. That's exciting."
He finished with a bright outlook for what he wants for his company in the future.
"What I want is if a customer comes to Westwood, no matter where you are, we want to hit a Westwood app that's going to take you exactly where you want to go," he said. "It needs to be Amazon like."
Follow along the two-day event on Twitter with the hashtag #BZAwards.
Related Links:
TD Ameritrade, Facebook Talk Chatbot Collaboration
Cracking 2 Myths Of Online Lending
Photo by Mandar Parab.
View Comments and Join the Discussion!
Posted-In: Benzinga Global Fintech Awards Brian Casey InvestCloudFintech Best of Benzinga