Here Are The Benzinga Global Fintech Award Finalists For Best Analysis Or Research Platform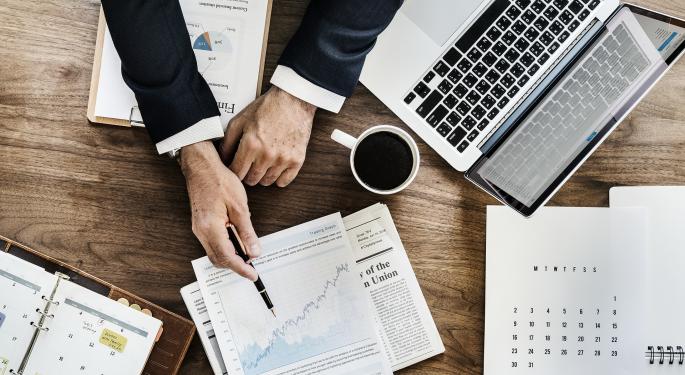 The Benzinga Global Fintech Awards are a yearly showcase of the greatest advances in fintech from leaders and visionaries in the worlds of finance and technology. This year, we have executives, developers and innovators from the likes of Facebook, Amazon, IBM, JP Morgan, Zelle, TD Ameritrade, TradeStation, Fidelity and so many more attending the Oscars of Fintech.
The BZ Awards are half party, half business development bonanza—they're a rare chance to meet and network with everyone in finance from CNBC's Josh Brown to the head of financial services at Facebook to the heads of trading at every major brokerage.
To offer more clarity on who is competing for the prize of most innovative in each category, Benzinga is breaking out the finalists in each category and offering more information about what they do.
The finalists for the Best Analysis or Research Platform category are:
Albridge
CEO: Greg Pacholski
Description: Albridge powers the performance and wealth reporting solutions used by over 80,000 advisors at over 140 financial organizations supporting more than 40 million client accounts. These solutions allow advisors to better illustrate a client's full financial picture and guide better decision making, by offering an accurate, single view of all client assets.
Cashforce
CEO: Nicolas Christiaen
Description: Cashforce is an innovative Cash & Smart Treasury Platform, focused on automation and integration.
Elsen, Inc.
CEO: Zac Sheffer
Description: Elsen provides technology that allows large financial institutions to quickly build and deploy web-based applications that make it easy for anyone to harness, understand and make quick decisions with vast quantities of financial data.
finbox.io
CEO: Matt Hogan
Description: Finbox.io focuses on building investing tools we wish to have as investors. Its platform is designed for individual investors, financial advisors, and asset managers who care about understanding a company's true value.
Omega Point
CEO: Omer Cedar
Description: Omega Point provides an AI-driven portfolio intelligence platform that helps asset managers build, refine, implement and analyze investment strategies that are consistent with their underlying convictions.
RiskVal Financial Solutions
CEO: Jordan Hu
Description: RiskVal Financial Solutions is primarily a Fixed Income focused company providing real-time pre-trade analytics and risk management solutions through Software as a Service (SaaS) and Enterprise solution models to both buy-side and sell-side clients.
SharingAlpha
CEO: Oren Kaplan
Description: SharingAlpha is a user generated fund rating and asset allocation platform, or in the words used by the Financial Times, "it's where Morningstar meets TripAdvisor."
Vistalytics
CEO: Satish Appalakutty
Description: Vistalytics offers XBRL services & Big Data services providing deeper insights into a company and its financials.
CEO: Justin Wheatley
Description: StatPro is a global provider of award winning portfolio analytics solutions for the investment community.
StockViews
CEO: Thomas Beevers
Description: StockViews specializes in investment research through machine intelligence and human judgement.
Street Diligence
CEO: Stephen Hazelton
Description: Street Diligence's bank loan and high yield bond platform makes analyzing corporate structures and negotiating credit agreements, indentures and their amendments much more effective. Its system identifies structural subordination risk and breaks down key covenant terms, allowing the investment professional to digest and negotiate credits effectively.
TradingView
CEO: Dennis Globa
Description: TradingView is a cutting-edge financial platform where users can interact with each other, share ideas, learn about the markets, research, trade, backtest their trading strategies and a lot more.
YCharts
CEO: Sean Brown
Description: YCharts, the fastest growing web-based investment tool, helps investors make smarter decisions. YCharts customers gain access to comprehensive data, visualization, and advanced analytics at an affordable cost.
SavaNet
CEO: Eric Linder
Description: SavaNet is the industry leading modeling data and analytics platform. The SavaNet RMAS system combines a research database, model data management and distribution system with the most advanced equity analytics platform available.
Posted-In: Benzinga Global Fintech AwardsFintech Best of Benzinga
View Comments and Join the Discussion!