Alternative Lender Credibly Is Your Small Business Solution For Short-Term Financing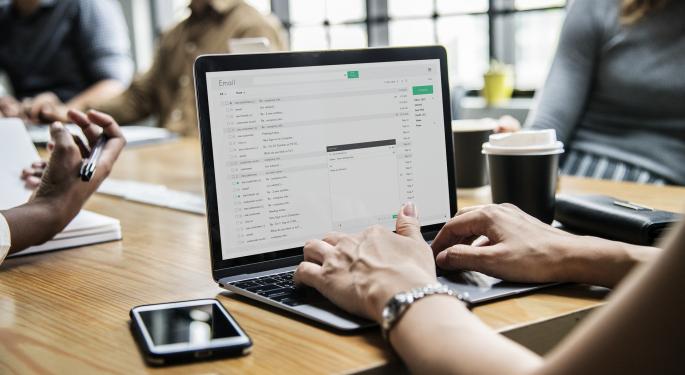 The Benzinga Global Fintech Awards are a yearly showcase of the greatest advents in fintech from leaders and visionaries in the worlds of finance and technology. This year, we have executives, developers and innovators from the likes of Facebook, Amazon, IBM, JP Morgan, Zelle, TD Ameritrade, TradeStation, Fidelity, and so many more.
The BZ Awards is an oscar-like event to showcase the companies with the most impressive technology, who are paving the future in financial services and capital markets. In preparation for its biggest installment yet this May, we're profiling the companies who have moved to the final round of judging for the BZ Awards. In this feature we focus in on Credibly.
What does your company do? What unique problem does it solve?
Credibly is a Data Science-driven FinTech lending platform which:
improves the speed, cost, experience, and choice of capital to SMBs
offers diversified capital sources and provides balance sheet, syndication, and off-balance sheet funding options
manages and measures risk for stable, consistent, and predictable results
offers our partners access to our robust data science capabilities and maintaining a strong culture of compliance
Who are your customers?
Credibly provides working capital and growth financing to small and medium sized businesses in the United States. Since 2010, we have provided access to more than $600 million to over 16,000 SMBs
How long have you been in business?
December 2010
Where are you located?
Troy, MI; New York, NY; Scottsdale, AZ
Who is your company's leadership? What kind of experience do they have?
Ryan Rosett, Founder & Co-CEO:
Ryan Rosett is a Founder and Co-Chief Executive Officer of Credibly. Previously, Ryan was the Founder of IDEA Real Estate Group, a real estate development and distressed debt joint venture with Fortress Investment Group. Prior to IDEA, he co-founded Diversified Property Group, LLC, a real estate finance, home building, and development firm working with companies such as GM, WalMart, Centex, Pulte, and Toll Brothers. He started his career as an Associate/Partner at Real Estate Interest Group, Inc., a regional real estate development firm. Ryan received his B.A. from the University of Michigan and his J.D. from the University of Detroit School of Law.
Edan King, Founder & Co-CEO:
Edan King is a Founder and Co-Chief Executive Officer of Credibly and has been working in the funding sector for almost 30 years. Previously, Edan was Chairman & co-founder of Franklin Security Bank, and before that, Co-CEO & co-founder of Franklin Mortgage Funding, a wholesale mortgage lender with $2 billion in annual volume. Prior to co-founding Franklin Mortgage he was President and CEO of ASGI Corp, a subsidiary of ASTA Funding, a specialty consumer's receivables company. Edan began his career at King & King P.C., a real estate law firm. Edan received a Bachelor's Degree from the University of Michigan and his J.D. from Wayne State University Law School.
Michael Seneski, Chief Financial Officer:
As the Chief Financial Officer at Credibly, Michael Seneski oversees the company's capital strategy. Previously, Michael held numerous leadership positions at Ford Motor Company serving as Director of Mobility, Director of Corporate Strategy, Controller of Global and U.S. Marketing and Sales, and Assistant Treasurer. He also served as the CFO and Treasurer of Ford Motor Credit. In addition, he serves on the Board of the Federal Reserve Bank of Chicago - Detroit Branch, where he was Chairman in 2016-2017. He is also the Vice-President for the Broad School Alumni Board at Michigan State University.
Tina Reich, Chief Risk Officer & Chief Data Scientist:
Tina Chan Reich is the Chief Data Scientist and Chief Risk Officer of Credibly. In previous roles, she has headed up the Data Science, marketing analytics, and risk divisions at a number of financial institutions, including JPMorgan Chase, Citigroup, and American Express. She's also been on the Board of Directors for the Small Business Financial Exchange and Citicorp Payment Services. She attended the Massachusetts Institute of Technology.
Who are your investors, if any?
Following a 2014 strategic equity investment from the $2.8 billion private equity fund Flexpoint Ford, Credibly rapidly accelerated their growth – opening NYC and Arizona offices, building out their Data Science, Marketing, and Technology teams, launching new loan products, and securing a $100 million credit facility.
Is there anything else Benzinga should know about your company?
In 2017, Credibly was successful in acquiring the servicing rights of another alternative lender's $250 million portfolio. Credibly was selected because of their proven approach to measuring and managing risk.
To meet with the minds behind companies like Credibly and others testing the cutting edge of fintech, grab a ticket to the Benzinga Global Fintech Awards May 15-16 in New York.
Posted-In: Benzinga Global Fintech Awards Credibly LendingFintech
View Comments and Join the Discussion!