Capital Market Laboratories Gets Put Under The Microscope For The Benzinga Fintech Awards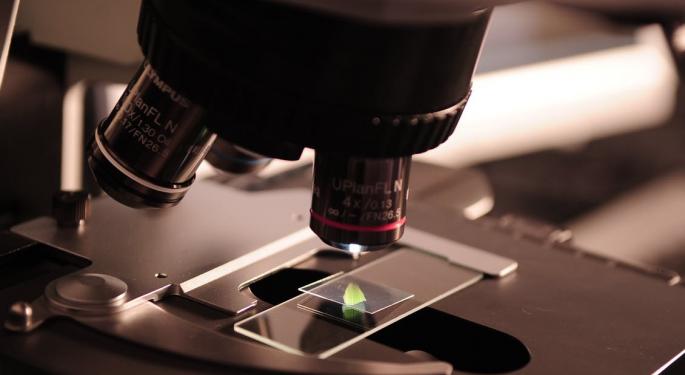 The Benzinga Global Fintech Awards are a yearly showcase of the greatest advents in fintech from leaders and visionaries in the worlds of finance and technology. This year, we have executives, developers and innovators from the likes of Facebook, Amazon, IBM, JP Morgan, Zelle, TD Ameritrade, TradeStation, Fidelity, and so many more.
The BZ Awards is an oscar-like event to showcase those companies creating technology that is paving the way for the future of financial services and capital markets. In preparation for its biggest installment yet this May, we're profiling the companies that have moved to the final round of judging for the BZ Awards.
In this feature we focus in on Capital Market Laboratories.
What does your company do? What unique problem does it solve?
We break the information asymmetry that has benefited the top 0.1 percent of investors and the mega institutions at the expense of the rest for far too long. yes they know more than retail knows. Yes they use it to profit. Yes, we are breaking it.
Capital Market Laboratories is a member of Thomson First Call Institutional research. While our research sits side-by-side with Goldman Sachs, JP Morgan. Morgan Stanley, and the rest, we are the anti-institution and make our research and tools available to everyone. While others are paying $2000/mo for their terminals and another large fee for add-ons, we make our institutional tools available to retail investors.
Who are your customers?
Mostly retail traders, some of whom used to be professionals and have moved on. We do have some institutional users as well.
How long have you been in business?
4 years
Where are you located?
Los Angeles, CA
Who is your company's leadership? What kind of experience do they have?
None of this is possible without a team that has an institutional background, peer reviewed machine earning and finance papers, and massive reach into the guts of finance and its history. Here are our three key members (of course the team is larger). This is worth the read:
Ophir Gottlieb (CEO & Co-founder) — Ophir Gottlieb is the CEO & Co-founder of Capital Market Laboratories. He contributes to Yahoo! Finance, CNNMoney,MarketWatch, Business Insider, and Reuters. He was rated the 14th best finance follow on all of Twitter.
He has turned away from institutional finance and re-dedicated his life to helping all people find the capacity and facility to invest with the same confidence and information available to only the top 0.1 percent. In many ways, Ophir was unintentionally a part of this asymmetry, but now, he is here to tear it down.
Ophir Gottlieb is inventor of the Forensic Alpha Model (FAM) and a co-inventor of Accounting and Governance Risk Model (AGR), both now owned commercially by MSCI. SSRN lists his peer reviewed research published in the Rotman International Journal of Finance, and as far as we can tell, he was one of the earliest scientists to identify deep learning, and in particular, neural networks, as a novel approach to examining financial markets while also whole hardheartedly incorporating corporate governance.
Mr. Gottlieb's methodological approach taken in creating FAM was endorsed by the head of artificial intelligence for the state of Germany as a novel and extraordinary application of advanced machine learning and quantitative finance.
FAM and AGR are used by asset managers worldwide with over $1 trillion of assets under management. The FAM model has made Mr. Gottlieb one of the most recognized names in all of quantitative finance.
The Huffington Post dedicated an article to Ophir's views in the dossier Financial Services Third Wave of Innovation: AI & Machine Learning. A rare view into his vision of the world of finance, including a 20 minute video session.
Mr Gottlieb's mathematics, measure theory and machine learning background stems from his graduate work in mathematics and measure theory at Stanford University and his time as an option market maker on the NYSE and CBOE exchange floors. He has been cited by various financial media over 500 times including Reuters, Bloomberg, Wall St. Journal, Dow Jones Newswire and through re-publications in Barron's, Forbes, SF Chronicle, Chicago Tribune and Miami Herald. Now he is often seen on financial television around the world.
Mr. Gottlieb was an option maker on the NYSE ARCA exchange floor and simultaneously on the Chicago Board Option Exchange (CBOE) remotely. He first gained notoriety as the managing director of client services and algorithmic trading for Livevol Inc, recently acquired by CBOE. He created and authored what was believed to be the most widely followed option trading blog in the world for three-years that was consumed as real-time news on Bloomberg terminals.
James A. Kaplan (Chairman & Co-founder) — Mr. Kaplan is a founding director of MarketWatch, and is widely recognized as one of the grandfather's of modern portfolio theory.
For the past 20 years, James Kaplan's research interests and entrepreneurial ventures have focused on innovations designed to improve the predictive and explanatory power of classical finance theories and portfolio management philosophies. Before he co-founded CML, Mr. Kaplan as Vice Chairman and Chief Executive of GMI Ratings (now part of MSCI). In this role, Mr. Kaplan developed novel risk modeling methodologies to help capital market participants mitigate the impact of what he has dubbed "routine anomalies". The term refers to high-impact events stemming from variables typically overlooked in classical economic theories.
Earlier in his career, Mr. Kaplan has advanced groundbreaking applications of quantitative techniques and technology-driven solutions for equity and fixed-income portfolio analytics. In 1979, he founded Capital Management Sciences (CMS) and established the firm as the world's top purveyor of fixed income portfolio analytics. During his tenure, the firm introduced CMS BondEdge, the chief independent source of research and valuation tools for the global bond market.
Following the sale of CMS to Interactive Data Corporation, Mr. Kaplan was a founding director of MarketWatch. In the wake of the notorious corporate scandals after 2000, he founded Audit Integrity, one of the three firms that merged to form GMI Ratings.
Mr. Kaplan received his BA from the University of Colorado and an MBA from California State University. Mr. Kaplan is a Chartered Financial Analyst.
Jason Hitchings (Chief Technology Officer) – Jason Hitchings is the Chief Technology Officer at CML. He has diverse background in software engineering, product development, data visualizations as well as numerical analysis and real-time algorithmic option pricing.
He was the lead developer and product manager that led to one of the first ever SQL databases that updated asset prices in real-time; an accomplishment at the time that was considered by many in the industry to be impossible but is now commonplace in all of the exchanges and major banks in the world.
Jason's experience includes Head of Product at data visualization firm, Quid, the co-founder and lead engineer of financial analytics firm and broker-dealer, Livevol, Inc. Jason has also worked as the lead software engineer on Lockheed Martin's Joint Strike Fighter Autonomic Logistics team.
Jason holds a computer science degree from University of Colorado, Boulder.
Who are your investors, if any?
James A. Kaplan, one of the grandfathers to modern portfolio theory.
Is there anything else Benzinga should know about your company?
We have seen 500 percent revenue growth in the last 18 months.
To meet with the minds behind companies like Capital Market Laboratories and others testing the cutting edge of fintech, grab a ticket to the Benzinga Global Fintech Awards May 15-16 in New York.
Posted-In: Benzinga Global Fintech Awards Capital Market LaboratoriesFintech Interview
View Comments and Join the Discussion!