Fintech Predictions From The Founder Of Unconventional Ventures: 'Banks Aren't Competing With Banks, But Rather Amazon And Apple'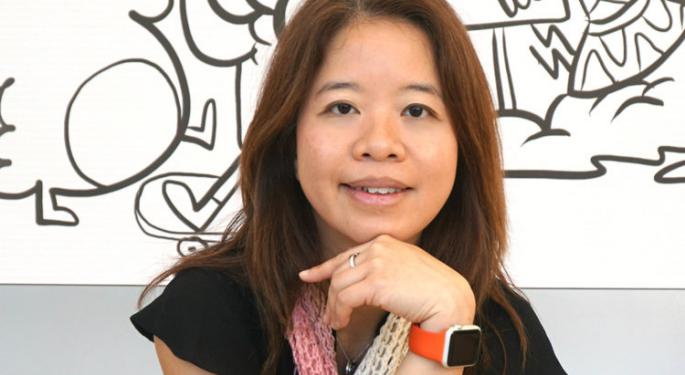 Benzinga is proud to introduce the Benzinga Women's Wealth Forum, a space where women can learn how to empower themselves through financial technology and be inspired by the stories of powerful women in finance.
Ahead of the March 21 event, we're highlighting the stories of some of the leading women in the financial services industry.
Our next installment is an interview with Theodora Lau, founder of Unconventional Ventures and former director of market innovation at AARP.
Benzinga: Give us the elevator pitch for what you do at AARP.
Lau: The main goal for Unconventional Ventures is to spark innovation in the private sector, and to develop and grow ecosystem to better address unmet needs of older adults. I connect founders with funders - with specific focus on underrepresented entrepreneurs, to broaden opportunities for diversity within the ecosystem.
Fun fact: In 2015, there were more than 1.6 billion people worldwide aged 50 and above; that number is expected to double to nearly 3.2 billion people by 2050.
What trends and ideas do you think will dominate the fintech discourse in 2018?
Artificial Intelligence (AI) seems to be the buzzword of the year. I am excited about its potential, both from physical perspectives (robotics and self-driving cars) as well as around machine learning and natural language processing. As we live longer and more productive lives, our financial needs will become more complex – we need better and more holistic solutions to help us navigate different life stages and allow us to live the lives that we want.
From a technology perspective, the combination of Advanced Analytics, Internet of Things, and Big Data, will allow us to re-think banking not as a distinct service, but rather, something that is seamlessly integrated into our daily routine. I am intrigued by the creative ideas the tech giants can bring; banks are no longer competing with other banks – but rather, the likes of Amazon.com, Inc. (NASDAQ: AMZN) and Apple Inc. (NASDAQ: AAPL).
What surprised you the most in the fintech industry in 2017?
I am still surprised by how dominant the "bro culture" is in fintech – and across many facets of our society. The fact that we seem to be moving backwards and it would take 217 years to close the gender gap is just dumbfounding.
Does fintech open up new financial opportunities for women? If so, how?
Absolutely. Wealth management should be built around the clients' needs; unfortunately, it is still pretty much a "one-size-fits-all." While 50 percent of client households are run by women, only 15 percent of financial advisors are women. Financial technology allows us to provide more personalized solutions based on our lifestyle and social affiliations/preferences.
It is estimated that by year 2030, women will control as much as two-thirds of the nation's wealth. In addition, women are also expected to live longer than men. We need solutions that can cater to our specific needs.
What about your company makes you excited to go to work?
I am a big believer that great ideas can come from anywhere, regardless of demographics and social circles. And for those of us in the innovation economy, it is our job to shine a spotlight on them and help them succeed. With what I do, I feel lucky to be able to meet amazing people who are passionate about making a difference and to be part of their journey. It was once said:" Choose a job you love, and you will never have to work a day in your life." Let's dare to dream.
To hear stories like Lau's, be sure to grab a ticket to the Benzinga Women's Wealth Forum March 21.
Posted-In: AARP Benzinga Women's Wealth Forum Theodora LauFintech Top Stories Interview Best of Benzinga
View Comments and Join the Discussion!