Transfermate Is Licensed Around The Globe To Transfer Foreign Currency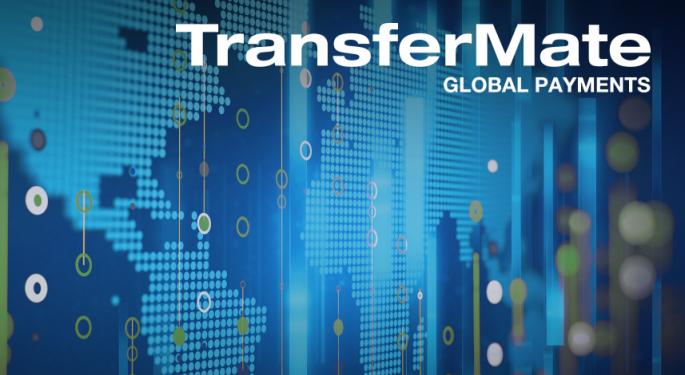 The Benzinga Global Fintech Awards are a yearly showcase of the best and brightest in fintech. In preparation for its biggest installment yet in May 2018, we're profiling the companies competing for the BZ Awards.
Our next feature is on Transfermate.
What does your company do? What unique problem does it solve?
Eugene Devereux, Marketing Executive: TransferMate is the market-leading, international choice for businesses and banks worldwide that send and receive foreign currency payments. TransferMate have created one of the most extensive networks of bank accounts in over 60 countries allowing us provide a faster, cheaper and easier solution to our clients. Through extensive investment in global regulatory licenses, our international bank account network and leading-edge payments technology, TransferMate has created a unique platform capable of streamlining complex international payments. With a unique set of capabilities, TransferMate provides a truly innovative and superior payments solution.
Who are your customers?
TransferMate is predominately focused on providing international payment services to corporate businesses and banks in addition to personal clients. We work with clients based across Europe, US, Canada and Australasia that have an FX exposure, typically importers and exporters.
We also work with partners whose clients have an FX exposure, more recently banking partners, who in the past didn't provide a solution for exporting clients, for example our partnership with Allied Irish Bank and our solution – AIB International Receivables Powered by TransferMate.
How long have you been in business?
Launched in 2010.
Where are you located?
Headquartered in Kilkenny, Ireland. We have over 30 office locations across Europe, US, Canada and Australasia.
Who is your company's leadership? What kind of experience do they have?
Terry Clune is the co-founder and chairman of Transfermate and The Taxback Group.
As co-founder of TransferMate and CEO of The Taxback Group, Terry is responsible for overseeing and steering the long-term growth of the company. With a proven track record of scaling market leading financial services businesses across the globe over the past 20 years, Terry focuses on high-growth strategic opportunities, ensuring continual global expansion of TransferMate.
In 2009 Terry was named Ernst & Young Entrepreneur of the Year in Ireland.
Sinead Fitzmaurice is the co-founder of TransferMate and CFO of The Taxback Group.
As co-founder and CFO, Sinead is responsible for building TransferMate's robust regulatory and operational infrastructure. Trained and qualified as a Chartered Accountant with PriceWaterhouseCoopers, Sinead has over 20 years' experience in senior risk management roles within financial services. Sinead is a member of the Institute of Chartered Accountants in Ireland, England and Wales and a member of the Institute of Directors Ireland. Furthermore, Sinead is listed as one of Ireland's Top 100 Most Innovative and Influential CFO's and has also been listed within the Fintech Innovators List 2017.
Gary Conroy is the Chief Commercial Officer of TransferMate.
As Chief Commercial Officer, Gary is responsible for increasing the company's global business. A graduate of Trinity College, Gary has over 20 years' experience across technology and financial services with companies such as Goldman Sachs, Misys Financial Software Systems and Axway.
Most recently, Gary served as Managing Director of Realex Payments following the company's acquisition by Global Payments in March 2015 for €115m in one of the largest deals in European FinTech.
Who are your investors, if any?
Allied Irish Bank (AIB) recently invested €30m in 2017. Previous to this, TransferMate was entirely organically funded.
Is there anything else Benzinga should know about your company?
At TransferMate, we are fully aware that we have a unique set of capabilities – our global regulation and our proprietary technology platform is unmatched making us a market leader in the global payments industry. During our first 7 years since incorporation, we have focused our organic investment to drive our global regulatory and technology platform to provide an end-to-end closed-loop solution for importers and exporters when making or receiving cross-border payments. While many other Fintech payment companies focus on 'beating the banks' and driving market strategies for customer adoption centred on peer to peer solutions, we believe our focus on our regulatory reach and technology platform for B2B solutions will provide a robust operational business model for banks and technology platforms to present a global unified eco system to provide their corporate clients a truly frictionless B2B payment solution. As banks consolidate their costly correspondent banking relationships, we provide a seamless centralised platform to distribute and collect payments globally. Our strategy focuses on driving the concept of this collaboration with key banks across the globe to enhance customer experience of banks through specialist platforms such as ours.
To date we have processed in excess of $10B to a corporate client base of over 8000 clients and are growing 40% year on year.
Photo courtesy Transfermate.
To check out companies like Transfermate for yourself, grab a ticket to the Benzinga Global Fintech Awards May 15-16 in New York.
Posted-In: Benzinga Global Fintech Awards Eugene Devereux TransfermateFintech Forex Markets Best of Benzinga
View Comments and Join the Discussion!