Fortex Is A Member Of The Fintech Old Guard With $12 Billion In Currency Trades A Day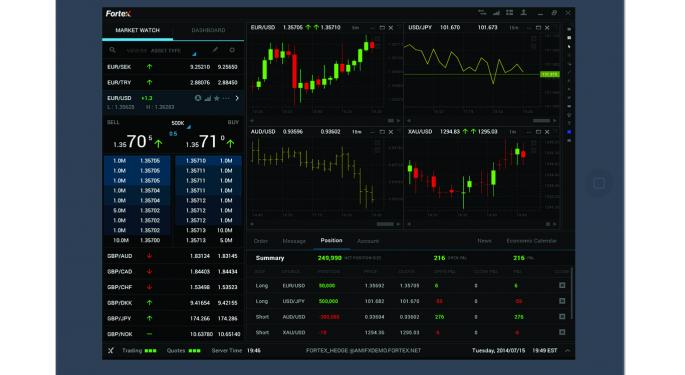 The Benzinga Global Fintech Awards are a yearly showcase of the best and brightest in fintech. In preparation for its biggest installment yet in May 2018, we're profiling the companies competing for the BZ Awards.
Our next feature is on Fortex.
What does your company do? What unique problem does it solve?
Monika Peschke, marketing leader: Fortex revolutionized FX trading beginning in 1997, as the first independent, multi-asset trading platform to provide clients with direct, fair access to markets. Since then, the company has grown organically to become the leading FX trading platform with $12 billion in currency trades and 500,000 tickets a day for tens of thousands of traders around the world.
We differentiate ourselves with our solid focus on providing best-of-breed technology followed up with first-rate support. Being fully independent from any outside ownership, we are able to respond much faster than our competitors, maintain fully neutrality, and process orders without any conflict of interest.
Who are your customers?
Traders, broker dealers, market makers, money managers, banks, hedge funds, and investors around the world.
How long have you been in business?
21 years.
Where are you located?
Redwood Shores, California (HQ)
New York, New York
Hong Kong
Shanghai, China
Mexico City, Mexico
Guangzhou, China
Who is your company's leadership? What kind of experience do they have?
Daniel Z. Chen
Chief Executive Officer and Co-founder
With expertise in a broad range of financial markets and technologies, Daniel is responsible for Fortex's product strategies, execution, operation, and business development. His expertise in high-frequency, low-latency technology and market microstructure makes him a trusted source in the field of quantitative and algorithmic trading. Prior to Fortex, Daniel co-founded and bootstrapped the highly successful Millennium Exchange, an early pioneer in electronic trading technology for equities and options. Millennium Exchange was acquired by an investment syndicate.
Daniel started his career at Goldman Sachs in New York, specializing in the areas of trading and principal investment of complex structured products and distressed assets. He also participated in the development of large-scale trading and analytics systems that contributed to Goldman Sachs' competitive trading success. He graduated from New York University with distinguished honors in Computer Science and Economics.
Jay Zhan
Chief Technology Officer and Co-founder
Jay is a widely recognized expert in the development of industry-leading financial trading systems. He specializes in combining technology innovation and in-depth business insight to create pioneering solutions. Jay is responsible for the product architecture and technical solutions that underpin the Fortex platform and strategy. As co-founder of Millennium Exchange, Jay was chief architect of its highly successful trading platforms.
His prior experience also includes positions with First Manhattan Consulting Group, where he was instrumental in designing large-scale banking systems for major U.S. money center banks and Deloitte & Touche Consulting Group's IT practice. Jay earned a bachelor's degree from New York University in Computer Science summa cum laude, with Phi Beta Kappa and the department's highest honors.
Who are your investors, if any?
Fortex is privately held.
Is there anything else Benzinga should know about your company?
We are on a major growth trajectory. In the works for 2018:
Expanding our range of tradable FX products
Entering into new strategic partnerships
Opening and/or expanding offices in Europe, Asia, and Latin America
Photo courtesy Fortex.
Posted-In: Benzinga Global Fintech Awards Fortex Monika PeschkeFintech Best of Benzinga
View Comments and Join the Discussion!