Video: The Original Bank App Innovator On JPMorgan Chase's FinTech Strategy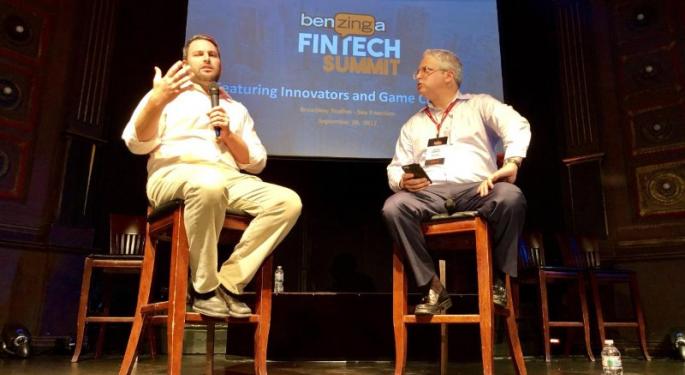 In a special one-on-one fireside chat at this year's Benzinga Fintech Summit, Benzinga CEO Jason Raznick sat down with the head of digital partnerships at JPMorgan Chase & Co (NYSE: JPM) Adam Carson to discuss how the institution is approaching fintech's rapid growth and massive impact on the financial industry.
Carson prefaced the discussion by describing JPMorgan Chase's previous approach to digital products. Because of the company's size, he explained, there were no limits, which in itself was limiting.
"We have this notion that we can build pretty much any application we want," said Carson. "Historically, we did that because there wasn't really a choice. But if you look at what's happening with the FinTech ecosystem now, you have so many startups that are innovating on that customer experience. Now, for the first time, we have an option."
That option? Whether the bank should replicate what others are doing or form partnerships with startup pioneers. Carson elaborated that, for the first time, JPMorgan Chase is looking beyond its own scope to uncover what customers are most drawn to, even if they're not Chase customers.
"What we found in the fintech space is that the innovation is moving so quickly that we have a a new muscle that we're building, and that's paying attention to what's happening outside the firm and, probably, not with our customer base," Carson said.
The company, Carson explained, now has a dedicated team of fintech experts weighing what might be a fad versus those developments that are truly revolutionary.
You can watch the video below to see the full discussion and learn what FinTech innovations draw the most interest from JPMorgan Chase.
.
Posted-In: Benzinga Fintech SummitFintech Media General
View Comments and Join the Discussion!