Benzinga Fintech Summit: Kevin O'Leary, Ron Suber And Keith Krach Talk The Art Of Hunting And Executing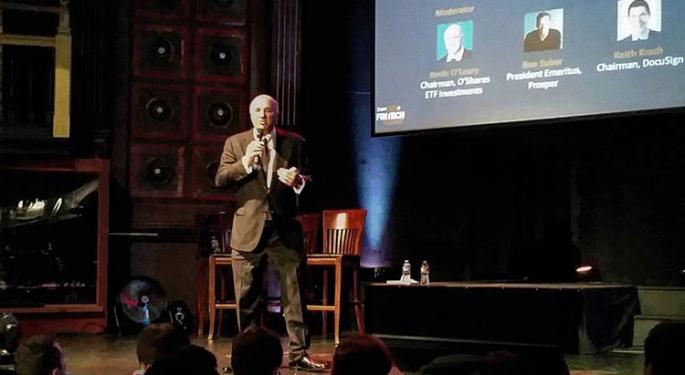 At the Benzinga Fintech Summit in San Francisco, dozens of people from the financial technology community spoke about the intricacies of this fast-growing industry. The keynote panel included DocuSign Chairman Keith Krach, fintech pioneer Ron Suber, and "Shark Tank" star Kevin O'Leary. The panel discussed the art of hunting, executing and generating new business.
O'Leary, chairman at O'Shares ETF Investments, sees the massive potential in fintech: "These platforms will become very valuable, but may take 10 years to happen." This belief in fintech is what led to Beanstox, an app that focuses on financial education, particularly for the younger generations. By investing time and money into fintech companies, millennials will start creating their portfolios at an early age. This will ultimately lead to a more successful economy.
Multi-Faceted Intelligence
Fintech is rapidly growing as new ideas are being generated every day. Being able to break down massive amounts of data reveals key patterns that can lead to a company's success. In order to make these startups work, the team needs to have a solid mission and goal.
Suber, president emeritus and senior advisor at Prosper, expresses the importance of IQ and EQ. If a team has multi-faceted intelligence, they're going to be much more likely to grow. Companies also need to decide whether they want to be completely transparent or not.
"It's not right or wrong to be private or public, it's just different," said Suber. In order for companies to stand out from the rest, they need to be flexible and able to change with its clientele.
Gain Trust
Krach's DocuSign is a well-used tool to seal the deal on many financial and professional documents. He shared that gaining the trust of the client is what led to their success.
"Be the global standard around the world and you will build to last," he said.
DocuSign follows three major guidelines: ensure a strong product with minimal client interaction, make the program easy to use for all, and create a leverage safety net by gaining the business of major integral companies.
These three fintech minds have paved the way to creating strong, rapidly-growing companies. Fintech is the future not only of banking, but reaching the goal of every individual.
"As we advance into AI, more people will find better work. And our lifestyles become better," said O'Leary.
Check back soon on Benzinga.com for more from the Benzinga Fintech Summit.
View Comments and Join the Discussion!
Posted-In: Benzinga Fintech Summit Kevin O'LearyFintech News Entrepreneurship Events General Best of Benzinga