4 Fintech Companies That Might Replace Your Bank One Day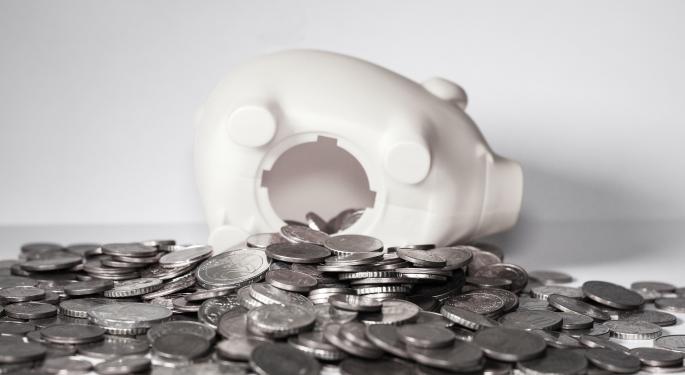 Although the Bay Area is host to many of fintech's top players, some of the space's best young companies are taking the financial services industry to new heights by leading the way in innovation, quality, and customer service.
However, most people have yet to catch wind of these growing companies. Forget blue chip names like PayPal Holdings Inc. (NYSE: PYPL), Square Inc. (NASDAQ: SQ), and Visa Inc. (NYSE: V).
Banks currently dominate the field of lending and investing, but there is no doubt that rising fintech companies are right on their tails.
San Francisco, the site of the Benzinga FinTech Summit on September 28th, is a hub for the growing industry of lending in fintech. These four Bay Area fintech companies could replace your bank one day.
What it is: Based in San Francisco, SoFi has changed the lending and wealth management space of fintech. Headed by Mike Cagney, the company has taken a developed products to provide quick service and comfortable interactions. The company offers student loan refinancing, mortgage loans, personal loans, wealth management, and life insurance among other services.
Mission statement: Helping people reach peak financial potential by guiding them through many different financial avenues and obstacles.
Why you may need it: SoFi is changing the way that people save their money. Future generations that will be dealing with high tuition costs for college will need loans and loan management. When these students reach employment after college, the issues of mortgage buying, life insurance, and wealth management all become pressing concerns. SoFi creates potential for people to consolidate all their financial needs.
What it is: Wealthfront has introduced to the automated financial advisor to the world. Based in Redwood City, the company has deployed high tech software to follow market trends and create analysis for good investments. The automated financial investor manages risk, lowers taxes, and minimizes fees. Wealthfront's trademark product, PassivePlus, combines high-level research experts with high-level technology to create a speedy and precise automated financial advisor.
Mission statement: Helping people create a successful investment strategy by automatically analyzing many market variables and trends.
Why you may need it: As much as people may enjoy following the markets and the volatility that comes with it, lon- term investment is a serious part of life. Wealthfront takes this head on by eliminating the human factor of financial advising and creating smart software to do it instead.
What it is: Nerdwallet is the hub for free information on credit cards, banking, investing, mortgages, loans, credit scores, and more. Headquartered in San Francisco, the company allows people to find the best credit cards based on their credit score and interests.
For example, someone can enter that they have a credit score of 700 and an interest of rewards, and the company will generate an option of credit cards to best fit those needs. If people don't know their credit score, Nerdwallet offers a everyone a free credit score. The company also allows people to view information on the best credit cards, best brokers, best checking accounts, etc.
Mission statement: Setting people up with free and helpful tips, advice, and information to make the best financial decisions for stability and potential.
Why you may need it: People can spend hours trying to figure out the best financial plan for themselves. The process can include paying for a credit score, researching the best credit cards, finding the proper broker, deciding on the best checking account, and many more strenuous and now unnecessary steps. Nerdwallet steps in and does all this by offering the necessary information for people to make better financial plans and decisions all in one domain. And it's free.
What it is: LendingClub Corp (NYSE: LC), based in San Francisco, allows people to invest and borrow money. The company offers personal loans, small business loans, auto refinancing, and now loans for medical treatments. Investors make monthly payments in order for investors to make a monthly return. Scott Sanborn is the CEO of the company, which has lent $26 billion and has over 1.5 billion customers.
Mission statement: Bringing borrowers and investors together to help people take control of credit, grow small businesses, and invest.
Why you may need it: There are a few things that people will need to do at some point in their to help themselves financially. Two of those things are taking out loans and investing. Lending Club creates a feasible and transparent system that intertwines both, allowing users to take advantage of opportunities to save and make money.
If you're looking for cool fintech startups and access to top financial institutions, and are sick of attending stuffy corporate conferences, the Benzinga Fintech Summit is the event for you. Visit www.bzsummit.com for more details.
Connect with us on social media — use the hashtag #BZsummit and #Fintech to spread the word!
Photo credit: public domain
View Comments and Join the Discussion!
Posted-In: Benzinga Fintech AwardsFintech