Fintech Entrepreneur Nate Richardson Rinses Off The Soot Of The Deal In War Zones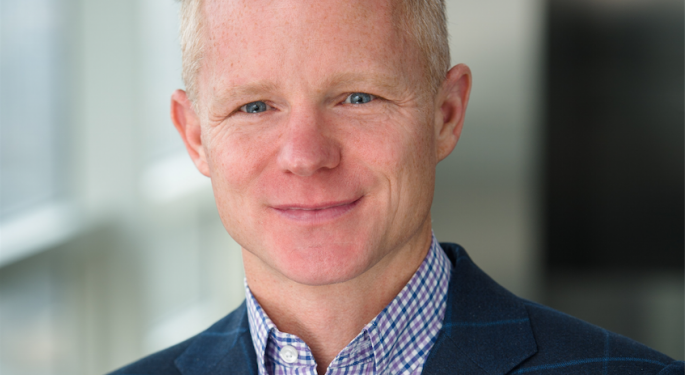 So what if investment in the hot financial tech movement dropped $2 billion in each of the past two years?
Pardon Trading Ticket, Inc. co-founder Nathan Richardson if he doesn't lose his cool. He risked his life doing humanitarian work in war zones, even got captured once, and was forced out of Liberia because of his sexual orientation.
Getting rattled? That's for other people.
Richardson has the life perspective earned by taking breaks from the business world to work in conflict zones where a sense of serenity while surrounded by chaos is the key to survival and, best of all, seeing results.
"I had like a close call every week," says Richardson, 46, who served as the International Rescue Committee country director for the West African nation of Liberia beginning in 2006 and was a Peace Corps volunteer in Senegal in 1993, where he worked on programs that lowered HIV rates in the country to below those of New York City.
Richardson, who helped build Yahoo! Inc (NASDAQ: YHOO) Finance, is a well-known financial technology entrepreneur. He's currently the chief executive of Trade It, a system that allows customers to trade online using their existing brokerage accounts from any app or site.
"We're connecting brokers to their customers through the apps they are using. Things are innovating and you're seeing financial institutions more consumer friendly."
Hitting The Reset Button
Richardson is also one of the judges of this year's Benzinga Global Fintech Awards, the results of which will be announced on May 11. His reason for doing the awards is practical: He does business with lots of those involved.
The festivities won't be too delirious. Capital investment in fintech is down $2 billion in each of the past two years, he said. Valuations were overheated. He's optimistic about the sector moving forward, though.
He has to be. Besides being on an advisory board at the Brookings Institution, fintech is his business.
Richardson had a storied career at Yahoo when it seemed indomitable, but he left in 2005 to take over the sprawling web services of Dow Jones Online, essentially being the guy in charge of all Wall Street Journal-related digital content.
Many people often feel they have exceeded their career goals too quickly and need to veer into another lane entirely. Richardson reached the same realization.
"I was really struggling to see how to hit the reset button," he said. He came in contact with the IRC, the biggest secular humanitarian aid group in the world, which offered him the job as director of its operations in Liberia, a nation settled by freed American slaves.
"I broke up with my partner, sold the house," he said. "I was gone."
Bad Business On The Battlefield
Running an enterprise — especially a major relief apparatus —in a war zone is both art and science and takes a certain savvy for survival. Liberia had been beset by factional feuding since 1989, and hundreds of thousands have died and many more displaced.
At one point, Richardson had the IRC take over a hospital that had been run by Doctors Without Borders in the northeast corner of the country. The group, known by its French acronym MSF, had been forced out by warlords.
Richardson inherited a hospital dealing with children dying regularly of malnutrition.
He faced down a tank and troops in order to cross into neighboring Sierra Leone, which was also engulfed in an overlapping conflict.
He woke up one morning and saw a tank parked outside his house from the Bangladeshi army, part of a multinational U.N. peacekeeping force that had spent years unsuccessfully trying to manage an insane series of interconnected conflicts.
An expat colleague was gang-raped on his watch. He himself was captured by former local security men he'd fired — they were drunk on the money IRC paid them, he said — and he was held for 24 hours before United Nations peacekeepers rescued him.
It was a rough tour, but Richardson's appetite for adventure in Africa was whetted when he worked in Senegal for the Peace Corps in 1993, even becoming fluent in Wolof, a national language.
Illegal To Be Gay
His tour in Liberia ended when the IRC sent him out of the country after somebody spread word that Richardson was gay. Richardson figures it happened way above his pay grade, and speaks matter-of-factly about getting booted from a country because of sexual orientation, one of the prime targets of the world's intolerance.
"In the end, I sort of got run out. It was illegal (in Liberia) to be gay," he said.
A nascent women's movement began taking power and imposing its will on the male warlords, and today Liberia is a democracy as fragile as a day-old foal.
So, it is no surprise that Richardson, a single dad with two kids, sounds unfazed by the cooling of investment in the fintech world that is his metier. The sector just got too hot not to chill, and investment capital is desperately coveted.
Stirred, Not Shaken
Despite being back in the financial world, Richardson understands the cleansing experience of working to help victims of war and runs with it.
"I start my day every day running four to six miles a day," he said. "I clearly have a passion for emerging markets and the exotic. I guess I'm a bit of an adrenaline junkie for conflict zones."
Richardson still returns to West Africa to catch up with old friends. If he were to have a drink with an acquaintance, he would get the standard-issue cocktail of dissipated expats stationed in sultry outposts in the Third World.
"I'd have a gin and tonic," he said.
_____
If you liked this profile, check out these articles from our "Day In The Life" series:
If you're looking for cool fintech startups and access to top financial institutions, and are sick of attending stuffy corporate conferences, the Benzinga Global Fintech Awards is the event for you. From its first year in 2015, the competition grew to over 250 applicants and over 500 attendees in 2016.
Connect with us on social media — use the hashtag #BZAwards and #Fintech to spread the word!
Photo Credit: Used with permission.
Posted-In: Brookings Institution Doctors Without BordersFintech Entrepreneurship Success Stories Exclusives Interview General Best of Benzinga
View Comments and Join the Discussion!