Insureon Looks To Serve The 75% Of Small Businesses That Are Underinsured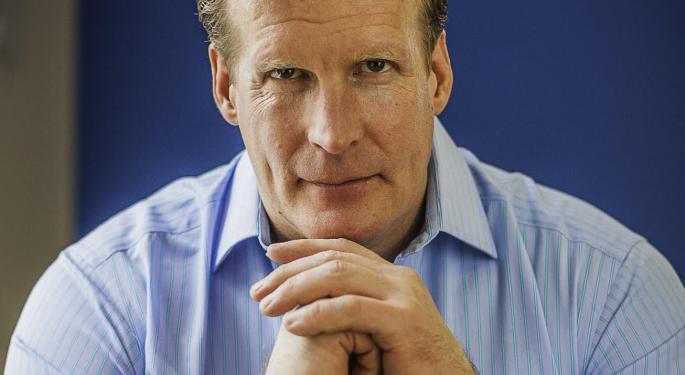 It's almost that time of year.
The 2017 Benzinga Global Fintech Awards is a competition to showcase the companies with the most impressive technology that are paving the future in financial services and capital markets.
To get you prepared for this year's awards, Benzinga will profile each fintech company that has applied. Want to get involved? Submit your company here. For this installment, we spoke with Ted Devine, CEO of Insureon (answers have been edited for length and clarity).
What does your company do? What unique problem does it solve?
About 40 percent of small businesses have no insurance and 75 percent are significantly underinsured. That's a problem when something goes wrong and a business is faced with an unexpected bill, but it can also hamper growth. To get a commercial lease, for example, you almost always need a general liability insurance policy. And to work with big, high-paying clients, you'll usually need to show proof of E&O coverage.
But small businesses have always had trouble finding insurance. There are a few reasons why:
Small commercial insurance policies aren't that expensive – often $500 per year or less. That's great for business owners, but means agents may not be motivated to do the work required to write these policies, given the relatively small potential premium and commission.
Local agents may have access to only one insurance company. If that company doesn't offer coverage for your business, you're out of luck.
Local agents can only do so much, so they may not have expertise writing for your industry. That means they may not know ways to save money or questions to ask to make sure your risks are truly covered.
Insureon solves this by partnering with more than 100 carriers to cover businesses in more than 500 industries. Our proprietary technology means a business from anywhere in the country can apply online in just a few minutes and get access to the carriers that offer the coverage they need.
Our commitment to best-in-class customer service means that every business we work with gets to talk to an agent who specializes in their industry before they choose a policy.
Helping our customers understand how insurance fits into their overall business plan is important to us, so we also offer tools to help small-business owners understand their risk exposure and how to minimize it. One example is Policy Buddy, which a two-minute diagnostic that highlights policies a business is likely to need.
Who are your customers?
Insureon serves the large market of solopreneurs, micro-businesses, and companies with up to 20 employees. According to the SBA, there are over 25 million of these small businesses in the United States. Our customers span more than 500 industries, from IT professionals and consultants to small dentists and accounting practices.
How long have you been in business?
Insureon's roots go back to 1997, when the TechInsurance Group formed to offer small technology firms an online destination for buying business insurance. In 2011, the TechInsurance Group launched Insureon, which is now a leading online destination for any small business insurance needs, regardless of industry. Since founding, Insureon has helped more than 250,000 small businesses find coverage.
Where are you located?
We are headquartered in Chicago with offices in Texas and San Francisco.
Who is your company's leadership? What kind of experience do they have?
Before Insureon, I held senior level positions at Aon Corporation where I was President of Aon Risk Services, which had more than $5 billion in revenue and 28,000 employees worldwide. Before Aon, I spent 12 years as Director of McKinsey & Company and am also the Founder and CEO of 1WORLD Sports, a Chicago-based nonprofit dedicated to inspiring at-risk youth to excel on and off the playing field.
Jeff Somers is the President and Head of Retail at Insureon. Jeff joined Insureon in 2016 from a position as Chief Product Officer at Live Nation Entertainment, Inc. (NYSE: LYV)'s Ticketmaster, where he led a 150-plus person team dedicated to the end-to-end optimization of client experiences. He has also held leadership positions with tech powerhouses eBay Inc(NYSE: EBAY), Microsoft Corporation (NASDAQ: MSFT), Zillow Group, Inc.(NASDAQ: Z) and Amazon.com, Inc. (NASDAQ: AMZN).
Yuri Ter-Saakyants is the Chief Technology Officer at Insureon. Yuri oversees technology, engineering, development, and quality assurance for Insureon. His was previously Senior VP of Development with MediaBank where he grew the company from its startup phase, helped it implement a technology platform to suit the needs of the marketing world and built MediaBank's first-generation integrated digital workflow system.
If you're looking for cool fintech startups and access to top financial institutions, and are sick of attending stuffy corporate conferences, the Benzinga Global Fintech Awards is the event for you. From its first year in 2015, the competition grew to over 250 applicants and over 500 attendees in 2016.
Connect with us on social media — use the hashtag #BZAwards and #Fintech to spread the word!
Posted-In: Benzinga Global Fintech Awards Insureon Ted DevineFintech Small Business Interview Best of Benzinga
View Comments and Join the Discussion!