M1 Finance: Merging Robo-Advisors Efficiency With The Control Of A Online Brokerage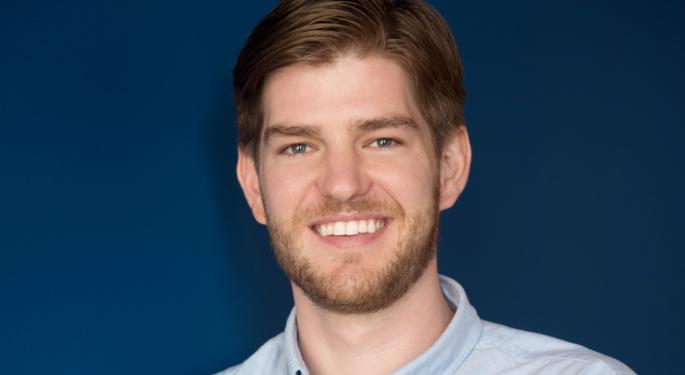 It's almost that time of year.
The 2017 Benzinga Global Fintech Awards is a competition to showcase the companies with the most impressive technology that are paving the future in financial services and capital markets.
To get you prepared for this year's awards, Benzinga will profile each fintech company that has applied. Want to get involved? Submit your company here.
For this installment, we spoke with M1 Finance founder and CEO Brian Barnes (answers have been edited for length and clarity).
What does your company do? What unique problem does it solve?
More than half of Americans own no stocks whatsoever, even though investing in publicly traded companies is proven to be the best path for building long-term wealth. People are intimidated by the complex interfaces of existing apps or the hidden and confusing fees many brokerages have. Further, most Americans generally distrust financial institutions.
M1 Finance is on a mission to change that and help people realize the potential in their hard-earned money by making investing intuitive and accessible.
M1 prioritizes automation and customization — merging the efficiencies and cost structure of robo-advisors with the choice and control of a full-service online brokerage.
With zero commissions, a flat 0.35 percent annual fee and fractional shares that ensure every dollar is deployed, M1 Finance prides itself on being investor friendly. This balanced solution provides low costs, control and the convenience of modern technology.
Related Link: How Does A Fintech CEO Plan His Day To Disrupt The Wealth Management Industry?
Who are your customers?
M1 caters to the modern investor, someone is accustomed to high convenience and control but wants it to be low cost.
How long have you been in business?
We started development in 2015, and the product launched to the public in September 2016.
Where are you located?
Chicago.
Who is your company's leadership? What kind of experience do they have?
I am the founder and CEO. I started investing at an early age, and as I became older, I realized just how complicated investing with traditional brokers was, particularly while trying to make regular contributions to a balanced, long-term portfolio.
Michael Savino is the head of investments and operations. A CFA Charterholder, Michael was previously an information data analyst at Nuveen Investments. Utilizing Modern Portfolio Theory, Michael has personally designed M1's dozens of template portfolios.
Nick Dalmaso serves as M1's general counsel and chief compliance officer and has established and directs all of M1's legal and compliance functions. Nick was the co-founder and president of Destra Capital Management. Prior to Destra, Nick was a founding member and the chief administrative officer of Claymore Group, Inc. which was sold to Guggenheim Partners in 2010. Nick also served as associate counsel for Nuveen Investments and Van Kampen/Morgan Stanley.
Is there anything else Benzinga should know about your company?
M1 is quickly growing. Our customer feedback has been very positive. Since we launched the platform in September, we have signed over 7,000 people and accumulated over $30 million in AUM.
If you're looking for cool fintech startups and access to top financial institutions, and are sick of attending stuffy corporate conferences, the Benzinga Global Fintech Awards is the event for you. From its first year in 2015, the competition grew to over 250 applicants and over 500 attendees in 2016.
Connect with us on social media — use the hashtag #BZAwards and #Fintech to spread the word!
Image Credit: Provided by and used with expressed permission from Brian Barnes
Posted-In: Brian Barnes M1 FinanceFintech Success Stories Interview General Best of Benzinga
View Comments and Join the Discussion!