'He Made Me Want To Be Part Of Something Bigger Than Myself': Colleagues Remember Fintech Pioneer Neil DeSena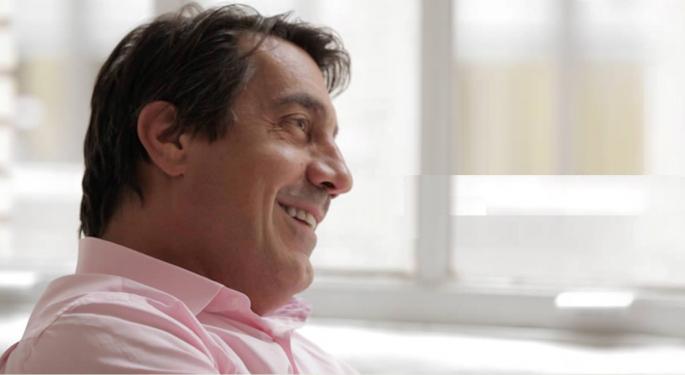 Fintech pioneer Neil DeSena, co-founder of fintech merchant bank SenaHill Partners, passed away Saturday. He was 52.
DeSena left behind a legacy of financial innovation. He spent the early years of his career building REDI, the electronic trading business that was eventually purchased by Goldman Sachs Group Inc (NYSE: GS), where he became a managing director. He would later co-found SenaHill Partners with Justin Brownhill after realizing the demand for fintech products within the finance industry with the aim of linking a venture arm with the services of an investment bank.
Benzinga received statements from SenaHill representatives that paint a picture of a man who was passionate about not only technology and its possibilities in the finance industry, but the people who worked with him to make it happen. Their remembrances are collected here, and edited for clarity and brevity.
Kyle Zasky, Partner
"We all knew when Neil was in the office. His presence was undeniable. Most people, if they wanted to come down the hall and talk to me, would wait until they reached the office door before speaking.
"Not Neil.
"He would be 10 yards away and start the conversation. 'ZASKY! I spoke to the CEO about our deal and—' He'd be half done before getting to the door.
"His unfiltered, no-nonsense, out-loud thinking allowed everyone to have a high degree of transparency into his true feelings. That made everyone comfortable, because you knew when Neil said something, he meant it. I could say anything to him, and vice versa. That's atypical in this world and a blessing for a strong, trusting relationship.
"Even in dark, serious moments, he and I could break out into a chuckle or give each other a 'look' in a group meeting and know what the other was thinking. It was special."
Ben Spiegelman, Analyst
"With that goofy smile, he'd sock me in the arm, make fun of my socks, fight about politics and tell me I'm wrong all before 9 a.m. — it was my favorite part of the day.
"Thank you for always having my back, Neil. I will miss the times we had and the ones we won't get to experience."
Mat Argudo, Analyst And Neil's Cousin
"Neil was the kind of person who could command the attention and respect of a room without even saying a word.
"Neil wasn't your stereotypical Wall Street banker with a pinstripe suit, power tie and Rolex watch. He was an ordinary guy, who would come into the office in jeans, a plaid button-down, a hat and about 20 wrist bands his kids had made him the night before.
"He was very honest and supportive toward everyone he had worked with. He didn't care if you came from an Ivy League college or a community college. If you could get a job done, he wanted you there and he was going to be your biggest cheerleader along the way. Neil always put the team's success before his success and that's what made him great. He made me want to be part of something bigger than myself, and that's why I will never forget him."
Sarah Legenza, Director Of Communications
"I was tough on Neil. I never wanted anything to fall through the cracks, and I made sure we pursued every marketing opportunity. But that was the beauty of working with Neil — the employee could be tough on the boss because Neil encouraged direct, transparent, genuine relationships. Neil would always joke with me, saying 'Stop yelling at me,' and 'Is that it? Is there anything else you want me to do?' He joked that I was a nag, but I know he secretly liked it."
Tim McCooey, Managing Director And Longtime Friend Of Neil
"I was lucky enough to commute every day with Neil and built, over a decade, a very close bond with him — pretty much like a brother. And, like most brothers, we would fight over whose vision of Wall Street was going to come to pass. No matter how long we would fight or how heated it became, the end of the argument would usually have Neil asking me what my kids had planned for the weekend, or how they did in their last sporting event. He was just that kind of a guy — no grudges held and always there for others."
Gregg Sharenow, Partner And Chief Financial Officer
"Neil really liked writing blogs. The problem was that writing was not his best skill. So, he asked us to help him with the language in his posts, but would good-naturedly give us a hard time when we changed it enough that he felt it was no longer in his 'voice.' To Neil, his 'voice' was almost as important as his words.
"When I was introduced to Neil and SenaHill four years ago, I was told the one thing I could count on was that Neil will always do the right thing. That's a broad statement, but in the past four years as his partner, I can unequivocally say that Neil always did the right thing."
George Chrisafis, Managing Director
"For whatever reason, Neil and I were almost always on the same wavelength idea-wise, especially when we were brainstorming. Maybe it was our age or experience, but we would invariability arrive at similar thoughts, ideas and conclusions, though he would always claim that 'he thought of it first' or 'it was his idea.'"
Corey Davis, Managing Director
"Neil was a connector. He always knew somebody somewhere. If you were a friend of Neil's, his network was open to you. Whether it was the guy who owned a new golf course in Texas that you wanted to play, or the CEO of the company you had been trying to reach, Neil (after a few pointed questions) would find a way to make the connection.
"That's why Neil has so many friends — even when there was nothing for him to gain, he was always looking for ways to help his friends help each other."
Image Credit: Provided by SenaHill
Posted-In: Justin Brownhill Neil DeSena REDI SenaHill PartnersFintech News Success Stories Best of Benzinga
View Comments and Join the Discussion!