Meet The Entrepreneur Who Destroyed And Rebuilt Investment Fund Trading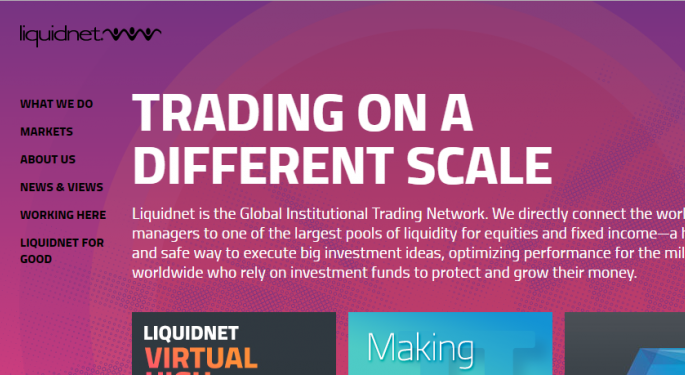 When it launched in 2001, LiquidNet was a revolution in high volume trading, providing asset managers with a quick and reliable way to trade tens of thousands of shares through a computer network. LiquidNet is now a standard among investment firms, trading across 41 different public and private markets.
Seth Merrin, the founder and CEO of LiquidNet, stopped by on Friday's edition of Benzinga's PreMarket Prep morning show to discuss his new business memoir "The Power of Positive Destruction: How to Turn a Business Idea into a Revolution" and the keys to disruption in the stock market and the business world at large.
The Power Of Positive Destruction
Merrin's new book is part instruction guide and part personal history. In it, he describes the moments of epiphany and creative problem solving that led to LiquidNet's success. He generalizes those moments into way-points toward creating an industry standard business. He elaborated, "In the chapters is basically all of the lessons that I learned over the 30 years that I've been in business condensed into just a few of the tips that I wish that I had when I first started out."
The title came from the idea that successful businesses are impactful across their industry, destroying and supplanting the standard models of success. Merrin describes "The Power of Positive Destruction" as being about "breaking down barriers and tearing down walls, being able to construct something new in the place where something had previously existed."
In a broad summary of the entrepreneurial philosophy presented in the book, Merrin breaks down the steps toward replacing the old guard: "Find a large problem that has to be solved, figure out how you solve it, which becomes your unfair competitive advantage. Package that unfair competitive advantage into a 30 second pitch that is so compelling that your prospects would be absolutely stupid not to buy."
A Market Imbalance
By way of example, Merrin described the genesis of LiquidNet in the lacunae and inefficiencies he saw in the market. He describes his astonishment in how rudimentary trading was at the time by saying: "On Wall Street, I thought that everything was highly automated, very technologically advanced. When I got there everything was basically written down on paper tickets."
Merrin also employed his knowledge of the market to recognize how the old standard of trading was needlessly crippling the big brokerage firms. Investment companies handling trillions of dollars in assets were still required to go through exchanges tailored to retail traders, creating a massive supply-side imbalance. Merrin said that when he started, "there was a whole industry that simply measured how much the institutions had moved the market every time they traded."
He continued, "It added up to about a $100 billion a year tax on everybody's returns that invest their money with those mutual funds and those pension funds. And a $100 billion a year problem is a problem that should be solved, yet up until that point everyone just looked at it as a cost of doing business and I said this is something that has to be solved."
With these facts in mind, Merrin looked to technology and took cues from other industries to establish a marketplace to cater to deal with the huge amount of liquidity brokerages deal in. Thus, LiquidNet was born.
Disruption And Destruction
Apart from his own business, Merrin's book highlights other industry disruptors like Uber and Netflix, Inc. (NASDAQ: NFLX), companies that employ technology as an enabler and adapt smart business models from other industries toward solving problems in their own.
A novel example Merrin pointed to is not a tech or consumer company, but a cement supplier. "Cemex SAB de CV (ADR) (NYSE: CX) is a cement company based in Mexico," Merrin explained, "and they simply applied just-in-time inventory principals to the cement industry. Just by doing that, they have become the largest cement company in the world."
Regardless of the business, Merrin's "The Power of Positive Destruction" emphasizes discovering the foundational shortcoming of an industry and questioning how they might be solved. "Many people are simply constrained by what they know or what they are familiar with or what's been done before," he said. "The great companies can see a problem that perhaps no one else did, or just saw it as a cost of doing business."
To hear our full interview with Seth Merrin and his thoughts on market structure and the hazards of high-frequency trading, tune in at 15:25 in the track below.
PreMarket Prep is a daily trading ideas show that focuses on technical analysis and actionable short term trades. You can listen to the show live every morning from 8–9 ET here, or catch the podcast here.
If you're looking for cool fintech startups and access to top financial institutions, and are sick of attending stuffy corporate conferences, the Benzinga Global Fintech Awards is the event for you. From its first year in 2015, the competition grew to over 250 applicants and over 500 attendees in 2016.
Connect with us on social media — use the hashtag #BZAwards and #Fintech to spread the word!
Image Credit: Screenshot from http://www.liquidnet.com/
View Comments and Join the Discussion!
Posted-In: Fintech Education Entrepreneurship Hedge Funds Movers & Shakers Success Stories Markets Tech Best of Benzinga