BaseVenture: Fintech Simplifies The Way Private Funds Are Managed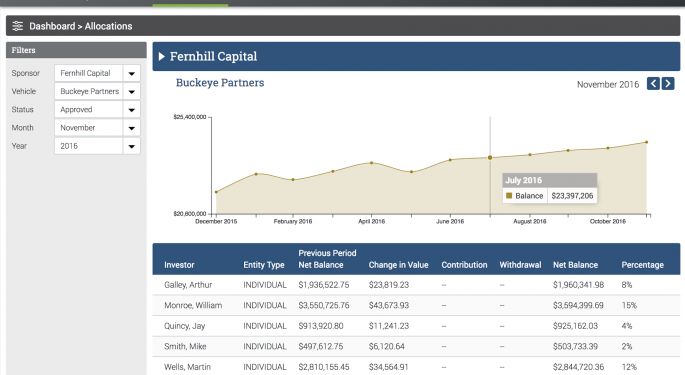 It's almost that time of year.
The 2017 Benzinga Global Fintech Awards is a competition to showcase the companies with the most impressive technology that are paving the future in financial services and capital markets.
To get you prepared for this year's awards, Benzinga will profile each fintech company that has applied. Want to get involved? Submit your company here. For this installment, we spoke with BaseVenture CEO John Pizzi (answers have been edited for length and clarity).
BZ: What does your company do? What unique problem does it solve?
John Pizzi: BaseVenture is a fintech company that is disrupting the $12-billion fund administration industry.
Our Software-as-a-Service platform "FundManager.io" helps fund administrators and fund CFOs simplify and automate the way private funds are managed and administered.
With FundManager.io, we have introduced modern, easy-to-use software that directly addresses these challenges.
BZ: Who are your customers?
John Pizzi: BaseVenture's target market is comprised of fund administrators, private funds and family offices, and we focus on the high-value, yet technologically under-served middle market of private funds.
BZ: How long have you been in business?
John Pizzi: While BaseVenture has been around for a couple of years, our FundManager.io platform has only been in market since last May.
BZ: Where are you located?
John Pizzi: We are located in the San Francisco Bay Area.
BZ: Who is your company's leadership? What kind of experience do they have?
John Pizzi: Our leadership has spent their careers focused on driving technological innovation for financial services. Our CEO and president were two of the former C-level executives of mFoundry, one of the earliest pioneers of mobile banking.
BZ: Anything else Benzinga should know about your company?
John Pizzi: Beyond serving the alternative investment industry from a technology standpoint, we are well underway in our goal to be a key thought leader in shaping the narrative of how the alternative investment industry must evolve to meet the changing needs. We are carving out a role as a catalyst that helps the industry modernize, and we believe that serving our own clients is merely one component of that.
We were recently named a winner of the 2016 Red Herring Top 100 North America Companies to Watch and the Frost & Sullivan 2016 Product Leadership Award.
If you're looking for cool fintech startups and access to top financial institutions, and are sick of attending stuffy corporate conferences, the Benzinga Global Fintech Awards is the event for you. From its first year in 2015, the competition grew to over 250 applicants and over 500 attendees in 2016.
Connect with us on social media — use the hashtag #BZAwards and #Fintech to spread the word!
Image Credit: Screenshot of BaseVenture.com.
Posted-In: BaseVentureFintech Entrepreneurship Startups Tech Personal Finance Interview General Best of Benzinga
View Comments and Join the Discussion!