Which Fintech CEO Starts His Day With An Ice Shower And Ends It With Books And Bourbon?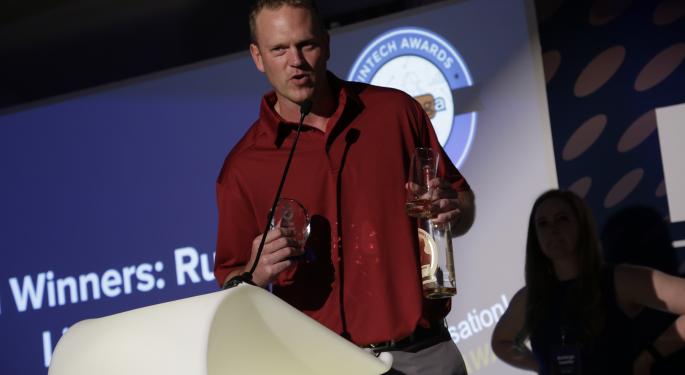 To get you prepared for the 2017 Benzinga Global Fintech Awards, Benzinga will profile the daily schedules of select fintech leaders whose companies have applied. For this installment, we spoke with LikeFolio CEO Andy Swan.
A Day In The Life
Andy Swan is the founder of LikeFolio, a company that provides social media analytics on publicly traded stocks.
BZ: What's a day in the life of a fintech CEO like?
Andy Swan's daily schedule:
7am: I wake up and start my day with an ice water and an ice-cold shower, Wim Hof-style.
8am: I drop the kids off at their school carpool. I teach the kids some culture and get HIGH ENERGY with classics like LL Cool J's Boomin' System.
8:15 a.m.: Waffle House breakfast with dad. Eggs, bacon and sausage.
9 a.m.: Arrive at office. This is when I check email and phone for first time of the day and reply/react to high priority items.
10 a.m.: This is when I start a sprint — a focused effort on highest priority item of the day until it's complete.
11:45 a.m.: Intense workout with Mrs. Swantastic. I use time between sets to catch up on emails/texts/tweets.
12:45 p.m.: Very large lunch.
1:00 p.m.: 100 percent focus on second high priority item of the day.
2 p.m.: First phone call/meeting. Likely the only one that day.
2:30 p.m.: Focus on remaining priorities for the day.

Click here to see how other fintech leaders spend their day.

4:30 p.m.: Coach kid's b-ball.
6:30 p.m.: Dinner with family. This is the highest priority.
8:30 p.m.: Pour a fine bourbon. Then, I clean up, work on stuff I missed during day and catch up on email.
10 p.m.: One business call with partner or client.
10:30 p.m.: Write down tomorrow's two highest priority items.
11 p.m.: Read until I fall asleep.
BZ: How many meetings do you have a day?
Swan: One at the most. I hate calls and meetings. We can get it done without them most of the time. I try to push all calls and unimportant emails off until the weekend if possible.
BZ: What gets you excited about what you're doing?
Swan: Building something new. Inventing. Telling the LikeFolio story.
BZ: What do you do to relax?
Swan: I love playing sports with my kids, who are 11 and 9, and having drinks with friends.
Follow Andy Swan
Swan is an entrepreneur who has a get-it-done attitude and shuns useless meetings. You can follow him on twitter @andyswan.
Interested in a Benzinga CEO profile? Send an email to events@benzinga.com.
Want to get involved with the 2017 Benzinga Global Fintech Awards? Submit your company here.
Image Credit: BZ image. LikeFolio CEO Andy Swan accepts an award at the 2016 Benzinga Fintech Awards.
View Comments and Join the Discussion!
Posted-In: A Day In The Life Andy SwanFintech Entrepreneurship Success Stories Startups Interview General Best of Benzinga