Want To Manage Your Portfolio Like A Hedge Fund? With Fintech, You Can Do It Yourself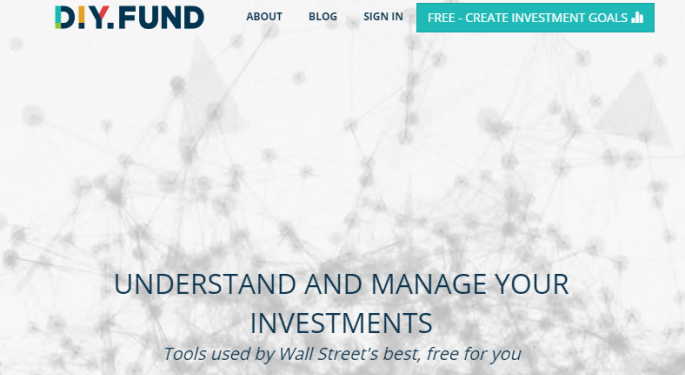 It's almost that time of year.
The 2017 Benzinga Global Fintech Awards is a competition to showcase the companies with the most impressive technology that are paving the future in financial services and capital markets.
To get you prepared for this year's awards, Benzinga will profile each fintech company that has applied. Want to get involved? Submit your company here. In this interview, Benzinga chats with DIY.FUND CTO Eric Nissan and CMO Wendy Nissan.
Some in the financial advising industry are wondering whether the Trump administration will enforce the Department of Labor rule directing financial advisors to act in their clients' best interests.
Others, however, are taking matters into their own hands and bringing portfolio management to the masses.
Do-It-Yourself With DIY.FUND
Eric and Wendy Nissan's experiences on Wall Street led them to found DIY.FUND, a fintech startup that aims to bring portfolio management tools to the everyday investor.
"We are a do-it-yourself investment platform," said Eric Nissan in an interview with Benzinga. "What we're doing is giving the individual investor the right tool set so they don't have to either pay out a hard fee or lose money on strategies that individuals shouldn't be doing."
Eric Nissan, the company's co-founder and chief technical officer, previously built trading desk technology at a multi-billion dollar hedge fund. After building the hedge fund's technology and learning how the fund managed its portfolio and risk, Eric Nissan reevaluated the way his own investments were structured.
"My portfolio was just random stocks, random allocation amounts, no rhyme or reason," Eric Nissan said. "After looking at the fund's portfolio, I wanted to actually access the data on my true performance, with dividends, etc., so I could manage my own portfolio holistically."
A Gap In The Process
After he realized the information gap between his individual investment work and the fund's, Eric Nissan teamed up with his wife Wendy Nissan, a former Wall Street bond salesperson, to build a company that would help everyday investors manage their portfolios.
A common set of problems investors face, according to Wendy Nissan, is almost paradoxical — a lack of access to consumable information and information overload. Some investors don't even know where to begin, she said, and others are being given information by their advisors that is difficult to digest.
"We've seen this pattern we call the 'cycle of crappy investing,'" said Wendy Nissan. "Many people say 'I want to invest but I have no idea where to start.' If you're just given a framework, it's so simple. Conversely, when people asked for more information [on their investments], the industry said 'fine, here's a document.' [But that makes it] even more overwhelming and you just give your advisor your money and you give up."
Filling The Gap
DIY.FUND's platform takes first-time users through a setup wizard that shows investors where their funds are allocated, how to group securities together, and what kind of benchmarks to look for depending on the user's risk tolerance.
The platform then makes automatic recommendations, such as when to rebalance or harvest tax losses as the market churns. DIY.FUND's platform also calculates the moves a user needs to make in order to successfully rebalance, without the need for the user to make spreadsheets.
"If you pay someone to manage your portfolio, you are very, very lucky if they rebalance you once a quarter," said Wendy Nissan. "I think the biggest thing is that even if you are paying someone, you are still missing out on that additional performance. If one of your stocks makes a big move, you need to adjust your position, and on our platform, you can do that with just a click."
Besides potentially missing out on returns, Eric Nissan said, the "most important thing" about do-it-yourself investing is that the investor learns how to manage their money themselves.
"[Even if] someone does an excellent job at managing my portfolio, at the end of the day, I've learned nothing from the process," Eric Nissan said. "I have no insight into how markets work. Forget about fees — when I use a tool like this, I now know that my portfolio will overperform at times, underperform at times. It allows you to become a better investor and more educated."
DIY.FUND is currently in beta, and will be launching a full platform this year.
If you're looking for cool fintech startups and access to top financial institutions, and are sick of attending stuffy corporate conferences, the Benzinga Global Fintech Awards is the event for you. From its first year in 2015, the competition grew to over 250 applicants and over 500 attendees in 2016.
Connect with us on social media -- use the hashtag #BZAwards and #Fintech to spread the word!
Image Credit: Screenshot from DIY.FUND.
Posted-In: DIY.FUND Eric NissanFintech Hedge Funds Startups Personal Finance Interview General Best of Benzinga
View Comments and Join the Discussion!