Exclusive: CanPay CEO Presents New Debit Payment Solution For Marijuana Industry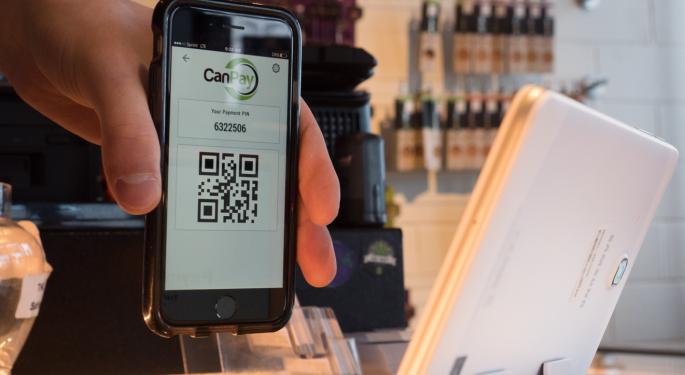 On Thursday, CanPayannounced the first debit payment solution for the expanding legal marijuana industry has become available to retailers and consumers in the states of Washington, Oregon and Colorado. The service has already launched in 15 retail stores across Washington and Colorado, solving the cash-only problem that troubles the legal cannabis industry.
"CanPay partners exclusively with a multi-state network of financial institutions that are banking the cannabis industry under compliance programs meeting strict federal guidelines, ensuring the continued stability and legitimacy of CanPay's services," the company explained.
Ahead of the service's debut, Benzinga had the chance to chat with the company's CEO Dustin Eide.
A Little Background
"Our history was in standard-risk payments processing… and [we] realized early on that there might be an opportunity to bring a professional approach to an industry that was highly regulated and appeared to have a lot of payment options that were subject to shutdown," Eide commenced.
CanPay's first objective was to find a credit card processing solution – like Visa Inc (NYSE: V) or Mastercard Inc (NYSE: MA) — that was "legitimate and transparent," he went on to explain. "We wanted to go directly to Visa and MasterCard and find out from them what options would be available."
"We've been working with a number of financial institutions, mostly in Oregon, Washington and Colorado, that are openly banking the cannabis industry under compliance programs. So, we presented a solution that involved what we call 'the close banking fee back loop.'" This ensured the banking institutions were compliant with the law.
While Visa and MasterCard thought this was an interesting idea, they passed on it because federal laws still prohibit the use and sale of marijuana, Eide continued. So, CanPay had to build its own debit network based on compliant banking institutions, building a solution as close to Visa-MasterCard-type network as possible.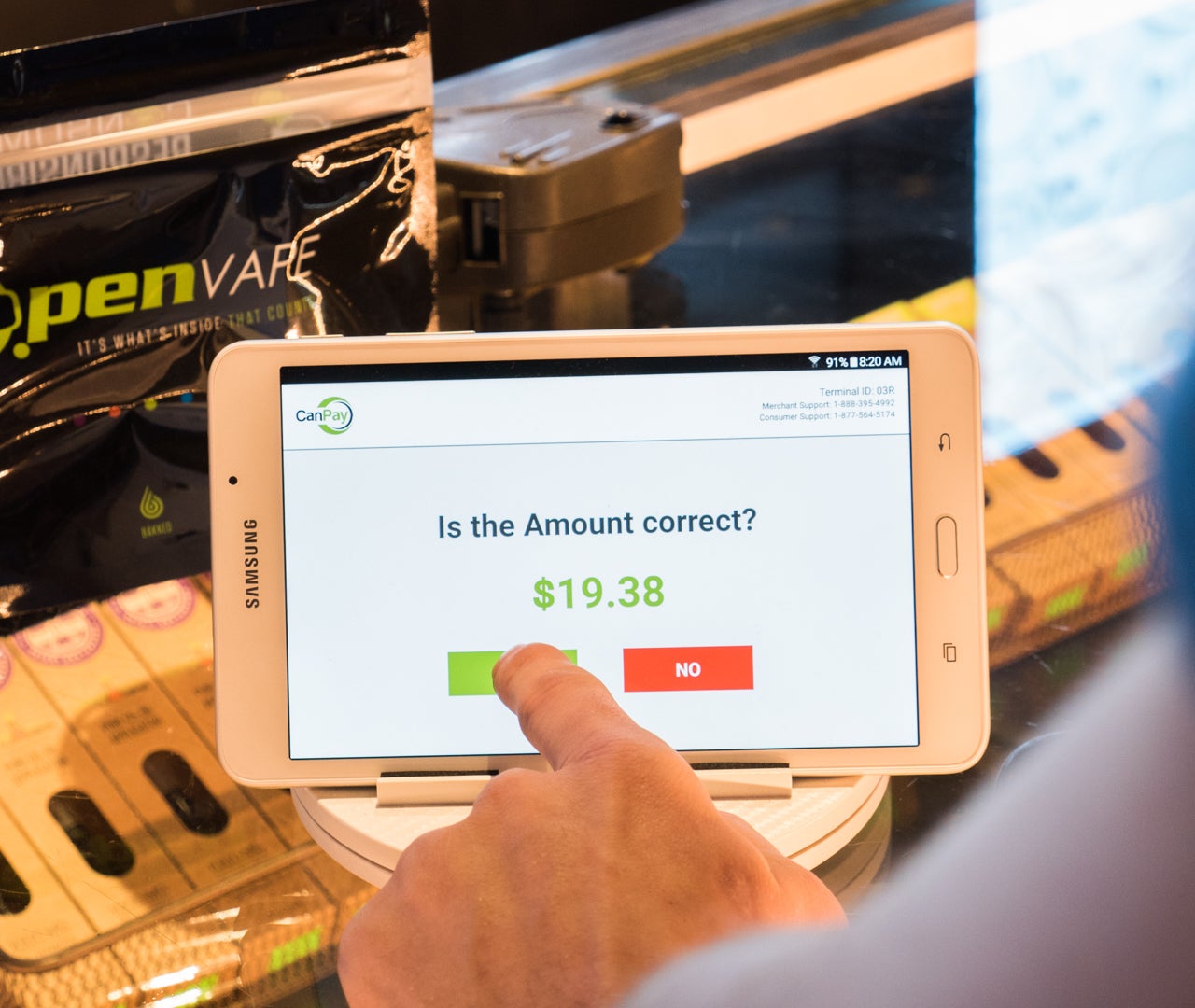 CanPay And Other Existing Options
Benzinga: Some people have called you the American Express Company (NYSE: AXP) of marijuana. If you had to point out similarities with one established, well-known payments processing service like Amex, or Visa, or Discover Financial Services (NYSE: DFS), which would it be and why?
Eide: CanPay is most similar to the Amex platform, and the reason being that CanPay is both the issuer of debit accounts to consumers, as well as the processor of payments for retailers. Visa and MasterCard typically use four parties in the transaction: the bank that issues the credit or debit card, the processor, the brand, and the bank that sponsors the processing of that transaction. Amex, on the other hand, is basically a self-contained payment network, where they handle both sides, consumers and retailers. So, that's what we are most like.
Benzinga: How do you differentiate from offering like Tokken, which works with blockchain solutions to ensure secure payments, or others like Greenito and PayQwick?
Eide: One of the main things from our standpoint that differentiates us is that CanPay is intended to be only a payment network. We are not attempting to take on the compliance on behalf of banks or credit unions. We are only working with credit unions that have approved cannabis-banking programs [...] So, only those retailers that have a depository account with one of those approved institutions are allowed to process transactions through CanPay.
Benzinga: What about funding? Do you have capital raise plans in the near future?
Eide: At this point, we are self-funded, and it's sufficient for our purposes. So, at this point there is not plan, but we are certainly open to it in the future, as the need arises.
Benzinga: Would you say CanPay offers a more effective/efficient solution than BitCoin or other blockchain-based alternatives?
Eide: I would say that the advantage for CanPay, in comparison to the blockchain solutions or stored value solutions, where you are pre-funding an account, is that we operate as close to traditional payment networks as is available. So, we can scale as each new state comes online with the regulated market [...] The banks and credit unions that are our partners are excited to bring us out to their cannabis banking clients as a legitimate and transparent option for them, rather than having to hide behind potentially either a hidden merchant account or some other form of payment.
How CanPay Works
Finally, Eide explained how CanPay works from a consumer perspective. "A consumer signs up for his/her account inside the app, they link their checking account, and then, once they've done that, whenever they make a payment in the store, the app generates a unique, single-use, and expiring if not used token that contains no identifiable financial information… No matter what, that token is completely worthless outside of CanPay network, and the moment that it gets used or expires."
The CanPay app is available for both Apple Inc. (NASDAQ: AAPL) iOS and Alphabet Inc (NASDAQ: GOOG) (NASDAQ: GOOGL) Android users by visiting http://www.canpayapp.com from on a mobile device.
Note: CanPay Debit has no relation with Canada's CanPay Payroll Software Online.
Image Credits: All images were provided by and used with expressed permission from CanPay.
View Comments and Join the Discussion!
Posted-In: Cannabis Fintech News Politics Topics Small Business Tech Interview Best of Benzinga