Vetr's New CEO: From Selling Candy During Recess To Running A Fintech Startup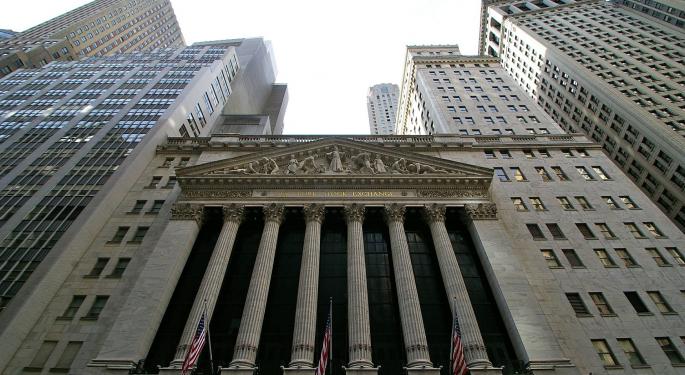 Benzinga recently caught up with Mike Vien, the new CEO of Vetr. Vien joined Vetr in May, and we chatted about his first few months at the company, his focus for the future and how he's hoping to use his extensive experience in Fintech to make Vetr an everyday destination for people to be more effective and successful self-directed investors. The following is an excerpt of our interview.
Benzinga: You have a background in both the financial services world and in startups. What was it about Vetr that appealed to you?
Vien: For starters it was the power of the platform. I can't think of a more worthwhile purpose than investing in tools that create financial opportunity for people. I could immediately see the vision for Vetr. For me, what that means being able to help improve the quality of life for people — whether that is to create financial security, pay for education, enjoy retirement, or to buy a new car, a new home, or take a vacation.
Secondly it's the market opportunity. I've spent the majority of my career building wealth management and brokerage businesses in both retail and intermediary markets. This is a very interesting time for our industry; a company like Vetr can take on the big guys with innovation and big ideas, and not just big balance sheets.
Related Link: Will The Other Credit Card Stocks Mirror The Q3 Success Of American Express?
Thirdly it is the model. Investing is essentially about access and knowledge. As we have seen in other industries — e-commerce, payments, transportation, hospitality — providing access and sharing knowledge over the internet significantly lowers the costs of delivering services to the point where they become free to the consumer. I believe our industry is on that same path and many of these services will eventually become free as well. There is so much room for early stage fintech companies to come in and improve the status quo.
Benzinga: Vetr provides crowdsourced ratings on stocks. Is that where the company's focus still is?
Vien: Yes. Delivering crowdsourced star ratings on stocks and ETFs is still our primary focus. Our strategy is to use the crowd's predictions and insights to help people make better investment decisions. Ultimately, our goal is to create the leading investor-focused social network for people to establish connections with people they know and trust. We want to be the essential resource of investor insight for people, for people to share market insight, and for people to derive insight from their network.
Benzinga: So, is it more of a research tool then?
Vien: Yes, although I'd say it is more about Vetr as a social investment platform. Our members use our performance tracking features to share independent price target predictions and market insights with other members. And as a research tool, we make it easy for people to discover great investment opportunities and make better decisions.
Later this year, we're also adding more trading and investing services, a new release of our mobile app and a subscription-based pricing model with better brokerage integration.
Benzinga: Are there any specific types of investors you're targeting right now, or are you going after everyone?
Vien: We think college investment clubs and the higher education space is a huge opportunity. Over the past two years we have hosted a college competition, the Vetr Global University Challenge, and we've had students from 188 schools in over 35 countries. The competition gives both undergraduate and graduate students the chance to rate stocks for cash prizes.
Related Link: Square To Rise By 4%, Vetr Crowd Says
We also collaborated with MIT to conduct a study to measure how the wisdom of the crowd is smarter than Wall Street experts. We created the MIT Prediction Market Challenge, which was part of their Fintech Certificate course. The initial results are truly remarkable. It's a very exciting project and we hope to release our findings before the end of the year.
Benzinga: This is not the first time you've been in charge of a young company. What's the biggest piece of advice you'd give to a young entrepreneur?
Vien: As a young entrepreneur that is just starting out, I would encourage that person to focus on solving real problems and not solutions. Focus on solving a problem or filling a need that they've experienced themselves. It colors everything you do.
I'd also focus on people, not products. Surround yourself with people who have that problem as well, as the people who share your interest in solving that problem. In order to build a great product, I can't underscore enough the need to put together a solid foundation of talented people and guide them towards achieving personal success. This is the only way I have seen companies achieve true scale.
Benzinga: Were you always interested in business?
Vien: Yes. At an early age, I loved problem solving and was always thinking about generating money through ideas that solved people's problems or filled a need. For example, one day I decided I would stop at a local convenient store before class to buy some candy. A few friends asked if they could have some, and because of that, I decided to start buying bags of candy and then sell it to other kids in the class with a mark-up.
Related Link: Accenture To Surge Another 12.4%, Vetr Crowd Says
Then I realized that the business would scale much faster if I had some help. So I hired my sister and two of my friends. Since we had different recess schedules, we each would collect between $5 and $20 profit each day. I split the money between the four of us. It taught me that you can take something that was earning a few nickels and dimes to building a team where it would expand in size, could expand into different markets and make considerably more money.
Benzinga: What was the worst job you ever had?
Vien: I've been quite fortunate. I have mostly enjoyed all my jobs since high school. Ironically, the worst job was my first real job. I was basically the janitor at an office for a tire warehouse company. My mom got it for me. She ran a local radio station, so she knew many of the small business owners in town. My job was to clean up the offices in the evenings before people came to work the next day. I absolutely hated it. It reinforced the lessons I learned early on about problem solving and it taught me how important it is to create opportunity for yourself by following your interests, otherwise you'll find yourself in a crappy job like I did.
Full ratings data available on Benzinga Pro.
Do you have ideas for articles/interviews you'd like to see more of on Benzinga? Please email feedback@benzinga.com with your best article ideas. One person will be randomly selected to win a $20 Amazon gift card!
Editor Note: Vetr has content and data partnerships with Benzinga
Posted-In: Fintech Entrepreneurship Crowdsourcing Success Stories Startups Small Business Interview General Best of Benzinga
View Comments and Join the Discussion!