Analyzing Every Central Bank, Based On Their Recent Language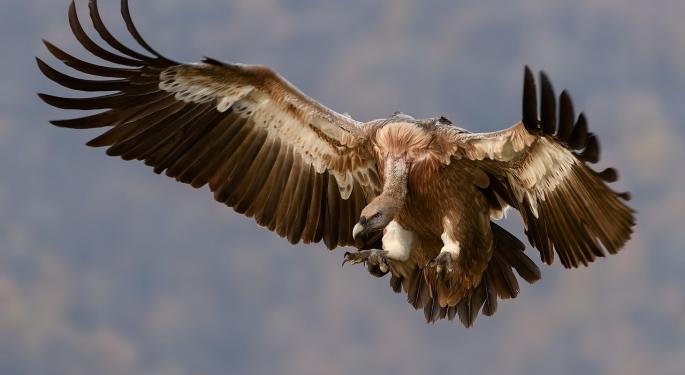 Prattle is a text analysis company that uses proprietary algorithms to provide weekly research on central bank communications. This is a reprinted version of the research originally published on their blog. Prattle's models are based on the historical relationship between central bank language and market reaction, which is used as basis of evaluation for future communications. The scores are normalized around zero and range between -2 and 2, negative numbers indicating dovishness and positive numbers indicating hawkishness.
Review of last week's Central Bank actions
Bank of England
In brief: Held rates
Analysis: The BOE shocked the market and analysts with last week's hold…but not Prattle. The decision was right in line with the neutrality of the BOE's sentiment leading up to the meeting. Policy decision aside, the BOE did issue a mildly dovish statement (residual score -0.66). The following graph shows how dovish and hawkish BOE communications have been since June and their average score according to Prattle's algorithms.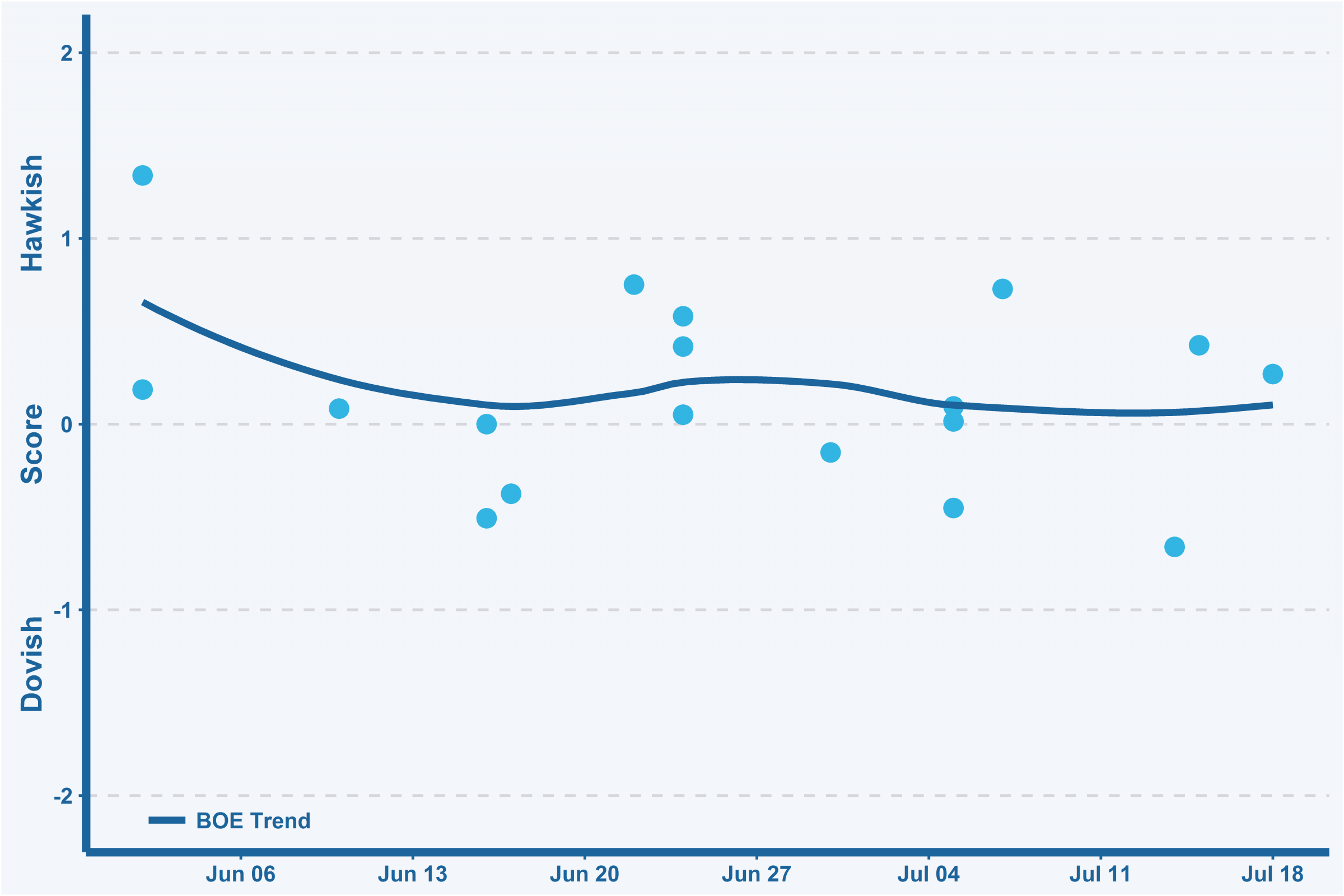 Federal Reserve
In brief: Nothing to report
Analysis: Last week featured five speeches from four speakers–Mester, Bullard, Lockhart, and Harker. Lockhart and Harker signalled (at least) one rate hike this year, but, overall, the speeches seemed to tread water. The following graph shows how dovish or hawkish communications by each Fed member have been since February and their average score according to Prattle's algorithms.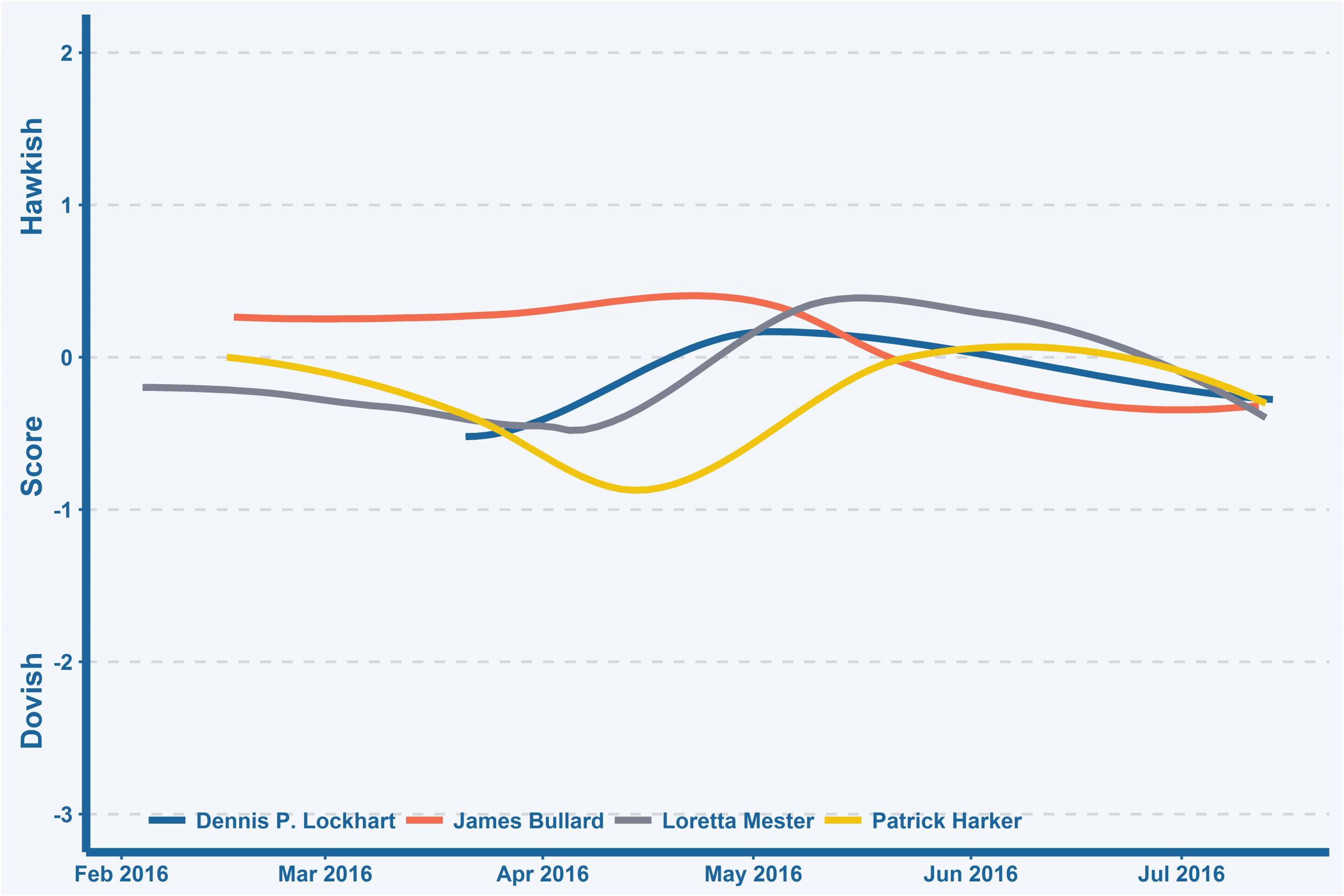 Banks of Canada, Israel, and Korea
In brief: Rate holds all around
Analysis: Out of the lot, the BOC sent the most positive signals (statement residual score 0.56). Despite the recent financial market shocks, the Canadian economy seems to be getting its sea legs.
Bank of Israel
In brief: Concerned about global conditions
Analysis: In a dovish set of meeting minutes (residual score -0.49), the Bank of Israel revealed its concerns about global growth and financial market stability.
Bank of Korea
In brief: Ambivalent
Analysis: The Bank of Korea (KOR) is sending mixed messages. While optimistic about the direct the bank's monetary policy, the KOR was worried about how the economy will do in the latter half of 2016. The bank's economic projections had a residual score of -0.67.
Preview of this week's Central Bank action
European Central Bank
Forecast: Likely to hold rates
Analysis: After the BOE's hold last week and slightly more-hawkish-than-usual sentiment showing up in recent ECB policymaker speeches, we expect a rate hold this week–a hawkish move given the context. That said, there's a chance Draghi gestures towards stimulus. The following graph shows how dovish or hawkish each ECB communication has been since February and their average score according to Prattle's algorithms.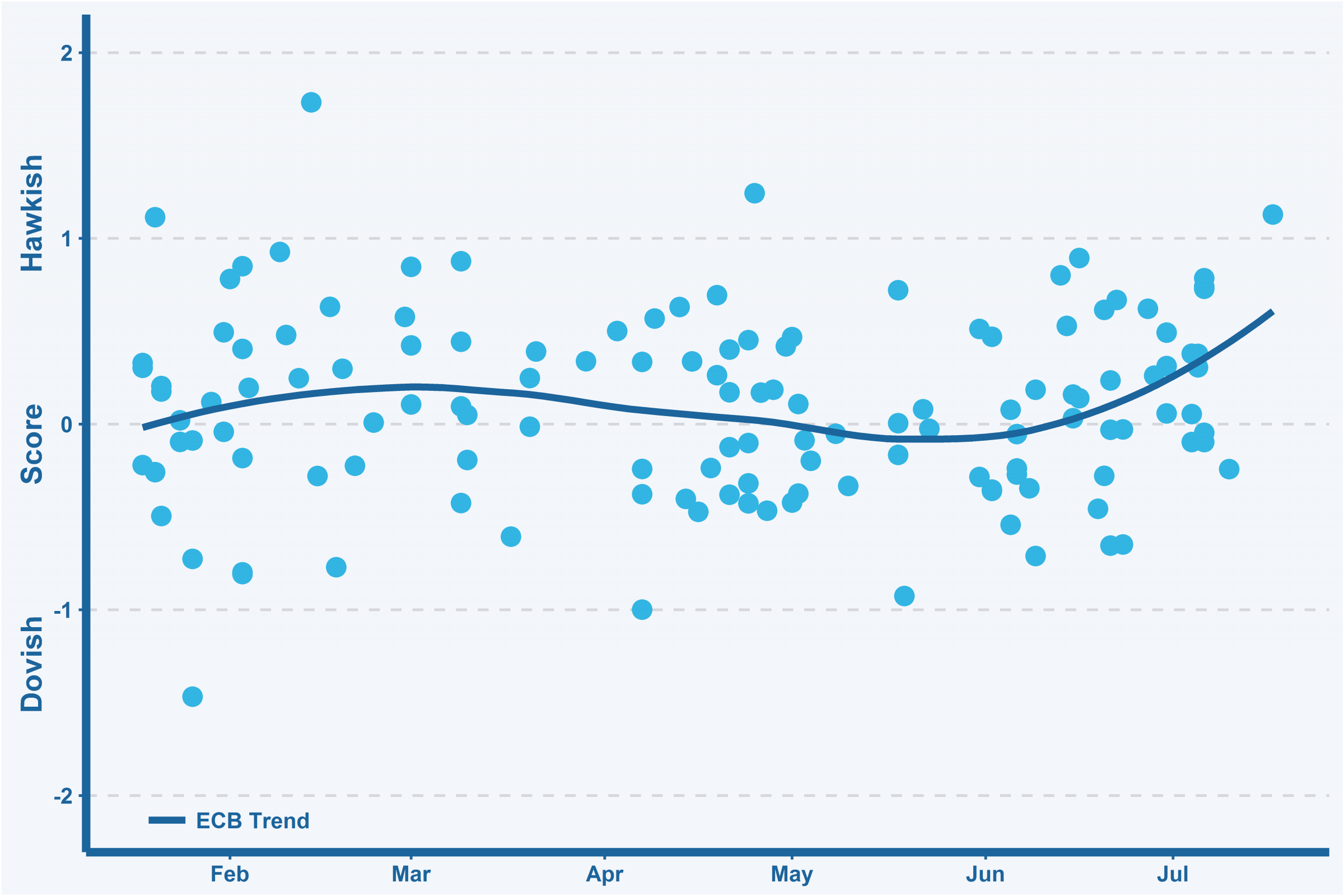 Bank of Brazil
Forecast: Likely to hold rates
Analysis: Looking to project economic strength ahead of Rio, the Bank of Brazil will likely maintain its recent hawkish tone–and rates–at this week's policy meeting. The fact that this meeting includes five new members also suggests they aren't likely to rock the boat.
Reserve Bank of Australia
Forecast: Minutes to signal future policy
Analysis: Is another rate cut on the horizon for the RBA? Look to this week's meeting minutes release for guidance.
Central Bank of Turkey
Forecast: Hold likely, but not certain
Analysis: Before the recent coup attempt, a rate hold seemed inevitable. The conflict has muddied the waters, and, given the political pressures at play, a cut is not out of the question.
Posted-In: Fintech News Previews Global Economics Federal Reserve Trading Ideas Reviews
View Comments and Join the Discussion!